Welcome To Brett's Trucking Articles!
Be sure to read through our truck driving blogs and visit our trucker's forum where Brett Aquila and many other drivers and prospective drivers are talking about all kinds of trucking-related stuff and trying to have all the fun they can at the same time!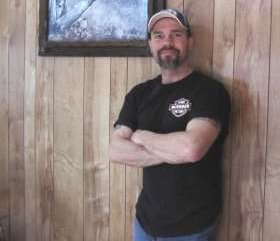 "After 15 years of being a truck driver I've pretty much seen and done all there is to do out there. I've loved my years on the road and wouldn't trade them for the world. If I had to do it all over again, I'd do it exactly the same way I did it. But you see, that's just me..." - Brett Aquila
Becoming a truck driver may not have been your first thought, but it may be a great choice for a new and better career. When the economy comes skidding to a halt and your company downsizes or your small business can't stay afloat, you may have to look for something new. If you're considering a truck driving career, I can tell you that if you're the right person for the job, it pays well, it's enjoyable, and you can get into it relatively quickly and easily. When times get hard in a bad economy, a truck driving job might be an excellet choice.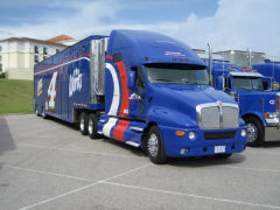 I don't believe there is anyone in America, or a multitude of other countries for that matter, who hasn't considered becoming a truck driver. We've all wondered from time to time what life would be like traveling the highways day in and day out. I give an intro to my series on becoming a truck driver.
My personality, my lifestyle, and my goals were perfect for being a truck driver. I wanted the adventure, I wanted the freedom, and I truly wanted to know what our country was really like. I wanted to see it for myself. I wanted to experience it all.
Everybody wants something for free. But as we all know, nothing is free. So does "nothing" apply to free truck driving schools also? I'm afraid so. However, if you change the idea of "free truck driving school" to "no money up front truck driving school" - then you're on to something! There are a lot of options when it comes to attending truck driving school and I'll cover a couple of ideas here for you. We'll also cover some of the advantages and disadvantages of each.
You're away from your home, your friends, your family, and now anything you ever considered a normal part of your life seems like a distant memory in a short amount of time. But there are great rewards to be reaped from a career in the trucking industry if you can just get through that first year. But for many, that's a far more difficult task than they had ever imagined. So what can you do to get through it? Here's some of the most important things for a new driver to understand.
Getting you cdl is an outstanding investment in your future. Whenever you're considering a new career, including a career in truck driving, your primary concerns are if you'll enjoy your new career, if there will be job security, and whether or not you will make good money. When it comes to a career in trucking, the answer to all of these questions is a resounding yes!
Trucking can be an awesome career for the right person with the right expectations. But it isn't for everyone. I wanted to use my experience to help people like you decide if truck driving is right for them. I hope my blog will help give you a good start. And if you're really serious I hope you'll read my book Becoming A Truck Driver: The Raw Truth About Trucking. It's a very thorough account filled with stories, descriptions, tricks, tips, and advice for anyone who really would like to know if truck driving is right for them.
Enjoy!
There is no chance of avoiding recession - we are already in one. There is no chance that things are going to get better any time soon. Why? Because the core of our financial system, and the world's financial system for that matter, has been crushed and it's going to take a long time for these problems to work their way through the system and allow the economy to move forward again. How will this affect the trucking industry? The same way it affects the rest of the country - it's going to put a hurtin on it.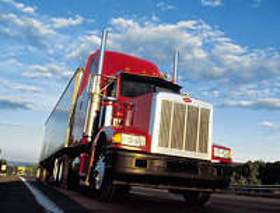 Getting your CDL training at a truck driving school is about one thing and one thing only - getting your CDL license. You will not come out of trucking school as a well-trained truck driver - believe me you won't. In fact, more than anything you will feel overwhelmed with the amount of knowledge that has just been piled on you, and the feeling that you really have very little idea what's in store for you on the road. Here's some advice to help calm the nerves and get you through your schooling.
There is no doubt that life on the road is truly an adventure. But every choice we make in our lives is a compromise and traveling for a living is no exception. There are a lot of things to consider when trying to decide if truck driving is right for you and none of them are more important than the harsh reality of leaving behind our family and friends. In the second part of this series I'll cover the difficult decision of leaving your loved ones behind.
For somebody considering a career in the trucking industry, this is the million dollar question. I mean, how many people have ever experienced being a truck driver? Pretty much nobody. So how are you supposed to know if it's for you? In the third part of this series I'll talk a little bit about life on the road and try to help you decide if it would be right for you.
When the economy slows and companies cut back, many people are either laid-off, lose their jobs, or are forced into pay cuts. Changing careers is a common consideration when times get tough. What about becoming a truck driver during a bad economy? Is it a good idea? Will it be tough finding a truck driving job? What about everything you hear on TV about trucker's strikes and trucking companies going bankrupt from the high fuel prices? Wouldn't this be a terrible time to get into trucking? Absolutely not! In the fourth part in this series I'm going to talk about the reasons why getting into trucking during slow times is as good a time as any.
So it's that time again and you're either tired of the trucking company you're at, tired of sitting on the couch watching TV, or tired of whatever job you decided would be better than driving a truck ever again. Time to find another truck driving job.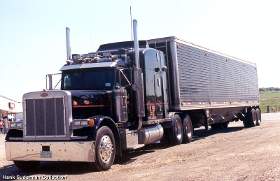 If you've never been a truck driver and never really had the chance to talk extensively with someone who is, it's nearly impossible to guess as to whether or not you would enjoy the lifestyle of being on the road. What are the hours like? What about driving through bad weather? Is the food any good at truck stops? Am I going to meet a lot of interesting people? What will I do for entertainment? There are a ton of questions and the answers are often hard to come by if you don't know any truckers. In the fifth part of this series I'm going to talk about some aspects of life on the road so you'll have an idea if the lifestyle is for you or not.
Back in the day, women truck drivers were few and far between. There were a couple good reason for this. But nowadays there is an ever-increasing number of women truck drivers and there has never been a better time than now for women in trucking.
Ok, so you've decided you want to become a truck driver and it's time to find a trucking school. Though all trucking schools are not created equal, the good news is that almost any trucking schools will get the job done just fine. Here are a few things to consider when choosing a truck driving school.
Of the most important features related to safety and efficiency, GPS systems in tractor trailers rank a close second behind only the steering wheel. It is astounding to me that most of the large over the road trucking companies do not equip every truck on the road with a GPS system. Nothing, in my opinion, would improve safety and efficiency more for over the road drivers than having every driver know where he is and where he's going at all times. Let's look at the idea of GPS systems becoming standard in all over the road trucks and the safety aspects of it.
As a young lad of 21 years old, and only a few months into my first trucking job of my career, only 3 months out of trucking school, you would assume that your first company would take it easy on you, right? Well, that's what I thought. Until I got the call - you're going into the Bronx.
Trucking jobs in Chicago, IL can be brutal, unless you absolutely love the traffic. A career in truck driving wouldn't be complete without a lot of time sitting in traffic in the windy city. Actually, I never felt getting around Chicago was all that bad..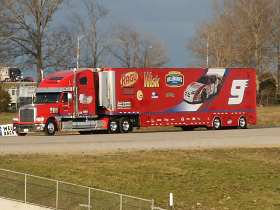 A truck driving job in Phoenix, AZ wouldn't be too bad by most standards. Driving truck through the mountains can get a little hairy at times, but overall the weather is great, the DOT won't bother you, and the scenery is great. But a city is a city and trucking in Phoenix is still trucking in a city.
The one time I had a load of office furniture that was being delivered to City Hall. They were renovating the place and it was time for the new decor. They had the delivery scheduled for 6:00 pm on a Friday. This was gonna be crazy.
One time I was driving truck in Ohio, minding my own business, when suddenly I saw the flashing lights in my mirror. Well, Ohio police are famous for being strict with truck drivers so I figured this wouldn't end well.
In an article I read, they mentioned that C.R. England is going to "equip its fleet of more than 3,500 trucks with its Mobileye AWS-4000 safety technology system." According to the article, this device's "camera-based safety features to be installed on each truck will include a lane departure warning system, a forward collision warning system and a headway monitoring and warning system." Do these safety devices really do any good?
Where To Go Next? Here's Some Suggestions: