Baylor Trucking Company Profile

Baylor Trucking was founded in 1946 with just a single truck. Based out of Milan, IN, the company has remained a family owned business but has grown to more than 300 trucks. Baylor operates in all of the lower 48 United States and hauls dry van freight.
Comparable Companies
Terminal Locations
In addition to the Milan, Indiana headquarters, Baylor Trucking has terminal locations in Hamilton, Ohio and Portland, Tennessee.
Minimum Qualifications
The minimum hiring qualifications include, but are not limited to the following:
Minimum 23 years of age
Must have only one CDL, Class A, issued by state of residence
Verifiable references from past employers - No more than 6 jobs in the past 3 years
Application must accurately reflect all periods of employment, self-employment, training, military, and unemployment for the past ten years.
No DUI driving convictions within the past three years, no multiple offenses.
No reckless driving convictions within the past three years.
No convictions for possession, sale or use of narcotic drugs, controlled substances or derivatives thereof.
No more than three citations for moving violations in the past three years and no more than five in the past four years.
No major preventable accident within the past three years.
Successfully pass DOT physical and drug screen, along with a certified road test, must supply valid SSN card, and drivers license with photograph.
Minimum of 6 months experience, verifiable over-the-road, or graduated from a certified school.
Hiring Area
Alabama
Arkansas
Connecticut
Delaware
Georgia
Illinois
Indiana
Iowa
Kentucky
Maine
Maryland
Massachusetts
Michigan
Missouri
New Hampshire
New Jersey
New York
North Carolina
Ohio
Pennsylvania
Rhode Island
South Carolina
Tennessee
Texas
Vermont
Virginia
West Virginia
Wisconsin
Operating Area
All of the lower 48 states.
Company Training Duration
The paid driver training program will include 300 hours of behind the wheel time. On average, this takes 8 weeks to complete.
Forced To Team After Training?
No, after training drivers may go directly to a solo truck.
Type Of Freight
Baylor Trucking is a dry van carrier.
Pay
During training, drivers earn the following:
$400.00/Week for Week 1
$400.00/Week for Week 2
$400.00/Week for Week 3
$400.00/Week for Week 4
$500/Week for Weeks 5 - Week 8
After training, Baylor Trucking has a guaranteed pay program which they call the Minimum Pay Assurance. For OTR drivers the guaranteed pay is $1,000 / week. In order to qualify for this minimum pay, you must meet the following requirements:
100% on time service unless there are circumstances beyond driver control as determined by management review
100% in-network fueling at authorized fuel stops as provided by fuel recommendations on trip sheets
100% timely submission of paperwork to be scanned by midnight on Saturday
No preventable damage as determined by management incident review
Driver Rewards compliance with Baylor Trucking performance monitoring standards.
Benefits
Baylor Trucking pays a portion of your Health Insurance cost; the unpaid portion is the responsibility of the employee. Full coverage includes Dental Coverage and a prescription drug card. Health Insurance eligibility begins on the first day of a new month after 60 days of service.
The cost for health insurance coverage is as follows:
Type
Deductible
Weekly Premium (Non-Tobacco)
Weekly Premium (Tobacco)
Employee
$1,200
$46.00
$49.50
Employee & Spouse
$2,400
$85.00
$88.00
Employee & Child(ren)
$2,400
$75.00
$78.00
Family
$2,400
$81.00
$93.50
Tuition Reimbursement
Baylor offers a Tuition Assistance Program that allows a driver to earn an additional $150.00 per month for 18 months. This program begins after a driver is assigned his/her own unit.
Hometime Policy
Depending on the area of the country you reside, 99% of Baylor drivers are home 1.5 days for every 6 days of driving. They do hire drivers that live in areas not consistently serviced by Baylor Trucking, and those drivers choose to be home 3 days per 14 day dispatch.
Rider And Pet Policy
Drivers are allowed only one passenger at a time. The passenger must be: a) an immediate family member of at least 9 years of age b) be at least 18 years of age. Before any passenger is authorized and approved the driver must complete an authorization form from the Baylor Safety Department.
Pets are not allowed on any Baylor equipment.
Team Opportunities
Baylor Trucking does not have an official team driving division.
Canada Border Crossing Policy
Drivers are not required to cross into Canada.
New York City Dispatch
Drivers are not forced dispatched into NYC but are given additional pay for traveling into NYC.
Hazardous Materials
Baylor Trucking does not haul hazardous materials.
Forced Dispatch
Drivers are not forced dispatched.
Drop And Hook
Approximately 50% of loads are drop and hook.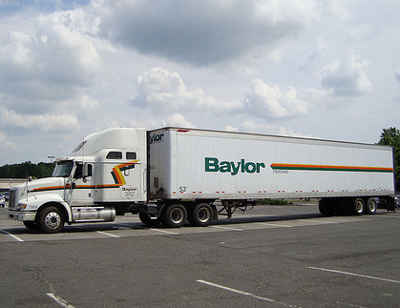 Local / Regional / Dedicated Opportunities
Baylor does have a number of local, dedicated, and regional opportunities. The time it takes and the number of opportunities will depend on where you live in relation to freight lanes and customer locations.
Average Age Of Equipment
Late model Freightliner, International, and Volvo generally less than 5 years old.
Transmission Type
Baylor uses 10 speed manual transmissions.
Speed Of Trucks
Trucks are restricted at 65mph.
APU / Idle Policy
Some trucks feature Climacab APU's but trucks without APU's are allowed to idle during uncomfortable temperatures.
Electronic / Paper Logs
Baylor Trucking uses paper logbooks.
Other Considerations