Covenant Transport Company Profile

Covenant Transport is a faith-based truckload carrier based out of Chattanooga, TN. The company began in 1986 with just 25 tractors and 50 trailers. Since that time, Covenant has grown to more than 3,600 tractors and 9,500 trailers operating throughout North America.
Trucking Companies Comparable To Covenant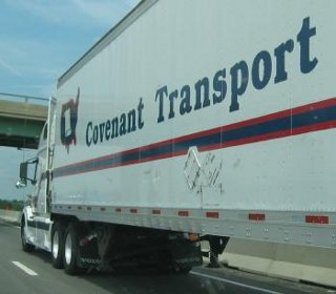 Terminal Locations
Chattanooga, Tennessee
Hutchins, Texas
Horizon City, Texas
Pomona, California
Indianapolis, Indiana
Dalton, Georgia
Sayreville, New Jersey
Long Beach, California
Laredo, Texas
French Camp, California
Greensboro, North Carolina
Tipp City, Ohio
Minimum Qualifications
Must have graduated from a qualified truck driving school within last 12 months (min. 120-hr curriculum) or have recent truck driving experience
Must be at least 21 yrs of age
Have a valid Class A CDL
Must have HazMat endorsement within 6 months of joining Covenant
Provide Social Security card or other personal identification
Verifiable employment for past 3 yrs
No more than 3 moving violations in past 3 yrs (no reckless driving in past 3 yrs)
No DUI, drug/alcohol-related motor vehicle incidents in last 5 yrs (no more than 1 total and none as a CDL-endorsed driver)
No more than 1 preventable accident in motor vehicle in last 3 yrs
No drug/violent felony convictions within past 10 yrs. No current parole or arrest warrants
No license suspensions in the last 12 months—no more than one in last 3 yrs
No speeding citations of 15 mph or above in last 12 months
Must pass drug test, DOT/Covenant physical and Covenant Physical Aptitude Test and meet DOT driving standards
Contact a recruiter for a complete list of requirements regarding driving and criminal records. If you are disqualified at driver orientation for something you did not disclose ahead of time, you will be responsible for your own transportation home.
Hiring Area
These cities are considered to be the "core hiring areas" for Covenant Transport:
Atlanta, GA
Chicago, IL
Indianapolis, IN
Louisville, KY
Columbus, OH
Charlotte, NC
Allentown, PA
Memphis, TN
Nashville, TN
Operating Area
While team operated trucks travel throughout the lower 48 United States, most solo drivers will stay east of the Mississippi river.
Company Training Duration
Phase One:
You will receive one-on-one instruction with a trainer on his or her truck 24/7, learning more than 40 essential functions in and around a big rig on live loads. It's designed to prepare graduates for real life as a commercial trucker. This phase lasts approximately 35 days.
Phase Two:
Once phase one has been completed, you will continue to phase two where you will be paired with a co-driver for at least 180 days. Once you graduate from phase two, CDL Grads have the following options:
Continue to run as a team in the Team XL Division.
Apply through their Fleet Manager to run in the Solo OTR Division if they reside/take time off in an area where the company accepts solo drivers.
Apply for a lane in the Dedicated Division.

The Dedicated Division may have other factors drivers have to meet in addition to their home time location.
Forced To Team After Training?
Yes, after training all drivers will be paired with another phase 2 driver to run as a team operation for a minimum of 120 days. After 120 days, drivers are able to apply for solo positions but a solo position is not guaranteed.
Type Of Freight
Covenant Transport uses 53ft dry van trailers.
Pay
During Training
Team Driver Division
Solo OTR
1 - 3 Months: $0.13 per mile
4 - 6 Months: $0.15 per mile
1 - 6 Months: $0.15 per mile
4 - 6 Months: $0.15 per mile
7 - 12 Months: $0.16 per mile
1 Year: $0.17 per mile
3 Years: $0.18 per mile
5 Years: $0.19 per mile
7 Years+: $0.20 per mile
1 - 12 Months: $0.25 per mile
1 Year: $0.27 per mile
2 Years: $0.28 per mile
3 Years: $0.29 per mile
4 Years: $0.30 per mile
5 Years+: $0.31 per mile
NOTE - All companies pay a little differently. It's best to compare the payscale with other similar companies:
Benefits
After 90 days of employment you will be eligible to participate in the group discount dental, vision, health and life insurance plans as well as holiday pay. After 1 year, you will become eligible for 401k and paid vacation time.
Tuition Reimbursement
Tuition reimbursement is paid at $125 per month, up to $6,000.
Hometime Policy
Drivers earn 1 day off for every 7 days spent on the road. Drivers will be expected to stay out on the road for at least 3 weeks at a time, although if you live in a major freight lane you may have loads pass by your home.
Rider And Pet Policy
Drivers are allowed to have approved riders in the truck with them and a pet is also allowed with a non-refundable pet deposit.
Team Opportunities
Team driving opportunities do exist and they have a larger hiring area for those wishing to drive a team truck.
Canada Border Crossing Policy
Drivers are not required to cross into Canada.
New York City Dispatch
Company drivers may be required to pickup, deliver, or travel through New York City on occasion.
Hazardous Materials
A hazardous materials endorsement is not required, but is strongly encouraged. Drivers receive additional pay for transporting hazardous materials.
Drop And Hook
80% of all freight is drop and hook.
Forced Dispatch
Company drivers are forced dispatched.
Local / Regional / Dedicated Opportunities
After gaining a minimum of 6 to 12 months of experience, there may be some regional or dedicated opportunities available depending on where you live.
Average Age Of Equipment
Most trucks are less than 3 years old.
Transmission Type
10 speed manual transmissions.
Speed Of Trucks
The majority of trucks are set at 62mph.
APU / Idle Policy
Some trucks are equipped with APU's but the majority of trucks are not. Drivers may idle their trucks up to 30 % of total engine running time. Any idle time over 30% is charged to the driver at $5.00 per hr.
Electronic / Paper Logs
The company is currently in the process of switching all trucks to electronic logs.
Explore All Your Options
Remember, you should always explore as many options as possible before deciding on a company.