Gordon Trucking Company Profile

Gordon Trucking, Inc. (also called GTI), based out of Pacific, Washington, was founded in 1946 with just two trucks. Today, the company is the 22nd largest truckload carrier in North America operating across all of the lower 48 United States as well as many parts of Mexico and Canada.
Companies Similar To Gordon
Terminal Locations
In addition to the Pacific, Washington headquarters, the company operates terminals in the following locations: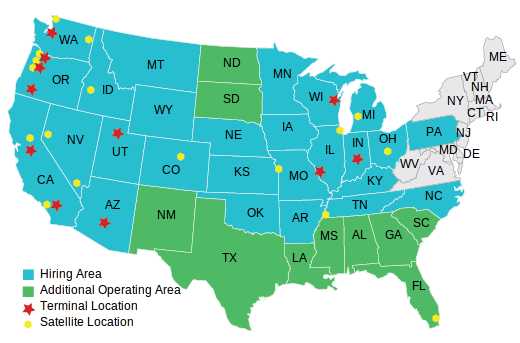 Clackamas, OR
Millersburg, OR
Medford, OR
Modesto, CA
Rancho Cucamonga, CA
Phoenix, AZ
West Valley City, UT
Green Bay, WI
Indianapolis, IN
Pontoon Beach, IL
Minimum Qualifications
Must be at least 21 years of age
Felony convictions older than seven years will be reviewed
Driving record must be current, within the last two weeks. Must have no more than three (3) moving violations within the past three years. (No DUI / DWI or Reckless driving violations within the last five years)
Must be able to pass a D.O.T. physical, preemployment drug screen and road test
Applications must be submitted on forms provided by Gordon Trucking Inc.
Must provide valid names, addresses, and phone numbers of previous employers
Must provide three personal references
Must be able to perform all duties required to load and unload freight, perform inspections and be able to sit for lengths of time
Hiring Area
Gordon actively hires drivers from the following states:
Washington
Oregon
California
Nevada
Idaho
Montana
Wyoming
Wyoming
Colorado
Utah
Arizona
Nebraska
Kansas
Oklahoma
Minnesota
Iowa
Missouri
Arkansas
Wisconsin
Illinois
Tennessee
Kentucky
Indiana
Michigan
Ohio
Pennsylvania
N. Carolina
S. Carolina
Operating Area
Gordon hauls freight throughout the United States except for the Northeast. About 80% of Gordon freight stays West of Ohio.
Company Training Duration
All recent CDL grads must spend 28 days on the road with a certified trainer.
Forced To Team After Training?
Unless drivers choose to drive a team truck, they will be issued a solo truck following training.
Type Of Freight
GTI hauls a mix of dry van and refrigerated freight as well as heavy haul operations in the Western states.
Pay
During training, drivers receive a flat salary of $325 per week. After that, drivers receive mileage pay depending on which division they drive in.
Benefits
Drivers become eligible for health, dental, and life coverage after 90 days of employment. Drivers may also participate in the 401k retirement program with employer matching.
The cost of health insurance is as follows:
Single Non-Smoker: $28 per week
Driver And Spouse Non-Smokers: $61 per week
Additional Cost Per Non-Smoking Dependent: $12 per week
Vision, hearing, and life insurance are offered at no additional cost.
Tuition Reimbursement
Recent CDL graduates are eligible for tuition reimbursement up to $4,000 which is paid out at a rate of $150 per month.
Hometime Policy
OTR, teams, and Heavy Haul drivers are typically on the road for 10 to 14 days and then take 2 days off at home. Another option is to stay out for 31 days and take 5 days off. Regional drivers normally stay on the road for 7 to 10 days and take up to 2 days off at a time.
Rider And Pet Policy
Riders are allowed with company approval and a $25/mo insurance fee, but pets are not allowed on any company equipment.
Team Opportunities
Gordon actively seeks out team drivers for their OTR division.
Canada Border Crossing Policy
Crossing into Canada will not be required.
New York City Dispatch
Gordon does not operate in the state of New York.
Hazardous Materials
A Hazardous Materials endorsement is highly recommended, but not required. About 5% of freight is Hazardous Materials.
Drop And Hook
Approximately 80% of freight is drop and hook while 99% is not touch fright..
Forced Dispatch
At times, drivers will be able to pick from multiple load assignments but other times, drivers will be forced dispatched.
Local / Regional / Dedicated Opportunities
Yes, several local, regional, and dedicated opportunities exist depending on where you live. Some of these positions may be available right after training.
Average Age Of Equipment
The majority of trucks are 5 years old or newer. Gordon recently placed an order for 800 brand new Freightliner Cascadias.
Transmission Type
10 speed manual transmissions.
Speed Of Trucks
Trucks are restricted between 60 and 63mph.
APU / Idle Policy
Some trucks have APU's. For trucks without APU units, a 400 Watt plug-in power inverter is allowed and the truck will be equipped with automatic start / stop idle features as well as auxiliary bunk heaters.
Electronic / Paper Logs
The fleet is currently switching over to electronic logs.
Continue Exploring Your Options