Schneider National Company Profile

Schneider National is based out of Green Bay, WI and was founded in 1935 with just one truck. The company now operates more than 12,300 trucks and more than 33,300 trailers employing more than 18,200 people worldwide. Schneider mostly hauls dry van freight but also runs an active tanker division.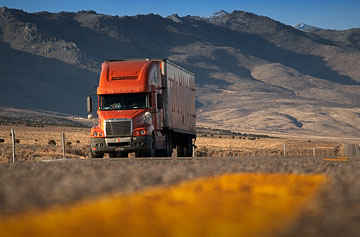 Terminal Locations
Schneider has several operating centers and terminals across North America including the following locations:
Fontana, CA
Denver, CO
Davenport, FL
Dublin, GA
McDonough, GA
Burlington, IA
East Moline, IL
Homewood, IL
Melrose Park, IL
Indianapolis, IN
Lenexa, KS
Lakeville, MA
Baltimore, MD
Farm Hills, MI
Flint, MI
Grand Blanc, MI
Lansing, MI
Livonia, MI
Jackson, MS
Charlotte, NC
Mebane, NC
Fargo, ND
Grand Island, NE
Avon Lake, OH
Cincinnati, OH
Belleville, PA
New Holland, PA
Dallas, TN
Memphis, TN
El Paso, TX
Fort Worth, TX
Houston, TX
Laredo, TX
Green Bay, WI
Menomonie, WI
Milwaukee, WI
Minimum Qualifications
The basic minimum qualifications to become a truck driver for Schneider is as follows:
At least 21 years of age
Must hold a current class A drivers license with a minimum of 1 year OTR driving experience, or be a recent graduate of a Schneider approved truck driving school
Be willing and able to obtain a HazMat endorsement within 90 days of hire
Be willing and able to obtain a valid passport and travel into Canada when needed
No DUI or alcohol related driving convictions in the past 5 years
No more than 2 moving violations or 2 preventable accidents in the past 5 years
No reckless driving convictions in the past 5 years
Felony convictions are considered on a case-by-case basis
Schneider National Pre-Work Screening Video
Schneider has a pre-work assessment to determine if you have the minimum physical qualifications to perform the job.
Schneider National Pre-Work Screening
Hiring Area
Schnider National hires across all of North America including all of the lower 48 states as well as many areas in Canada. However, they hire on an "as needed" basis and may hire sporadically from certain areas.
Operating Area
Schneider operates across the entire United States as well as many parts of Canada.
Company Training Duration
After 1 week of paid orientation, you will spend 1 to 3 weeks on the road with a certified trainer. After that time, you will return to a Schneider terminal to complete a basic driving exam and multiple choice testing before being issued a truck to run solo.
Forced To Team After Training?
While a team driver division is available for those who choose to drive a team operated truck, all drivers are able to move directly into a solo position immediately after training.
Type Of Freight
The majority of freight is dry van, but Schneider also has tanker and oil field operations.
Pay
During orientation and training, you will earn a flat salary of $460 per week. After training, most drivers have the opportunity to join one of several divisions which all effect starting pay. The lowest starting pay is 28cpm for some regional and dedicated accounts but starting pay can be as high as the mid 30cpm range as well. Much of this will depend on where your live. If you live near a high freight area or are in a major freight lane, you will have many opportunities available to you right out of training. The opportunities change too frequently to list here so you'll need to contact a recruiter for details. If you know for certain that an OTR position is what you want, you can expect to earn the following in your first year.
Starting Pay: 28cpm
6 Months: 31cpm
1 Year: 34cpm
Benefits
Medical Plans
After 90 days of employment, drivers become eligible for discounted medical benefits. The plans offer both traditional medical and prescription expenses. Preventive care is covered 100% with over 420,000 in-network providers nationwide.
Dental Plan
After 90 days of employment, drivers become eligible for discounted dental coverage which include free preventive care.
Vision Plans
After 90 days of employment, drivers become eligible for discounted vision plans. The vision plan covers free exams and includes discounts on eyewear.
Retirement Plans
You may enroll in the company 401k Savings Plan beginning on the first day of employment. You may contribute up to 50 percent of your paycheck on a pre-tax basis.
Vacation Pay
After 1 year of employment, you will become eligible for paid vacation time on the following schedule:
1 year of service = 1 week paid vacation
2 years of service = 2 weeks paid vacation
7 years of service = 3 weeks paid vacation
15 years of service = 4 weeks paid vacation
Tuition Reimbursement
While not all driving positions with Schneider offer tuition reimbursement, most positions offer up to $150 per month towards tuition reimbursement. You can be reimbursed up to $3,500 but must be employed with Schneider within 60 days of graduation from a certified truck driving school.
Hometime Policy
The policy regarding hometime varies greatly. About 70% of drivers get home weekly and many are home multiple times per week if not daily. In the OTR division, you will earn the standard 1 day off for every 7 days out unless you join one of their "homerun" programs which gives you many other options for hometime (you must live near a major city or terminal to qualify for a homerun schedule). But most drivers end up switching to a local, dedicated, or regional account within the first year of employment. All local, dedicated, and regional accounts have varying hometime policies.
Rider And Pet Policy
While a rider is allowed with company approval, no pets are allowed on company trucks.
Team Opportunities
Schneider has many team driver opportunities available and usually offers a sign-on bonus for any drivers wishing to drive a team truck. Most team operations run in the OTR division, although some regional and dedicated accounts may have team positions open as well.
Canada Border Crossing Policy
Most drivers will not be required to cross into Canada, but those joining the OTR division will be required to cross into Canada from time to time. There are also some select regional and dedicated accounts which may require crossing into Canada on a frequent basis.
New York City Dispatch
OTR drivers are not forced dispatched to NYC. However, some regional or dedicated accounts may require traveling into NYC.
Hazardous Materials
Drivers in the OTR division are required to obtain a hazardous materials endorsement and must be willing to transport hazardous materials if needed. Those in certain regional or dedicated positions may also be required to transport hazardous materials.
Drop And Hook
In the OTR division, approximately 70% of all freight is drop and hook. For all other positions, the percentage can vary from 0% to 100% drop and hook.
Forced Dispatch
The majority of company drivers are forced dispatched but OTR drivers will never be forced to go to NYC.
Local / Regional / Dedicated Opportunities
Yes, Schneider has an abundance of local, regional, and dedicated opportunities. Many of these opportunities may become available immediately after training or within the first year of your employment (this largely depends upon where you live in relations to available freight).
Average Age Of Equipment
Most trucks are newer model Freightliners under 5 years of age.
Transmission Type
While transmission types vary, the majority of trucks are equipped with 10 speed manual transmissions.
Speed Of Trucks
Trucks are restricted at varying speeds, but most trucks are set to 65mph or below.
APU / Idle Policy
Schneider does not equip trucks with APU units but most trucks have auxiliary bunk heaters. They are fairly strict on idle time with a maximum of 25% idle time allowed.
Electronic / Paper Logs
The entire fleet is currently being switched to electronic logs.
Get Started With Schneider