Super Service Company Profile

Super Service is a regional and dedicated carrier operating throughout the eastern half of the United States and is headquartered out of Grand Rapids, Michigan. The company operates more than 1,200 tractors and 2,500 trailers. While Super Service operates throughout the 25 eastern most continental states, the majority of freight is in the Northeast states. The company actively hires both experienced drivers as well as recent truck driving school graduates, with a paid truck driver training program.
Other Hiring Trucking Companies
Terminal Locations
Terminals are located in the following areas:
Grand Rapids, MI (HQ)
Somerset, KY (Orientation Terminal)
Knoxville, TN
Ellenwood, GA
Okahumpka, FL
Montgomery, NY
Minimum Qualifications
The minimum hiring qualifications at Super Service includes but is not limited to the following:
General Requirements
Must be 21 years old
Must hold a Class A CDL with 6 moths of OTR experience or be a recent truck driving school graduate
Must pass a D.O.T. physical
Must pass a company road test
Must not have tested positive on a drug test or refused a drug test within the last 3 years
Must not have tested positive for drugs or alcohol while operating a Commercial Motor Vehicle
Must be a United States citizen or possess an appropriate work visa
Must be able to read, speak and write the English language in accordance with D.O.T. regulations
Driving Record
May not have more than 3 moving violations in the past 3 years
May not have more than 2 moving violations in the last 12 months
May not have any license suspensions in the last 3 years related to moving violations
May not have any DUI or DWI convictions in the last 3 years
May not have multiple DUI or DWI convictions
May not have a conviction or citation for the following: Leaving the scene of a crime
May not have more than 3 preventable minor accidents within the last 3 years
Criminal History
An applicant may not have any of the following convictions:
Sale or possession of a controlled substance in the last 5 years
Murder
Sexual assault of any kind
Armed robbery or felony theft
Perjury
Any other "aggravated" conviction
NOTE: All other felonies and misdemeanors will be evaluated for substantial relationship to the job.
Work History
The Recruiting Department will review and evaluate the following points of your work history:
Multiple violations of company policy
Termination from previous employer
Unexplainable or excessive gaps in employment
Indication that applicant is not eligible for rehire by previous employer
Documentation of excessive complaints
NOTE: An applicant with a dishonorable discharge or discharge for bad conduct from the the military will not be considered for employment.
Hiring Area
Super Service hires from all states east of the Mississippi River.
Operating Area
The majority of freight will remain east of the Mississippi and most freight will originate or deliver in the Northeast United States, but at times, freight will cross West of the Mississippi.
Company Training Duration
All recent CDL grads will spend a minimum of 5 weeks with a certified trainer.
Forced To Team After Training?
No, if drivers choose to drive a team truck, Super Service will help match drivers together. Otherwise, a solo truck will be issued.
Type Of Freight
Super Service is exclusively a dry freight carrier.
Pay
During training, student drivers will earn a flat salary of $75 per day for each day they are on the truck. After training, drivers will start at 31cpm with a 1cpm raise every year up to a maximum of 42cpm.
While Super Service pays about average for the industry, it's important to always compare them side-by-side with other similar companies.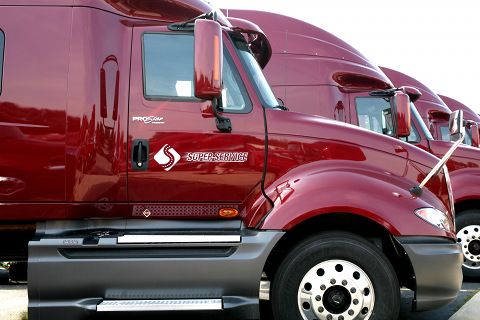 Benefits
After 60 days, drivers become eligible for health, dental, and vision insurance as well as company provided life insurance, 401k, and direct deposit.
Tuition Reimbursement
Tuition reimbursement is not offered.
Hometime Policy
Drivers normally spend 14 days out with 2 days home. Drivers may choose to stay out an extra week to earn an extra day off. Since Super Service runs regionally, many drivers are able to pass by their home weekly and usually on a weekend.
Rider And Pet Policy
Drivers are allowed to have an approved rider with an insurance deposit. Drivers are allowed to have 1 dog weighing less than 35lbs and a $750 deposit is required. The dog must also be up to date with vaccinations, be housebroken, and not display aggressive behavior.
Team Opportunities
Team freight is abundant and those who wish to drive a team truck will have many opportunities to do so.
Canada Border Crossing Policy
Super Service does not operate outside of the United States.
New York City Dispatch
Drivers are not forced dispatched to NYC but will earn an additional $100 for taking a load picking up or delivering in NYC.
Hazardous Materials
A hazardous materials endorsement is encouraged but not required. Drivers who possess a hazmat endorsement are eligible to receive a 1cpm increase in pay for all miles driven.
Drop And Hook
Approximately 60% of freight at is drop and hook with 99% no-touch freight.
Forced Dispatch
Drivers are forced dispatched except for NYC or loads containing hazardous materials.
Local / Regional / Dedicated Opportunities
Super Service is a 100% regional and dedicated carrier. Some local opportunities are also available but is highly dependent upon a drivers home location.
Average Age Of Equipment
About 50% of the fleet is less than 1 year old.
Transmission Type
Most trucks are equipped with 10 speed manual transmissions.
Speed Of Trucks
Trucks are limited to 65mph.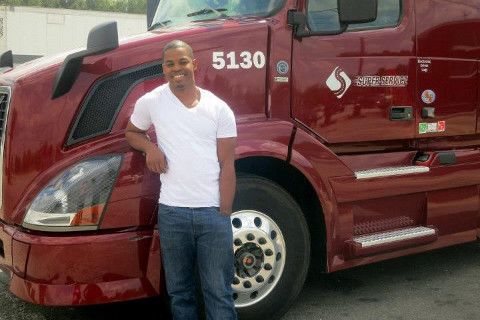 APU / Idle Policy
While APU's are not used, drivers are allowed to idle their trucks.
Electronic / Paper Logs
The entire fleet is currently switching over to electronic logbooks.
Compare Super Service To A Similar Company