Types of Truck Driving Schools
Generally speaking there are a couple different types of schools you can attend - private schools and trucking company schools. Honestly, this isn't necessarily that critical of a decision. I have known tons of people that have gone through one type or the other and both seem to do just fine. But there are differences, and there are a few things you need to know.
Private Schools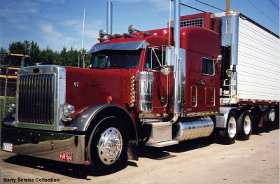 Private trucking schools are not associated with any particular trucking company. They are run independently so students upon graduation can choose to go anywhere they would like. The schools range in price generally from $2000-$5000 and can take anywhere from 3 weeks to 8 weeks to complete for your Class A license. It would take less time and money if you only wanted a Class B but I strongly suggest you avoid going that route. You are not only embarking on a new job, it's a new career.
By only getting your Class B license you are severely limiting yourself not only with regard to the number of jobs available to you but the amount of money you can make. It only costs a little more money and takes a little bit more time to get your Class A and believe me you won't regret it. Almost anyone I have ever talked to with a Class B had plans for getting their Class A, but I've never once talked to anyone that wished they had only gotten their Class B. Nobody. Go for your Class A.
Many of the better private schools will have a wide range of training including several weeks of practice at backing up the truck, classroom coverage of everything from log books to maps and routing to air brakes and vehicle inspection. They will also have......
Note: This section goes on for a long time and explains much, much more about private schools and then goes into schools owned by trucking companies but I can't put the whole book here!
Here's more for ya:
Click here to read about the author.....
Click here to read about the book.....
Click here to purchase the book......