Is Truck Driving A Good Career Choice?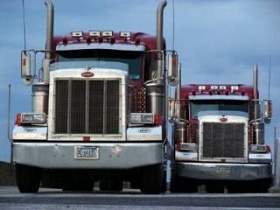 It's a myth that only higher degrees can earn you a secure, high paying job. If you look around there are many options that can offer you a good pay pack and keep you satisfied. Driving a truck is one good career option. There are number of reasons that many like to take up driving a truck as a full fledge career.
Both men and women can flourish in this field. Trucking is not only fun and adventurous, but also gives you a secure future where you will be in demand. If you have a passion for driving and love to travel to different places at any given time, then you are a suitable person for this job. Truck driving as a career doesn't require any degree, but you need to be excellent at driving and you have to be time sensitive. Trucking, though it sounds fun, requires a lot of training and licensing. Anyone who is interested in getting into this field can attend a truck driving school or a company sponsored CDL training program that can help you learn to handle the truck, teach you the rules of the road, teach you to do a pre-trip inspection, and give you plenty of defensive driving skills. Some of the truck driving schools offer a job placement facility after you clear the state licensing test. Most companies are on the lookout for drivers who can not only drive well, but also know to make safe, prudent choices on the road. With insurance costs going up, companies do not want to take the risk of hiring a reckless driver.
Driving a truck can earn you a good living also. A person with a good driving experience can earn more than $65,000 per year and an entry level driver can earn up to $40,000 per year. As you start gaining more experience, your pay starts increasing. Some truck drivers earn up to $85,000 per year. As there is always a shortage of good drivers, most companies have started giving benefits to retain drivers.
Dental, medical, life insurance, vision and retirement are some of the benefits that a truck driver gets. Fortune 500 companies always give compensation for a driver's efforts that motivates him to do better. A truck driver is eligible to a bonus, depending on his years of service and quality of work.
Many a times a truck driver has to work with odd hours for delivery reasons. You may need to travel in the night and take routes that will help you reach the destination on time. People who love to travel will enjoy this type of job, but there are jobs available for those who would like to be home every night. You can opt to be a local driver or a long distance or a region driver. A person who does not like to work in the normal timings of 9 to 5 can enjoy working as a truck driver. However, you should be ready to put in any number of hours each day - you'll often never know from one day to the next how tight your schedule might be.
If you are a person who can adapt to any environment and can travel on a regular basis, you can consider getting into trucking. As stated by the American Trucking Association, there is a large shortage of good drivers and anyone who gets into truck driving can count on being in demand and having a secure future if they protect their CDL license. Truck Driving is definitely a promising career you can rely on.
More From TruckingTruth: