Ever Been Fired For Arriving Early?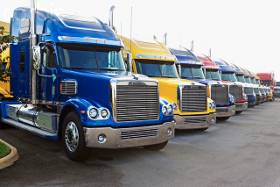 First of all you have to understand....I'm Italian and from Western New York. Italians from New York are known to be quite loud, confident, and don't take much shit from anybody. Not that I'm not a nice guy, but I was always one to look you in the eye and tell you exactly what I thought. Not necessarily in a nice way....especially when I was younger...it just really depended upon the situation.
Well, I had worked for this large company for about 3 years or so and had done an excellent job for them. I really enjoyed working there and felt they were a great company that genuinely cared about their drivers, which is hard to find in a large company. I was happy there and felt secure in my job.
I was in Dallas, TX and was dispatched with a load that picked up about a half an hour away at 1:00 pm. The comments in my load information included a statement that said, "Don't go in early". It's rare to find a place that is concerned with you arriving early. There are a couple of warehouses that will not let you in the gate more than one hour before your appointment time but even that is an isolated circumstance.
I figured, "Well, you can't go in too early but of course you can't be late, either" so I figured I'd try to time my arrival about 30 minutes before my appointment time. I figured that would leave a bit of a cushion in case of traffic delays but 30 minutes early should be no concern to anyone. Sounded good to me so that's what I did.
When I arrived everything went perfectly. I pull in, give the shipping office my load information, they tell me which dock to pull into, and about an hour later hand me my paperwork and say, "have a safe trip", and I was on my way. I delivered the next morning in central Alabama and my company told me to come to our terminal in Georgia about two hours away. Right away I knew that was an odd request and suspected something was up. Maybe it was my turn for a random drug test or a logbook review, I wasn't sure. But I was pretty sure it wasn't to tell me how glad they were to have me. I couldn't think of anything I had done wrong and nobody would tell me anything over the phone so I made the drive to the terminal wondering what was up.
I arrived in the office and the operations manager, whom I knew well and got along with great, called me into his office along with my dispatcher's boss. By the way, my dispatcher had been out that day so I casually asked, "where's Chris?", but they didn't say anything...they just shut the door. Uh-oh.
The ops manager asks me, "you know the load you just delivered? You picked it up outside Dallas right?"
I said, "yap."
He said, "Did you notice on the load information it stated not to go in early?"
I said, "Yeah, so I really didn't. I got there 30 minutes before the appointment time just to leave a bit of a cushion. Why?"
He said, "That company had gotten a warning from the fire chief that they weren't allowed to have trucks parking on the street or they would be fined. Trucks kept coming in early for appointments and lining up on the street. We were hauling about eight loads a day out of there and they asked us not to go in more than 15 minutes early but we kept doing it anyways. Then they cut us back to four loads a day and it STILL kept happening.
Finally they threatened to cut us back to two loads per day if it wasn't stopped and so the owners of our company issued memos and ultimatums to everyone in the offices that basically read, 'From now on the dispatcher is required to tell their drivers over the phone that they are NOT to arrive more than 15 minutes early. The next time we arrive too early both the driver AND the dispatcher will be fired.' You arrived 30 minutes early and we have to let you go. Chris (my dispatcher) was let go yesterday."
Ok, to say I was mad enough to tear that office building to the ground with a pencil eraser would have been a huge understatement!!! I told him, "The load info didn't specify the 15 minute time limit and Chris never told me anything! I had no idea about the 15 minutes or I wouldn't have gone in there like that - you KNOW me!"
The ops manager jumped out of his seat and said, "Wait a minute...Chris didn't TELL YOU?"
I said, "NO! Not a word! You know I wouldn't have done that if I had been told not to!"
He said, "I know it. I was shocked when I found out what had happened and that it was YOU. I asked Chris if he had told you, and so did he (pointing to Chris's boss). Chris kept saying he thought he had but was unsure about it because he had been so swamped that day that he couldn't remember who he had talked to."
I said, "Something has got to be done here. Clearly this wasn't my fault and my record speaks for itself. I don't deserve to lose my job over this. In fact I'm almost CERTAIN I would be the first driver in the history of the industry to be fired for arriving at a customer EARLY!"
note: This story continues but I'm going to cut it off here - it's too long. You'll just have to read the book to find out how it ends. Sorry.....
Click here to read about the author.....
Click here to read about the book.....
Click here to purchase the book......