Why Aren't GPS Systems Being Installed In Tractor Trailers
Of the most important features related to safety and efficiency, GPS systems in tractor trailers rank a close second behind only the steering wheel. It is astounding to me that most of the large over the road trucking companies do not equip every truck on the road with a GPS system. Nothing, in my opinion, would improve safety and efficiency more for over the road drivers than having every driver know where he is and where he's going at all times. Let's look at the idea of GPS systems becoming standard in all over the road trucks and the safety aspects of it.
Why won't trucking companies equip tractor trailers with GPS? Could it be they are afraid of drivers taking their eyes off the road and getting into an accident? Brilliant. What do you think drivers do every time they need to know where they are going? They flop that massive atlas on the steering wheel and try to drive with it up there while glancing at the road from time to time. How safe is that? Horribly unsafe. Why don't we pull of the road and look at the map? If you are wondering this, then clearly you have never driven a truck. It's horribly impractical and unrealistic to think that every time we have something little to deal with we should just pull of the road. We'd never get anywhere that way.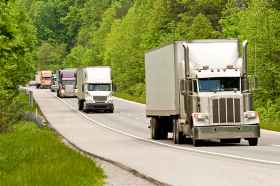 Or maybe the trucking companies just don't want to spend the extra money. After all, most of the time the people making these decisions have never driven a truck for a living so they really don't know what's necessary and what isn't.
Every moment behind the wheel is filled with distractions. Things like scenery, phone calls, the CB radio, being hungry, missing your family and friends, dreaming of hot rods, pretty girls in cars passing by, etc, etc. What is the most stressful and upsetting distraction on the road in my opinion? Getting lost! You're talking on the CB and asking for directions. You're looking at your map. You're calling the destination hoping to get back on track. And of course you're hoping to God you don't come across a low bridge or a restricted route in the process of finding your way back. Nothing will throw you off your game faster than getting lost - it's incredibly stressful.
What's worse is that the truck's are already equipped with GPS systems that your company uses to track where you are at all times. They just don't feel it's important for over the road drivers to know where they are at all times. Ridiculous. Once again these decisions are made by management - most of which have never driven a truck in their lives. They do their 'studies' based on input from a handful of their old timers that have been driving since there were two sticks to shift and no power steering. They aren't big on technology, as you can imagine, and likely feel overwhelmed and intimidated by it all. So the final conclusion? It isn't worth the $250 per truck for a truck driver to know exactly where he is and where he's going every second of every day. Insane.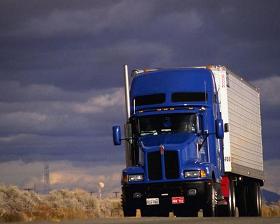 I began driving trucks long before there were GPS units in tractor trailers and I can tell you first hand that once I had one to use I couldn't imagine ever going back. Ever. It was priceless and quickly became the most valuable tool in my arsenal for safety and efficiency.
Companies will also argue that the directions to almost everyplace the company will send you are in the Qualcomm system already. Yeah, just outstanding. And if you follow those directions closely you will never get to your destination. I will stake my reputation on the fact that at most of these companies, 75% of the directions are wrong. Believe me I know. If they don't want to equip the drivers with a GPS system, you'd think they would go the extra mile to make sure the directions in the computer are correct. Ummmm....no. Too much trouble apparently. Once again, the theory makes sense to management, but in real life the results are the exact opposite of the intention - they are taking away more than they are giving to the drivers.
So once again, driver's lives are affected in a negative way because management "knows what's best" for them. Yeah, don't they always?
Until next time - here's more resources for ya: