Excerpts From The Book: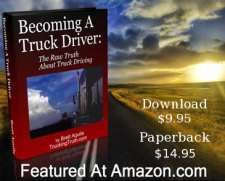 Nobody wants to blindly buy a book without some idea of whats inside it. After all, it might be a stinkin pile of baloney, right? So here are some excerpts taken straight out of the book, word for word, so you can get an idea of my writing style and the type of information you'll be getting.
This is just a small sample of the tons of thought provoking insights, straight-up honest advice, and hilarious stories I've accumulated over the past 15 years, all of which will certainly help you gain a much greater understanding of what your life will be like on the road. Enjoy!
I was returning to work for a company I had already spent a couple years working for in the past. By law, you have to take a road test anytime you are hired or re-hired at a trucking company. So I meet the 'road test dude' and we hop in the truck. He had no idea the level of experience I had. I already had 250,000 safe miles of driving in all 48 states and Canada just with this company alone! ....read more.....
First of all you have to understand....I'm Italian and from Western New York. Italians from New York are known to be quite loud, confident, and don't take much shit from anybody. Not that I'm not a nice guy, but I was always one to look you in the eye and tell you exactly what I thought. ....read more.....
Generally speaking there are a couple different types of schools you can attend. Honestly this isn't necessarily that critical of a decision. I have known tons of people that have gone through one type or the other and both seem to do just fine. ....read more.....
So I immediately called a private truck driving school and made an appointment. My ma said she would pay for the schooling for me (I gave her a good sales pitch with some guilt thrown in) and within a month I was in school to become a truck driver... the start of my odyssey. ....read more.....
Here's more for ya:
Click here to read about the author.....
Click here to read about the book.....
Click here to purchase the book......