Free Truck Driving Schools and CDL Training
(....or almost free....)
There are free truck driving schools and company-sponsored CDL training programs that are available for little or no money up front. With the poor economy that we are in, and likely to remain in for quite some time, there are a lot of people that are thinking about getting started in the trucking industry but don't have the money to pay for schooling. Well, you've come to the right place.
What most of us are looking for in a new career is a few basic things:
Enjoy The Work


Everyone wants a job they can really enjoy.

Be In Demand


We all want job security and a job that's in demand is key.

Make Good Money


This is directly related to the demand for your skills.

Get Started Quickly


It would be nice to avoid years of schooling and start making money soon

Inexpensive Schooling


If it was free, or almost free, that would be ideal!
Well, I am happy to say that becoming a truck driver and getting your CDL training can indeed fit all of the above criteria!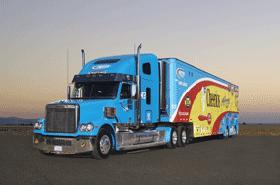 At TruckingTruth, we've done the research. We've called the trucking companies to find out who offers the schooling for almost no money out of your pocket. In a moment, we'll feature some of them and describe their truck driver training programs in detail. First of all though, there are differences between schools owned by trucking companies, and privately owned truck driving schools. If you haven't read my article yet on the different types of truck driving schools, I highly recommend you start there. There are some important things you should know.
When you're finished, you can then follow us to the next page and we'll show you: