Central Refrigerated Company-Sponsored CDL Training Program
Get Your CDL Training With Very Little Money Up Front

At TruckingTruth, we've done a ton of research for you! We've contacted the company recruiters at Central Refrigerated and put together a fantastic presentation of their company-sponsored CDL training program, along with our own advice and helpful insights about their CDL training. We'll start you off with an overview below of how we feel about their CDL training, and then we'll take you through all of the key features and important information you'll need to know.
Here we go!
TruckingTruth's Overview Of Central Refrigerated's Program
Overall, this seems like a good company with a great CDL training program, especially for those who are looking for a fast paced CDL course. While many other companies offer CDL programs which are 4 weeks long, this program is an accelerated course where you can obtain your CDL in as little as 2 weeks. This enables you to hit the road faster than most other training companies. So if you thrive on a fast paced learning environment, this is a great option.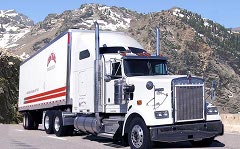 Once the CDL schooling is complete, company paid training includes higher than average pay and is structured in an efficient way. The time you spend with a trainer is neither too short nor too long and should adequately prepare you for a career in trucking.
The pay and benefits offered are on par with most other companies and the equipment offered appears to be well maintained. They seem to push their lease operator program a bit more than other trucking companies, which I always recommend new drivers stay away from. The company driver pay is more than sufficient and through my research into the leasing program, I see no added benefits over driving a company provided truck.
While you should always research as many companies and training programs as possible, this seems to be a very good choice for obtaining your CDL and beginning your driving career.