CR England Company-Sponsored CDL Training Program
Get Your CDL Training Through CR England

At TruckingTruth, we've done a ton of research for you! We've contacted the company recruiters at CR England and put together a fantastic presentation of their company-sponsored CDL training program, along with our own advice and helpful insights about their CDL training.
We'll start you off with an overview below of how we feel about their CDL training, and then we'll take you through all of the key features and important information you'll need to know.
So here we go!
TruckingTruth's Overview Of CR England's Training Program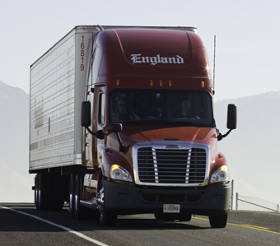 Overall I feel this would be a good program to consider, but I have a few very real concerns about it. First of all, their financing for the schooling is not competitive with other companies. An interest rate of 18% is as high as a credit card, compared with an interest rate of maybe 6%-8% for financial aid through the government.
Also, unless you become an owner-operator, there is no way to completely work off the tuition so that the schooling is free. Even if you stay with the company for 3 years, you've already paid 18% interest on the loan and the reimbursement still leaves about \$3150 total cost for the schooling.
Secondly, they are working very hard to encourage brand new drivers to buy their own truck through C.R. England, straight out of school. Now it is very rare for me to say anything negative about a particular company, but after 15 years in trucking, I find this practice to be very shady at best. There are 30-year veterans that have owned their own trucks for decades, and they often struggle to make it as owner-operators. A brand new driver is overwhelmed with information as it pertains to driving the truck and dealing with traffic, weather, mountains, night-driving, backing-up, DOT, shippers and receivers, being away from home and family, and everything else without having to learn how to run your own business as an owner-operator and deal with taxes, maintenance, fuel, permits, and everything else besides.
I will put my name on the line here right now and tell you - if you buy your own truck straight out of truck driving school, there is a 99.99998% chance that you will regret it terribly. Please, please, please do not consider buying a truck your first year in the industry. There is a very good chance that you will have your a** handed to you. You'll remember hearing this advice and it will haunt you forever. Have I made myself clear? Consider yourself warned.
As always, please do your own research and come to your own conclusions about which trucking school you should attend. I've presented this information to you so that you may make an informed decision for yourself. Other than to say I feel this program qualifies as the type of program I would consider enrolling in, and that I'm not happy about them encouraging new drivers to lease a truck straight out of school, I am not giving any other opinions on the company itself.