PAM Transport Company-Sponsored CDL Training Program
Get Your CDL Training Through PAM Transport

At TruckingTruth, we've done a ton of research for you! We've contacted the company recruiters at PAM and put together a fantastic presentation of their company-sponsored CDL training program, along with our own advice and helpful insights about their CDL training.
We'll start you off with an overview below of how we feel about their CDL training, and then we'll take you through all of the key features and important information you'll need to know.
So here we go!
TruckingTruth's Overview Of PAM Transport's Training Program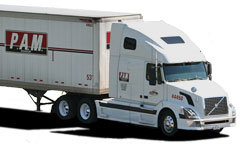 After hours of research and speaking with recruiters, I feel PAM is a very good option to obtain your CDL and begin your truck driving career. They utilize the Driver Solutions network of CDL schools which is a well established truck driving education network. It's important to note their hiring area is mainly limited to the Eastern half of Texas and east of the Mississippi.
Once you complete your training at a Driver Solutions truck driving school, you'll be eligible for immediate hire from PAM Transport. While PAM operates throughout most of the country, they offer a bit more home time than other carriers and seem to be a bit more regionalized than other carriers. This makes PAM a good choice for those who only want to be away from home about 2 weeks at a time, but probably isn't a great choice for those seeking to travel across wide areas of the country.
Of course, you should always do your own research to find the company which best suits your needs and lifestyle, but if I were just beginning my trucking career PAM would be a serious consideration.