Roehl Transport Company-Sponsored CDL Training Program
Get Your CDL Training Through Roehl Transport

At TruckingTruth, we've done a ton of research for you! We've contacted the company recruiters at Roehl and put together a fantastic presentation of their company-sponsored CDL training program, along with our own advice and helpful insights about their CDL training. We'll start you off with an overview below of how we feel about their CDL training, and then we'll take you through all of the key features and important information you'll need to know.
So here we go!
TruckingTruth's Overview Of Roehl Transport's Training Program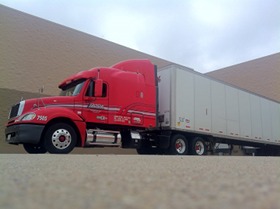 The Roehl Driver Training Center (RDTC) and CDL training program appears to be very high quality. It occurred to me that they aren't simply meeting minimum state requirements, rather, they go above and beyond the minimums. I find it interesting that housing and transportation costs aren't covered through their financing program though. If you have the cash up front to cover these expenses, I wouldn't hesitate to pay for those costs in order to go through this course. But like many people just entering the trucking industry, this could be a barrier for you.
The company training seems to be more thorough than most other trucking companies. I truly believe Roehl goes above and beyond most other carriers to ensure their drivers are safe, knowledgeable, and successful.
After training, Roehl offers more opportunities for local and dedicated freight, a more relaxed home time policy, and several ways to transition into different areas of truck driving (reefer, flatbed, step deck, curtainside, and dry-van).
While I always recommend you do your own research into as many companies as possible, I'm extremely pleased with how Roehl operates from the start of training to the time you go solo and beyond. If I were choosing a trucking company today, Roehl would receive very serious considerations from me.