Stevens Transport Company-Sponsored CDL Training Program
Get Your CDL Training Through Stevens Transport

At TruckingTruth, we've done a ton of research for you! We've contacted the company recruiters at Stevens Transport and put together a fantastic presentation of their company-sponsored CDL training program, along with our own advice and helpful insights about their CDL training.
We'll start you off with an overview below of how we feel about their CDL training, and then we'll take you through all of the key features and important information you'll need to know.
So here we go!
TruckingTruth's Overview Of Steven's Training Program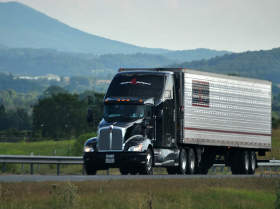 While Stevens Transport seems to have some advantages over other companies in some areas, there are some initial concerns we'd like to point out. Their CDL tuition repayment plan is a bit complex and somewhat deceiving. The Stevens Transport website indicates there is only a 1yr commitment and the recruiters we spoke with said the same. But upon further investigation, it appears the real commitment is 3 years.
The 1 year commitment only ensures the schooling will continue to be financed, but you will still need to make weekly payments to pay off the loan. This isn't a free CDL program, rather, it is financed over the course of a 3 year period. Staying for 1 year will enable you to keep the tuition on an interest free loan. In addition to the tuition costs, if transportation and lodging is required, those costs will be placed on a separate interest free loan.
Even though we have some concerns about their tuition payment structure and the 3 year repayment plan, they seem to operate fantastic equipment with a high quality school and have some of the longest average lengths of haul in the industry. They are also a financially stable and secure trucking company. So this could be a great CDL school and company to start your trucking career. As always, we highly recommend you do your own research and explore all options which best suit your personal needs.