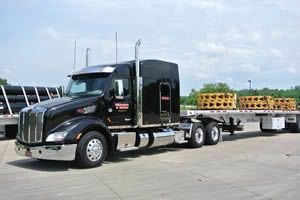 TMC Transportation is a larger company with a long history of success, over 40 years, and new drivers can expect their training to be thorough and top-notch. TMC Transportation boasts that first-year drivers average $55k, and they are unique in their pay scale in that they offer a choice between percentage and mileage pay.
Keep in mind that TMC's training area is limited to students from Iowa, Indiana, Kentucky, Illinois, Ohio, Southern Wisconsin and Southern Minnesota, with limited opportunities for applicants residing in Western Pennsylvania, Maryland, Delaware, Virginia, Massachusetts, Connecticut, and New Jersey.
For qualified trainees from those areas, who are interested in starting out in flatbedding, TMC Transportation would be an excellent choice. Additionally, most of their runs are less than 500 miles, and most drivers are home every weekend. As most drivers choose the 'percentage pay', there should be less concerned about the number of miles they actually drive.