TMC Transportation CDL Training Itinerary
Describe the CDL school itinerary a bit:
Students will have a variety of classroom instruction, equipment familiarization, simulators, practice driving, backing, and other maneuvers.
How long is the training overall?
The initial CDL training portion is 3 weeks in duration before going on the road with a trainer.
How much time on the range backing up?
2 weeks
During the practice range phase, how many students share one truck?
2 students per truck
How much time in classroom?
40+ hours
TMC On The Road Training Itinerary
Is the training period based on number of days, number of driving hours, number of miles, or some combination?
A combination of all those, but new drivers will spend about 5 weeks with their trainer.
How much will I be making when I'm on the road with a trainer?
After the student has their CDL, they will earn $500 per week while out with a trainer.
Do they run the student and trainer as a "team" operation or like a solo truck?
The trainer must be in the passenger seat any time the truck is moving the first 2 weeks, with the ability to run more miles weeks 3, 4, and 5. TMC's average length of haul is less than 500 miles.
Is there more than one student per trainer and truck?
No, one student per trainer & truck.
Do you have a "No sleeping in the top bunk while the truck is rolling" policy?
No, the driver trainer is required to be in the right seat at all times during training, so it's not possible.
What is your policy for handling disputes between trainer and student?
Each student has a training coordinator whom they talk to every day while training. Any disputes that arise are handled on a case-by-case basis.
Can you get a non-smoking trainer?
Yes, a non-smoking trainer may be requested.
What are the company's minimum qualifications to be a trainer?
At least 6 months of safe driving and have to have driven during one winter. Additionally, they take a class and must pass a test, and have to have approval of Safety and Operations departments.
TruckingTruth's View On TMC Transportation Training Itinerary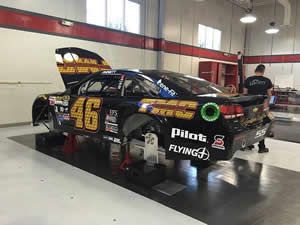 TMC Transportation's CDL training portion of their program is typical at about 3 weeks, with the equivalent of one of those weeks in the classroom and two weeks out on the range practicing backing maneuvers and driving skills.