Werner Enterprises Company Profile

Werner Enterprises, INC is based out of Omaha, NE and was founded in 1956. It is currently the 5th largest truckload carrier in the United States with more than 7,250 trucks and over 25,000 trailers. While the majority of freight is dry van, Werner also hauls some temperature controlled and flatbed fright as well.
Online Resources
Driving Opportunities With Werner Check out the Werner employment page.
Werner Equipment Find out what type of trucks Werner uses.
Werner Company History See how Werner was founded and how they became the company they are today.
Terminal Locations
Headquarters: Omaha, NE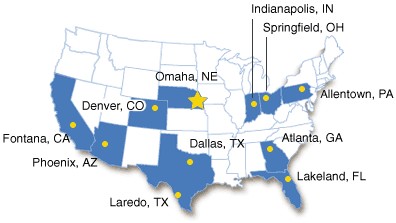 Atlanta, GA
Dallas, TX
Denver, CO
Fontana, CA
Fontana, CA
Indianapolis, IN
Lakeland, FL
Laredo, TX
Phoenix, AZ
Springfield, OH
Minimum Qualifications
At least 21 years of age at time of hire.
Maximum of 2 traffic violations in the last 3 years.
Accidents are reviewed on a case-by-case basis.
No drunk driving related convictions within the past 5 years.
Meet and pass all DOT physical requirements which includes an illegal substance screening.
Be able to fulfill the physical demands of the job.
If no experience, be a graduate of a truck driving school approved by Drivers Management (over 800 schools throughout the United States).
Hiring Area
All 48 continental United States.
Operating Area
All 48 continental Unites States as well as Canada.
Company Training Duration
Minimum of 275 driving hours which normally takes approximately 6 weeks.
Forced To Team After Training?
No, after training is complete drivers may move directly into the solo driver division.
Type Of Freight
Dry Van
Refrigerated
Flatbed
Pay
During company training drivers will earn a flat salary of $350 per week. Drivers in training may also draw a maximum of $150 / week as a cash advance.
After training, pay is based on a complicated sliding pay scale depending on region of the country, length of haul, and your average fuel mileage. But the pay starts at 26cpm and increases from there.
Tuition Reimbursement
After 30 days of employment, drivers can earn an additional $100 per month up to a maximum of $6,000 in tuition reimbursement.
Hometime Policy
OTR drivers receive 1 day of hometime for each week spent on the road with a minimum of 2 weeks out at a time. Hometime on regional and dedicated accounts vary but daily and weekly hometime opportunities exist in certain areas.
Rider And Pet Policy
Werner does have a rider program for those over 12 years of age as long as an insurance form and small insurance fee are submitted. A small pet is also allowed but you will not be able to have the pet with you during training.
Team Opportunities
Both team and solo operations are available.
Canada Border Crossing Policy
While Canadian freight is available, drivers are not forced to drive into Canada.
New York City Dispatch
Drivers may refuse NYC freight.
Drop And Hook
Approximately 80% of all freight is drop and hook.
Hazardous Materials
Drivers may refuse freight containing placarded hazardous materials.
Forced Dispatch
Yes, except for NYC, Canada, and freight containing placarded hazardous materials.
Local / Regional / Dedicated Opportunities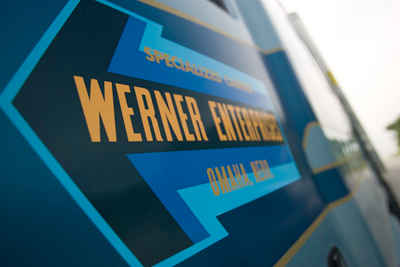 Various dedicated and regional positions are available for drivers with at least 6 months of OTR driving experience. There are over 100 dedicated fleets currently in operation at Werner.
Average Age Of Equipment
Trucks are on average 1.5 years old.
Transmission Type
Mostly 10 speed manual transmissions.
Speed Of Trucks
Truck speeds range between 61mph and 65mph with most trucks operating at no higher than 62mph.
APU / Idle Policy
Some trucks are equipped with APU's but the majority of trucks are not equipped. For trucks without an APU, automatic engine start / shut off features are used to maintain a comfortable temperature and charged batteries.
Electronic / Paper Logs
This was the first carrier to use DOT approved e-logs. The entire fleet uses e-logs and has for many years.
Compare Werner Enterprises To A Similar Company