Dedicated To Helping Those Who Are New To The Trucking Industry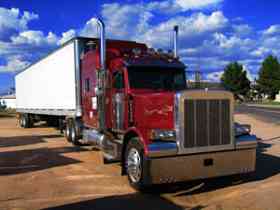 We're glad you're here and we're certain you're going to find tons of great stories and informative artlclies about life on the road that will help you understand the in's and out's of the trucking industry. We have a number of different authors with various levels of experience in the industry, and we're always looking for more! If you're interested in having your own blog on TruckingTruth, just let us know by emailing Brett@truckingtruth.com. We'd love to have you!
A Positive, Honest, and Realistic View of the Trucking Industry
At TruckingTruth, we all enjoy trucking, but we want you to know the good side and the things you need to look out for. We have no hidden agendas and we'll pull no punches. We want to give you an honest, realistic view of the industry so that you can decide for yourself if trucking is for you. And if you do decide you'd like a career in trucking, then we're here to help you all the way!
Navigation – Click To Expand The Category:
We've put together a great team of writers that are going to cover all different aspects of the trucking industry. These folks represent all different experience levels, and give a wide variety of insights and perspectives on truck driving and trucking as a career. We're going to have everything from students in truck driving school, to new drivers, experienced drivers, and even some retired truck driving veterans with over 30 years of driving and millions of miles behind them on the highways across the U.S. and Canada. We'll be covering the trucking industry and beyond with subjects including:
The steps to becoming a truck driver
Choosing a truck driving school
How to find free CDL training
Choosing the right trucking company
Surviving your first year on the road
Handling the DOT and your logbook
Scheduling your time on the road
The lifestyle of a big rig driver
and a whole lot more….
So check out the work we've put together and I promise you you're going to find more information here than all the other sources out there put together. And listen, this isn't a one way street. We want your questions, comments, suggestions, and any kind of input you'd like to give. If there's a specific question you need answered or a subject you'd like to see covered, just leave a comment after one of our posts, drop us an email, or check out our Ask A Driver section, our trucking articles, or our trucker's forum and start typin away! We're here all the time and we'll be sure to get right back to you as quick as can be! So here's the authors we are featuring and there will be more added all the time! Enjoy!
View Our Most Recent Posts
View Our Most Popular Posts
View All Of Our Posts By Category
View All Of Our Posts By Tag
View All Of Our Posts By Author
View All Of The Posts In Our Archive
br> br>
br> br>
br> br>
br> br>
br> br>
br> br>
br> br>
br> br>
br> br>
br> br>
br> br>
br> br>
br> br>
br> br>
br> br>
br> br>
br> br>
br> br>
br> br>
br> br>
br> br>
br> br>
br> br>
br> br>
br> br>
br> br>
br> br>
br> br>
br> br>
br> br>
br> br>
br> br>
br> br>
br> br>
br> br>
br> br>
br> br>
br> br>
br> br>