Randy's Truck Driving School - Day 7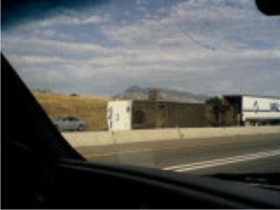 A Wal-Mart truck rolled over on the interstate just a few miles from Randy's truck driving school.
Well, it's been one week since Randy arrived in Utah, and what a week it's been. While it went by fast for him, it felt more like a month to me.
I'm feeling a little weird tonight because after talking to him 8 (brief) times today, I've been waiting for him to call again like he promised. But it's now past 1 am (midnight where he is) and he never called. I tried to call him 2 hours ago, but it rang 3 times and then "click". Did he hang up on me? I hope everything is o.k. Nuts, I was so happy earlier.
Here's Today's Update:
- He finally got a little "down time" today and, between pre-trip inspection practice run-throughs, he called a lot. I even talked to, texted with and emailed a few other students he was hanging out with, which was fun. Several were trying to send me their photos of yesterday's accident, but were having trouble figuring out their phones. One guys sent me a pic of a Walmart truck that flipped, spilling soda cans all over, 2 miles from their school (see photo).
- He told me he looks forward to our conversations about what's going on there. Because he needs someone to vent to, someone who isn't there. He really appreciates my understanding of trucking (thanks to websites like this), and now seems happy to have me involved with his potential new career. I like that. I've tried my best not to cry or agitate him when we talk and to stay positive, because he's dealing with enough pressure already. But life goes on here, and this has been very difficult for me as well. I look forward to his calls so much that my ringtone plays nearly constantly in my head. And I'm so disappointed if it rings and it's not him. (No offense, sorry other people.)
- He's still so hyper that he ends nearly every call with "O.k., o.k., see ya!". Yeah, he's smooth with the ladies. ;) I'm relieved to know he's coming home for sure after the Phase 1 training, in order to get his CDL in MN. But that's still 5 or 6 weeks away.
- He seems to be making lots of friends, and has dedicated himself to avoiding the rumors which are so pervasive there. And he is truly enjoying helping students who are struggling, as well as welcoming new ones.
- He said Saturday night was like a slumber party in his room, or kind of like Boy Scout Camp (I made that analogy already). For me, sitting home alone, I felt almost envious of the women whose husbands were sent home. I knew this would be uncomfortable, but I'm confident that good will come of it. I'm obviously still suffering from the dreaded "Husband Withdrawl Symptoms".
- It's good to hear that the vast majority of students are passing their skills tests on the first try. Only 1 of the first 35 to take their backing tests failed.
- He's meeting very interesting people, including an instructor who has only been involved with trucking for a few years and used to be a travel agent. On the down side, he said that he is finding, overall, a complete lack of general manners there.
- The school in Texas is so full that one of Randy's new roommates (from Oklahoma) was first sent to Amarillo and then had to do 28 hours on a bus to get to Salt Lake City.
The most important things I can pass on from Week 1 are:
Families - Take good care of yourselves, be well-informed, patient and understanding. It will be a challenge, but with some help and support, you'll get through it.
Students - Don't pay attention to alarming rumors about ANYTHING unless they are confirmed by someone with true authority. Be prepared to work your butt off in an intense, fast-paced environment, try to remain calmly focused, and don't forget that your family is missing you something awful.
Oh, and the Director of this particular school is apparently "hot".
Related Articles: