Blogs By Author

Blogs By Tag
It is a beautiful morning in southern Texas. Sunny and warm. The buzzards were sitting on the fence waiting for the next unlucky critter to bite it while they're skittering across the road. I have a load of meat due for delivery at 9:00 a.m. I was parked at a truck stop about six miles from the yard. I got a decent night's sleep and was ready to start the day.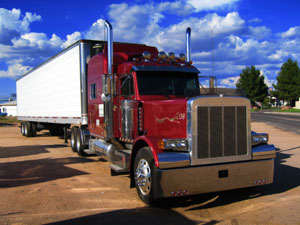 I was checking out the route and realized that the address from the Qualcomm did not match the directions the Qualcomm was giving me, and the delivery address on the bill of lading didn't match either of them! No problem, I thought. I have over two hours 'til my delivery time. So I called my dispatcher. The night dispatchers were still on duty.
Great Help From Night Dispatch
After explaining what my problem was, the dispatcher just gave me the same address from the Qualcomm. I said I knew that, but that I needed more info…where was this load supposed to be? How am I supposed to get there? The dispatcher pinged me on the GPS tracking system. He then proceeded to tell me that I was 26 miles north of my actual position at the truck stop I was parked at! Lot of good that tracking system is! Now time is ticking away and I am getting frustrated. I told them that the location they're showing me at was impossible. I know where I am. I could practically see Mexico from where I am right now!…. I need to know where I need to be! He said he couldn't do anything for me.
I left the truck stop about 1 1/2 hours before my drop time, still plenty of time to get there. I followed the local directions from the Qualcomm. I got to where those directions ended, but I was nowhere near the yard! Nowhere near anything that looked like my receiver. I tried to call the receiver, but the number that was sent over the Qualcomm with the dispatch was not a valid number. It had been disconnected. I tried dispatch again. They tried to send me a different way, and that wasn't right either. Now I have been driving up and down these roads, hitting dead ends, one ways, no trucks allowed. I'm getting really hot now. They want this stuff delivered on time but make it nearly impossible for us to get it to them!
Luck Was On My Side
I called dispatch - AGAIN - and they told me to call the meat department at my company after 8:00 a.m. So I waited and called them. The line is busy. I waited a few minutes and tried again - busy. After four tries I give up. I got a hold of my DM (driver manager - dispatcher). I told him what was going on, and just then while driving up and down this road, I stumbled across the address on a building that matched the bill of lading. It looked like a business office. I stop there but no one is around yet. I have no choice but to wait for a live body to get this figured out. Finally I see someone and I ask them about the address.
He sent me to the other end of the building and said to go around the building and go up the stairs. It is now about 10 minutes 'til my load is due. I could tell there were two floors, but did not see stairs anywhere! So I am racing around trying doors to try and find the one that opens up to a stairway. I finally found it and ran up the stairs with my papers. I get them turned in and tell the gal at the desk about the mix up. She said "Yeah, that happens a lot."
"So why doesn't it get fixed???" I wonder. She gives me the right directions, on roads that actually go through and allow truck access.
Nobody Looking Out For The Drivers
I hustle back to the truck and I talk to my DM while getting my truck to the loading area. He said to hurry up and get the arrival submitted on the Qualcomm to show an on-time arrival. I have never had a late arrival yet and I am not getting one now because of this mess up. I ask my DM why this stuff happens when not only is he aware of the problem, but so are the day and night dispatchers and the receivers?? They all know that bad info is being given to us!! I guess no one cares because they are not affected by it. Just the drivers! And it is just the drivers that get the hit on our record if we can't get it figured out.
I am on time with about one minute to spare, and now I'm siting at the dock waiting for my turn to get unloaded. For 3 1/3 hours. Glad I wasn't late!
See ya next time, Steve