Attending Truck Driving School Part II - First Day On The Yard
Alan and I bantered nervously in the crisp morning air of the big day. Alan was a transplant from England and, although he had been in the States for sixteen years, he had not lost an iota of his Cockney accent. When he became aggravated or nervous, his accent became even more pronounced—sometimes to the point where I'd have trouble understanding him. On this morning, I didn't need to understand him. We were both nervous, yet excited about the new challenge before us. We'd be spending the first couple of days in the yard, learning straight-line backing and 45° angle backing.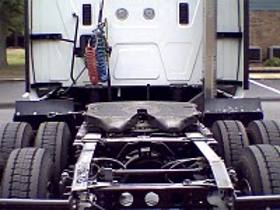 Old Warrior Truck and An Unusual Instructor
The instructor entered the yard before the sun had fully risen and waved for us to join him at the row of trucks in the yard. The rank of about a dozen trucks was mostly ancient long-nosed Freightliners and dilapidated Volvos but, presumably, they all worked. They reminded me of ancient battle-scarred warriors who should be resting in retirement, but have been recalled to active duty for one last fight.
The instructor's name was James, who was a little younger than Ron, but whose shoulders were slightly hunched, as if he'd been carrying a cinder block before arriving. He had a cookie-duster moustache and spoke in a nasal monotone, which made me glad that I'd ingested plenty of coffee this morning. James, as we would discover, had a propensity for talking about women's breasts. He didn't just talk about them, mind you, he analyzed them: the shape, the size, the feel, the texture, the "rating system", the color, the roundness of the areola, the smoothness, the pear-shaped ones, the apple-shaped ones… well, you get the picture. At first, the mammary musings of James was funny and entertaining but, after a time, it started seeming a little creepy. It was obvious that he was obsessed with the glorious globes. I'll admit that I have an appreciation for female breasts myself, but they are rarely exposed as a topic in one of my normal conversations. James spoke of breasts as if he were casually talking about the weather. Nevertheless, James was our instructor now, and I fervently hoped that he had more knowledge to bestow upon us than the most plausible route to "Titty City" in Nevada.
Time To Climb In!
After about half an hour of verbal instructions, James climbed into the old white Volvo and fired up the engine. The roar of the diesel engine drowned out the sounds of morning as it proclaimed itself the ruler of its domain. Even Steve was dwarfed standing next to the rumbling white giant. James maneuvered the truck between two rows of orange cones and told us that we'd be learning straight-line backing today. He then pointed directly at me and asked for my name.
"Rick", I said.
"Okay Rick", grinned James, "you're first—jump in!"
I climbed up into the rumbling vehicle with trepidation while some of the students wished me good luck, and others wagered on how many cones I'd crush. James climbed up to the window and shouted a reminder at me over the noise of the thundering engine.
"Steer into your trouble… if the trailer goes right—steer right, if the trailer goes left—steer left."
My Turn To Steer Into Trouble
With that, he climbed down from the vehicle and left me to the task. The old Volvo was shaking with authority, as if it were a rodeo bull eager to dismount me in less than eight seconds. The mirrors were vibrating so violently that I couldn't even see the cones; they appeared as orange blurs.
I took a deep breath and began my backward trek. Amazingly, I managed to negotiate the 100-yard course without hitting any cones, but it didn't take long to discover that this was trickier than it seemed. Another hundred yards, and there's no doubt that I would have killed some cones. Over the next couple of days, I practiced more and gained confidence. Then, I was introduced to the bane of my existence: 45° angle backing.
Dm:
Dispatcher, Fleet Manager, Driver Manager
The primary person a driver communicates with at his/her company. A dispatcher can play many roles, depending on the company's structure. Dispatchers may assign freight, file requests for home time, relay messages between the driver and management, inform customer service of any delays, change appointment times, and report information to the load planners.
HOS:
Hours Of Service
HOS refers to the logbook hours of service regulations.
Related Articles: