Blogs By Author

Blogs By Tag
Finally, the time to take the road test arrived. We would go, in small groups, to the testing facility in Hartselle, Alabama over the next five days. I would test on the second day, and Alan would test on the fourth. Everyone was nervous, so I guess Alan just needed a laugh when he approached Douchebag and asked, "Do you think you're going to pass?"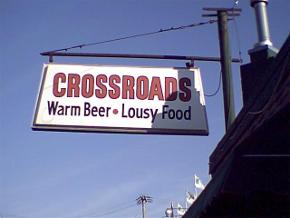 "I KNOW I'm going to pass!" boasted Douchebag proudly.
Douchebag failed on his first two attempts.
The test consisted of four parts: first, the student would provide a verbal commentary of an inspection of the truck and trailer, next would be straight-line backing, then, 45° angle backing and, finally, driving on the road with the evaluating officer.
Watching Others, Waiting My Turn
On my test day, the diminutive Ray and another student named Jerome accompanied me. Jerome was missing most of his front teeth, but that didn't stop him from flashing an endearing smile. He had poignant circumstances for being here and I was in his corner rooting for him. The scuttlebutt among the instructors, however, didn't give him a snowball's chance in hell of passing. On this day, Jerome's smile was missing and he was nervous, almost to the point of trembling. It helped to relieve some of my tension as I offered encouragement to him as best I could.
Ray was the first to test and despite being barely big enough to reach the pedals, he passed on the first attempt. Next was Jerome. Pat was the instructor who had accompanied us and she didn't seem optimistic. Jerome, however, rose to the occasion and shocked everyone. He got what held up to be the highest score of anyone in the class.
"I didn't see that coming," is all Pat could say.
My Turn To Take The Exam
Now it was my turn. We were two for two today, and I certainly wanted to keep the streak intact. I breezed through the inspection because Alan and I had unmercifully drilled each other on this until we had it down cold. Straight-line backing didn't prove to be a problem either. Then, it was time for the dreaded 45° angle backing. After my heart skipped a few beats, I set up the way Pat had showed us, and I slowly maneuvered the trailer between the cones. It was perfection! I was dead center perfect! My confidence was soaring as I got out to see that my trailer was already across the first line, which was a passing grade. I thought, however, that I could back a little closer to the rear cone to improve my score. I climbed back into the truck and backed up a little. I got out to observe my mastery, knowing that I'd just sent my score into the stratosphere.
Fail!
My life flashed before my eyes in horror as I observed the rearmost cone lying horizontal, as if it were a bowling pin toppled with a Brunswick from the hand of Walter Ray Williams Jr. I looked at the officer with an imploring appeal but, with the cone lying there like a fallen soldier, he had no choice but to fail me.
I was devastated. I moped to the curb and sat down with my head in my hands. Our roles reversed, Jerome came over to offer encouragement. I was pissed off at myself because my ego had caused me to fail. I'd just been trying to "run up the score". I deserved to fail, and I knew it. Jerome didn't allow me to feel sorry for myself for long though.
"Git up and go take that motherfucker again!" he insisted.
"I know you can do it an' I'm gone kick yo' motherfuckin' ass if you don't go take that motherfucker again!"
His words were blunt, simple, and to the point. I decided to go and take that motherfucker again.
Redemption!
This time, I collected myself and left my ego at the door. I backed the trailer between the cones and got out three or four times to assess my progress. When the rear of the trailer was across the first passing line, I looked at the officer and asked, "Is that passing?"
He could not conceal an amused grin when he said, "Yeah, that's passing. Do you want to go for a higher score?"
"No, sir!" I stated with conviction.
The road test went well and, after the emotional roller coaster ride of today, I could rest easy now—I had passed.
Moving On After The Test
The majority of the class did not pass on the first attempt. Even Alan had to take a second stab at it. Nevertheless, everyone eventually got a CDL—even Douchebag. I was going to miss many of these guys, especially Alan, but it was now time to decide on a first trucking job. We said our goodbyes and everyone went out into the world. Mike, never breaking character, left without saying a word to anyone. I heard, later, that Mike's trainer at USA Truck abandoned him at a truck stop. I don't know if it's true, but it wouldn't surprise me if it were. Steve went to work for CRST for a short time and then went back to driving a cement truck in Alabama. Ray decided that the nomadic life of an OTR trucker wasn't for him and he found a job driving locally. I don't know what happened to Douchebag—I just hope he hasn't killed anyone.
Alan drove locally for about six months and then found another engineering job. I stayed in contact with him for a time, and he gave me updates on the other students that he knew about. According to him, I'm the only one out of our class who is still driving OTR. I don't know what became of the rest of them but I hope they're doing well.
I decided to take my first trucking job with a flatbed company out of Savannah, Georgia. I'd be running southeast regional and working out of their Bridgeport, Alabama terminal. After going through orientation in Savannah, taking a physical, and signing a ton of paperwork, I met my trainer—and Ringo was his name-o.