Blogs By Author

Blogs By Tag
In Part I of my intro to big trucks and truck driving school I talked about signing up for truck driving school at North Cross Commercial Driving School and covered a bit about the anatomy of a typical big rig. Now, in part 2, I'll talk a little bit more about the mechanical aspects of big rigs and we'll take one for a drive!
The Hook-Up And Operation Of The Trailer
The fifth wheel is a big disk on the back of the truck which mates with the kingpin on the trailer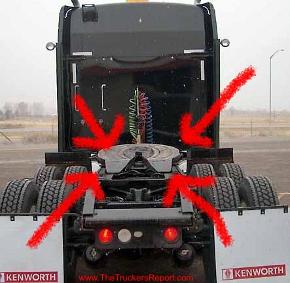 The fifth wheel is a big disk on the back of the truck which mates with a similar disk on the trailer, and that's where the connection is made. In the middle of the disks is a kingpin on the trailer side, and latching jaws for the kingpin on the truck side. A latch arm is pulled to release the trailer while unhooking. Surprisingly, the latch arm can be released easily by vandals when you are parked, so after a stop (like for one of those fine truck-stop diet meals), it's smart to check it rather than facing the prospect of driving off without the trailer. A slathering of grease on the fifth-wheel allows the truck to turn easily. The fifth-wheel on the tractor can usually be slid fore and aft to allow the weight to be balanced properly on the tractors axles.
Two air lines carry brake air pressure to the trailer. These are connected via "glad hands" to the trailer. Finally, an electrical line carries the lighting current to the trailer. When disconnecting, the "landing gear" is lowered via a big crank handle, and this holds the front of the trailer up. Trailers have a "DOT Bar" in the back that keeps cars and truck from submarining under the trailer if they rear-end the truck.
Both tractors and trailer have mandated anti-lock brake systems (ABS) for the last few years. Some older equipment doesn't, but trucks and trailers mix and match properly, even if one of them doesn't have ABS. Trailers with ABS have a special light on the driver's side that illuminates if the ABS isn't working properly. Look for that next time you see a trailer – it's a separate light that is located off-line with the normal running lights.
What's All This In The Cab?
What's with all the gauges and levers on the dash? Looks like an aircraft in there.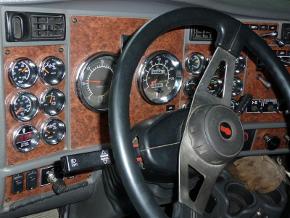 Obviously there's a lot more to know. It's not just a big pickup truck!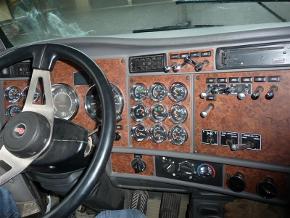 Here are some of the gauges you might find: available brake air pressure, usually a dual gauge – one for each system; brake application pressure – how much air pressure is applied to the brakes as you press the pedal; your typical fuel level, oil pressure, ammeter and water temp gauges; turbocharger boost PSI – up to about 30 PSI is used; transmission, engine and differential oil temperatures; and gauges that show the drop in pressure across the fuel and air filters so you know when they need replacement.
Controls that you are likely to see include the two park brake air-controls (one for tractor, one for trailer); a hand-controlled trailer-only brake control called a Johnson Bar or trolley valve; turn signal switch (not automatically cancelling) with integrated four-way flasher switch, air controls for unlocking the fifth-wheel for adjustment and for locking the axles together; control for applying air to the air suspension bags; control to apply air to the drop/tag axle; mirror heat and adjustment switches, various light switches, including one to interrupt the running lights to thank drivers for letting you in; cruise control; CB of course, and engine retarders (typically called Jake Brakes because they were originally sold by Jacobson) that can be set to off, or different level of braking. If you are looking in a truck with hydraulics (like a dump truck), you will also find more controls for enabling and actuating these functions.
Time For A Drive
So, let's get in and go for a drive! Climb up a couple of steps over one of those twin 150-gallon diesel tanks and settle into a comfy air-ride seat. Adjust it just right up and down, lumbar, … until you are comfy. Set the tilt of the steering wheel. Make sure you're in neutral, press down the clutch and fire up the motor just like you would your car. Watch the gauges to ensure that your oil pressure is up, and that the brake air pressure in both tanks is fully charged. Press in a large knob that turns off the park brake on the trailer. Then press in the large knob that turns off the park brake to the tractor. As you do, gently press the foot brake.
Now, press the clutch down all the way to the floor and wait for the clutch brake to do its thing so you can shift into first. Let's assume we are driving one of the simpler transmissions, the nine-speed Road Ranger. Make sure that the shifter is in low range. Soon you can slip the transmission into first without grinding. While leaving the engine idling, slowly release the clutch. When you feel the tractor start to torque, release the brake and you will roll off without first rolling backwards. Be careful to not give it any throttle when taking off – you have way too much torque at your command and things like your driveshaft will break. Once you're up to about 1700 or 1800 RPM, push clutch down, shifter to neutral, clutch out, clutch in, shifter to next gear, clutch out again. Repeat until you are in fifth (about 15 MPH), then on that shift, also change to high range prior to the shift, then go the rest of the way up. Same thing going down through the gears, but give it throttle when in neutral and clutch out between shifts.
An interesting part of driving a semi is that the shifting drastically changes based on load and incline. For example, when heavily loaded and going up an incline, you can drastically slow down during the time the shift takes. Or going down heavily loaded, you will speed up more than for the next gear – stay away from the shifter going down long grades – you could end up out of gear and in big trouble.
Otherwise, driving down the freeway is smooth and comfortable. You need to stay in the right-most lane most of the time and observe a 60 MPH limit in most states. Plenty of mirrors give fairly good information about your surroundings. Other than using most of the lane width, the biggest difference from driving a car is that it takes a long, long time to stop. For example, 300 ft from 60 – that's if it's dry and you're moderately loaded. If it's wet (and worst yet you're unloaded at the time), the distance goes way up.
On secondary roads and you're driving a car, it's easy to complain about being held up behind a truck – you're thinking "there's five or more cars behind him – he has to pull over," but the reality is that it takes a very long spot to pull off and get back on – very difficult to find. Also, you can't trust most shoulders to hold your weight.
Around town, things are pretty stressful. You're taking most of your lane to start with, and turns usually require part of somebody else's lane. This is called encroaching (which is OK). If you force somebody out of the way (not OK), it's called barging. At railroad crossings, you have to be ready to stop as you enter, but if you do start crossing, you can't shift, can't stop (you have to make sure traffic isn't stopped on the far side so you get past the tracks), and you have to look out for the potential for bottoming or hitting things above. Most highways are designed to handle trucks up to 14' high. And most trucks are near that. But all bets are off in residential areas, parking lots, side roads, and even places where repaving has occurred and clearance has been diminished.
Need to back up? Don't do it unless you need to! You can't see much behind you. Many truck mirrors say "GOAL" on them – "get out and look." If you need to back up, get out and look, turn on your 4-way flashers, beep your horn, and then go back at an idle. Try to always turn towards the driver's side where visibility is much better.
Well, some of this probably sounded a little foreboding. But I have to say, as you sit up there with all that machinery moving under your control, looking down at the people in the regular world, you feel like you are a king! It's a great feeling.
In the final part I'll talk about the process of getting your CDL and some final thoughts about my journey into the land of big rigs.