Sometimes It Just Happens!
Like it or not, sometimes you gotta do what you gotta do.
One of the things that hubby used to pound into my brain, over and over and over again, was that no matter what the situation, hold your lane! Don't ever let your truck veer into another lane unless you're passing. Well, duh, unless you're an idiot, everybody knows this, right? I assume I have at least some common sense. I mean, I've been driving since I was 15 and I took driver's education in high school before I even got behind the wheel of a car. I passed the course and I know I retained what I'd been taught simply because I'd had to use some of those tidbits of driving instruction during my early years as a teen driver in the winter weather of Indiana (particularly during the blizzard of 1978).
Anyway, as with driver's education classes, the things that hubby told me about driving the big rigs were repeated often enough that I retained and used the information. As it should be, that's what instruction and training are all about in any given situation.
We had a load going to California. I don't remember where the load was picked up, but it was due the following morning and we were going to be there right on time. It had only been dark for a little while as we were traveling through Flagstaff, Arizona on I-40 and had just passed the exit for I-17. Nighttime was my time to drive while hubby slept after his shift. The roads were clear and the weather had been nice. I had my two travel mugs and two thermoses of coffee, my snacks, and my music selections at the ready. This was my favorite part of truck driving…the driving. Rollin' on down the highway to my destination and I'm feelin' fine.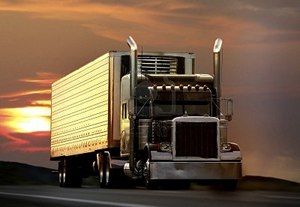 To my right, it's dark and all I see is a guard rail. If there's a guard rail, then anything to the right of that probably ain't good for a big truck. Traffic was fairly heavy for that late in the evening, but I was paying attention. I had a few big trucks pass me, one was in the process of passing, and I knew there was at least one behind me along with all the 4-wheelers. As a driver, you know to constantly check your mirrors and your gauges to make sure that nothing is amiss and to try to avoid any problems that may be creeping up on you.
I had just turned my eyes back to the road from checking the mirror and at the same instant that I hit that fella, all I could see was his rack above the hood! Breaking glass, fiberglass and who-knows-what-else crunching and grinding…the noise was horrendous! No time for any decision to pop into my head except that I had to hold my lane and it was a darned good thing that I did. At 63-65 miles an hour, I hit him HARD! The impact was swift and unmerciful and it threw hubby right out of the bunk and into the dash. He threw his hand up to prevent himself from going any further forward and tried to drive the power divider switch into his palm. Groggy and all, he's trying to take over the wheel, thinking that I had had a wreck with another vehicle and was unable to drive. I almost elbowed him simply because his pulling on the wheel in his half-sleep was going to put the truck somewhere where we didn't want to be.
The best I could do, and all I did do, was to take my foot off of the gas, throw on the flashers and try to see where we were on the road, to make sure I was still in my lane. There was no way that I was going to slam on the brakes simply because I wasn't sure that the traffic behind me was far enough back to slow down without running into me. Swerving to the left hadn't been an option, there was traffic over there and I had no idea what I'd see if I went to the right too far. So, indeed, I held my lane. Of course, my adrenaline is pumping and I'm nervous as a long-tailed cat in a room full of rockin' chairs, so when I see that hubby is finally fully alert and the truck had slowed considerably, I let him take the wheel to pull us off onto the shoulder. Unfortunately, this is the time that smoke starts billowing up out of the dash in big, black, noxious-smelling clouds. Cramped up on the edge of the jump-seat (explanation to follow) I'm instantly on the radio letting everyone that is westbound know that they need to be in the hammer lane to get around us and that we need an officer on the scene. We are out of commission.
Hubby hopped out of the truck once we came to a full stop on the shoulder. Once I was done on the radio, I had to bend down under the corner of the hood to open the door! I grabbed the handle to assist myself in getting down and my hand slid on something slick and I'm thinking blood...and gagging. I had to pause a few seconds to give my stomach a minute to stop churning and then I walked back to the critter that caused the problem. It was a pretty long walk, or so it seemed. I could see the flashing lights of the police coming from east of us and traffic was already backing up. I could also see a big black outline of something in the slow lane, which turned out to be a big old buck elk. I was not prepared to see that he was intact and not torn open. After all, he did get run over by a big truck. The only damage I could see was that about an inch of one of his antlers had broken off. That was all. He was a beautiful guy, though and I felt kinda sorry for him. Of course, that didn't last long when I finally saw what he did to our truck.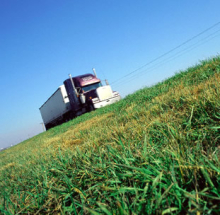 In the light of the police car, I took a look at the hand that I expected to see smeared with blood from the grabbar. It wasn't red, it was black. A sniff told me that it was oil. Oil? What the…? The cop that had pulled up was asking me what I wanted to do with the elk, which he said weighed in at about 900 pounds. Ummm, I don't know. I'd love to take it home, but I probably wouldn't see the house for awhile. And how the heck would I get the rack? I wish that I had had a camera with me that night. That elk was amazing. The cop whipped out his handy, dandy pocket knife and went to opening and gutting my big fella right there on the spot. He said that the meat would spoil if we didn't get it gutted right away. I knew this, I used to do some deer hunting myself back in the late seventies and early eighties when I had kids. I asked him if he knew of any organizations that would benefit from the meat this guy was gonna serve up and so I agreed and signed him over to Arizona's Hunter's Harvest. He said he knew a few people that would take the rack too (I'm sure he did, I was one of them).
Someone made some calls for us to the shop to let them know where we were and what was going on, then hubby and I went back to check out the truck. I took Samantha out to do her business, which didn't take long. Poor girl had been in the floorboard in front of the jumpseat when we hit. It didn't take her long to get around hubby and jump into the bunk, though. Good thing she had been in the floorboard sleepin' instead of in the seat that hubby had vacated not twenty minutes before the big guy jumped in front of us. Mr. Buck came from the north side of the interstate and landed square in front of the truck. Rear haunches made connection with the truck just to the right of the inside headlight and it shoved the hood right into the truck with the corner almost into the back of the jumpseat. Being the most powerful part of the elk, everything that slammed the rear haunches of that critter got blitzed. The oil on my hand? That came from the turbo which got totally obliterated, hence the clouds of black smoke as we were rolling to a stop. Everything on the passenger side got crumpled.
The worst part of the whole ordeal was watching our pretty truck rolling down the interstate on a hook. The thing I was worried about the most? The load. We prided ourselves on getting the goods to our customers in one piece, the way they were loaded on. We couldn't check the load because it was sealed, so we had to wait until we got the load to its destination. I held my breath when the guys on the dock took off the seal and opened the doors. The load hadn't moved! Hubby had been holding his breath, too because we both looked at each other and started breathing again.
If there had been any other option or more time for thought, I probably would have tried to miss the big guy, but because of the way things turned out, I'm sure glad that I held my lane!
Related Articles: