A Humbling Adventure: My First Delivery Driving Solo
Ringo and I said our goodbyes after spending the night at the Mobile terminal and I was left to pick up my truck, a 2001 flattop Mack with over 600,000 miles on the odometer. It was missing almost all of the necessary equipment, so I spent the better part of the morning rounding up my gear.
My First Solo Trip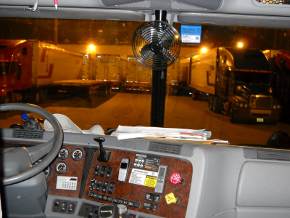 Finally, I was off on my own. I was nervous, but I was excited, too. I had evolved into a good driver on the road, but my backing skills were still reprehensible. In general, flatbed drivers are required to do less precision backing than dry van drivers are because, more often than not, they are loaded and unloaded via forklift out in the open as opposed to in a dock. Precision backing is nonetheless required from a flatbed driver, too. Ringo once equated my backing skills to "a monkey screwing a football".
For my first load assignment, I'd be picking up a load of shingles in Mobile to deliver to Upchurch Building Supply in Greenwood, Mississippi on the following day. My message indicated that I had a pre-loaded trailer, so I bob-tailed to the shipper only to discover that my load was at the Mobile terminal. Unbeknownst to me, Ringo and I had spent the night sitting next to my load.
I made a wrong turn on my way back to the terminal and wound up taking an unscheduled tour of Mobile. Eventually, I found my way back and began the arduous task of hooking up to my load and securing it. In training, Ringo and I had worked together with the tarps, straps, and bungee cords but, alone, it seemed as if I were wading through molasses. I was painfully slow, but I wanted to make certain that my load was secure. When I was satisfied, I pulled out to embark on my first solo trip.
By the time I got to Hattiesburg, Mississippi, the heavens opened up and the rain was pelting down in torrents. It gave me a scare when I stopped at a red light and saw smoke billowing from beneath my trailer. I pulled alongside the road to investigate and decided that this was merely a heat exchange between the rain and the rear trailer tires. I nonetheless kept a wary eye behind me as I forged ahead, but as the rain subsided, the steam from the rear tires subsided also. I rolled into a rest area on I-55 near Winona, Mississippi and spent the night there.
Trying To Find The Place
The next morning, I drove into Greenwood and began looking for Upchurch as per my directions. After I passed through the entire city, I began to feel that something was amiss. I stopped at a convenience store, which luckily had room for me to turn around, and asked a security guard for directions. Upchurch was supposed to be next to a Shoney's, and while the guard was unfamiliar with Upchurch, he told me how to get back to Shoney's.
I found Shoney's, but still saw no Upchurch. However, I saw a True Value hardware store, so I pulled in front of it and asked a man who was going inside if he knew where Upchurch was.
"This is it," he replied. "The name has just changed."
I had gotten my first taste of trucking company efficiency in providing directions. The difficulties notwithstanding, I had finally located my first customer. All I had to do now was pull around back to be unloaded.
I've Reached A Dead End!
It was with a combination of dismay and denial when a cartoonish image of a chimpanzee performing unspeakable acts to a football entered my mind, upon realizing that I had turned down a dead-end alley. The only way to get out would be to do a blindside backing maneuver into the street, with a ditch on both sides. I had promised myself to remain an optimist in my new job, but I suddenly felt that the glass half-full/glass half-empty axiom did not apply to me—I was convinced that life had served me up with a dribble glass!
I was furious with myself for making such a stupid mistake, but I concentrated my efforts at the seemingly impossible task of getting myself out of this mess. My slapstick antics captured the attention of an elderly white-haired man who appeared to be in his seventies. As he ambled toward the site of my comical frolic, I could tell by his expression that my driving skills appeared about as natural to him as a supermodel who had just combed her hair with a rock.
A Helping Hand
"How long have you been driving?" he inquired with a gentle earnestness.
"This is my first delivery," I admitted.
As it turned out, he was the Receiving supervisor at True Value and a 40-year trucking veteran.
"I don't mean to tell you your business," he humbly advanced, "but would you like me to help you out?"
I was embarrassed, but I knew I'd gotten myself in over my head. I politely allowed the nice old fellow to take over.
I'll admit that it dashed my confidence when he maneuvered the truck out of the mess I'd made with precision and ease. Back at the receiving docks, he even had one of his guys to assist me in un-tarping and un-strapping my load. When the work was complete, I thanked him for his help and apologized for my rookie mistake. He just smiled and said, "Don't worry, it'll get better."
"I hope so," I answered with a sigh.
From Humble Beginnings
I didn't know it at the time, but I would meet other kind and endearing people like this man in my travels, and I would meet others who were not. I did know, however, that a new adventure lay before me. Despite the blunders of today, my mood was upbeat again. I may have taken a couple of wrong turns and hit a few potholes along the way, but I had successfully made my first delivery. Today had offered the lesson that in trucking, as in life, the path to our destination is rarely a straight one.
Related Articles: