New Rules: Going Back To Truck Driving School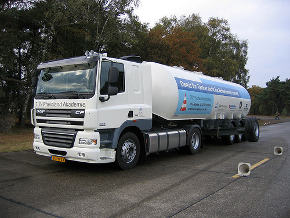 On September 10th of 2009, things changed. We have to go back to school!!!
Before that date for the Netherlands, it was enough to get your Truck Driver's Diploma and that was it for life. In order to get this diploma you had to do three courses: Traffic rules for Big vehicles, Auto-(truck)Technique and Administration (paperwork and HOS). But from September 2009 on all truck drivers who live and work as a driver in the European community must go back to school.
CODE 95 says you have to go back to school in a period of five years … to have 35 hours of lessons. If you do not follow this 35 hours of "back to school" you may not work as a truck driver hauling goods until you get your hours of schooling.
This code number will be placed on your driver's license, which you now must refresh every five years!!! (normally this was 10 years) … and to get your refreshed license you also must take a medical test. So who is going to pay for all this, is the big question many drivers have?
Transport as we all know it … well, our employers complain that they don't earn enough money to pay for all this … over the last decades, maybe since the start of the transportation of goods … it's hard business. Or do they just complain because they like to?
I really start to wonder …
Then there is an issue that until the year 2015 they say that we will be 55,000 short of people to work in Transport & logistics. Why do I even wonder about that???
Really?
So people who now work in Transport … we are underpaid compared to other jobs around. 20%, so our Unions say. We work for companies who do not pay all hours worked … "uren schrappen" this is called in Dutch - which means you write down all hours worked and you can prove this with your digital tachograph (tachometer) or paper analog tachodisc (writing down your miles). But say your 'boss' decides to scratch out maybe 10 worked hours a week? Believe me, there are companies who do this!!!
The employers say themselves that about 60% of all companies do NOT follow the CAO (CAO = union agreement on things like the hourly pay, days off work, holiday money and so on).
60% !!!
What does that say about the Code 95 issue??? Are these companies going to pay for the additional schooling? Or comes there a time in the near future that nobody is getting a contract indefinitely? Or will we get a one year contract and then they fire you and they take someone new to drive for them? From our salary we pay 0.245% for a SOOB premium (taken out automatically) … this goes into a schooling buffer for all of us. BUT you only can benefit from this SOOB money through your employer. So if you do not have an employer you are out on your own, and you have to do it with or without the SOOB subisidy. Your employer also gets money because he has to miss you for a couple of days, normally this is about 50 euros a day he will get out of the SOOB fund.
What does schooling cost and how much do you need? You need a total of 35 hours of schooling, and below you'll find the cost and the total number of hours listed for each course:
Note: 100 Euros = about $130 U.S. dollars - so multiply the numbers listed below by about 1.3 to get dollars and you'll see this schooling is very expensive!
Course
Cost without SOOB in Euros
Subsidized with SOOB
Hours of Schooling

Hazmat

Basic
509
426
21

Hazmat

Basic & Tank
594
490
28
Awareness Dangerous Goods
348
272
7
Handling Dangerous goods
686
545
7
Driver LZV (long trucks 25meters)
1305
1047
7
Driver Dump Truck
799
413
14
Haccp (food)
565
328
28
Driver flowers, etc
445
255
14
Chicken Hauler ;)
370
236
7
Livestock
370
236
7
Car transport
500
250
14
Movers (removal contractor/household)
864
522
28
Movers (household)
1103
641
28
Behaviour-Based Safety
553
288
7
Safe driving
720
360
7
Preventing damage
351
195
7
Preventing damage II
497
223
ZERO 0
Safety Loading Goods
289
156
7
No Noise unloading
342
184
7
Safe driving TANKS
717
370
7
These are only a few things you can get schooling for. But you will have to earn 35 hours of schooling in that five-year period. If you have to pay this yourself …. How many new drivers will they find in future? How many drivers will find themselves without Code 95 on their license?
The transport industry seems to be asleep if you ask me.
Knowing all this, I looked for a GOOD employer who will pay for the schooling required by law. But how many drivers working for less good companies will have to pay this for themselves if they want to continuing truck driving??? How many new drivers will go into transport knowing it will cost them a lot of money and effort to keep their Code 95 and be able to make some money in hauling goods while having to keep going to back to school anyway?
Yes, doctors have to do this .. but that comes with the territory. New inventions and technologies come out all the time.
But truck drivers???
Later when I am 65, how many courses of "driving safe with tank trailers" will I have had? Now we have to do that every two years, and it's also a day out .. it's fun. But you will have to do several courses time and time again.
They say this is good for the transport industry. More safe drivers, less accidents. I really wonder. Some courses are rather good (and fun) .. but will it make any difference out on the road?
And who will pay the bill???
Check out this short video of one of our training courses:
Related Articles: