Mama Said They'll Be Days Like This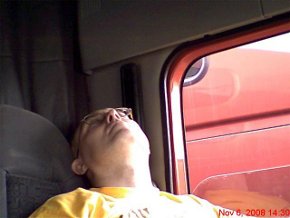 After delivering to Greenville, I picked up a load in Kinards, South Carolina and delivered to Marianna, Florida. The next few days went smoothly and I was able to put the events of Sunday night behind me. Things went well until I went to Jacksonville at the end of the week. I was to pick up a "drop & hook" load from Celotex, which was right across from the Jacksonville terminal.
After I dropped my empty trailer and then hooked up to my pre-loaded one, I intended to return to the terminal to shut down for the night. When I started to pull out, I heard a sickening, crunching sound and looked in my mirror to see that my load was leaning precariously to the left. I immediately stopped and got out to see what had happened.
The yard dog, who had dropped the trailer there, had left the dollies up too high, and consequently, when I "thought" I had hooked up to the load, my fifth wheel had gone all the way past the kingpin and hooked to something on the underside of the trailer…but, it wasn't actually hooked to anything. With more experience, I would have recognized that something was amiss from the "feel," but I was still a wide-eyed rookie who was apparently intent on compiling an impressive resume of mistakes. I could have dollied the landing gear to its full height and then used my ratchet bar to manipulate the fifth wheel past the kingpin to get out of this mess, but I had not learned this trick yet and I was too upset to formulate a logical solution. I called the home office and they sent a tow truck.
During the two hours spent awaiting the arrival of the tow truck, I once again questioned whether I was cut out for this. For all I knew, this would mark the end of my brief trucking career. I had, however, learned another hard lesson. While most drivers go by the "feel," I thereafter began to get out and visually check the lineup of the kingpin to the fifth wheel before I hooked up to a trailer. I still adhere today to this practice… I don't care what other drivers do.
When the tow truck corrected the problem, I took my truck to the terminal shop to ensure that there was no damage to the fifth wheel. The shop technician was a tall, crusty-tempered man named Jack. His face was plastered with the expression of a man who had just found half a cockroach in his breakfast biscuit. He looked to be around 60, but his leathery features appeared to be that of a former boxer who had suffered a broken nose at least a dozen times.
To be sure, Jack was being an asshole of colossal proportions, but instead of countering his verbal diatribe with an attack of my own; I just kept being nice to him. His unpleasantness slowly began to subside, and his manner approached a level that almost resembled compassion. The fifth wheel was fine but Jack found another problem. I would have to leave my truck in the shop overnight, but Jack called a nearby Econolodge and arranged a motel room for me. He was actually being nice now!
After enjoying the comfort of a real bed, I returned to the terminal the next morning to pick up my truck, but it wouldn't be ready until after lunch. My load was due in Stockbridge, Georgia this evening but, due to the delays, I would not make it. I informed dispatch and they told me to leave (split) my load at the Atlanta terminal.
The delay was longer than expected and I didn't get to Atlanta until midnight. I picked up another load at the terminal for a Monday delivery and started heading toward Bridgeport for my "weekend" off. I stopped at a rest area in Resaca, Georgia for a quick respite. When I sat down on the sleeper, I realized I was so exhausted that I didn't want to get off it. I went to bed and rolled into Bridgeport on Saturday morning. This week of hellish misadventure was finally over.
Related Articles: