Blogs By Author

Blogs By Tag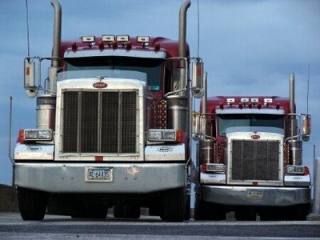 Truck driving is one of the most unique jobs and lifestyles you'll find anywhere. It's also one of the most demanding. People get into trucking for a variety of reasons - they're unemployed, they're tired of their current job, they want to see the country, and about a million others. But trucking certainly isn't for everyone, and becoming a truck driver is a really big leap. You'll usually pay several thousand dollars to go to school for months, spend dozens of hours studying, take stressful tests, and then go out on the road with a trainer after landing your first truck driving job. But it's at this point that people face their toughest challenges and almost everyone questions whether or not becoming a truck driver was the right thing to do. How do you know when you've seen enough? When do you throw in the towel and say "Wow, this isn't for me!" Read on and we'll help you understand what you're facing and when enough is enough.
What's So Tough About Trucking?
Hey, it's only trucking, right? I mean, it's not rocket science or brain surgery. You haul stuff from point A to point B. How hard can that be? You've driven cars your entire adult life. You've even taken a few road trips and they were fun, right? So now you'll just be doing that in a huge, super-cool big rig. Sounds perfect, doesn't it? It sure did to me when I was 21, was making $5.50/hr working at a warehouse, had no career skills whatsoever, and wanted a challenging, interesting job and lifestyle. So I took the plunge. That was in 1993. And what a plunge it was.
Trucking was everything I had hoped it would be and then some. In fact, and then a lot more. I had no idea there would be a million rules and regulations. I didn't know the DOT and other law enforcement agencies would be scouring the highways day and night watching your every move. I didn't know my company would be able to monitor every step I made out there - my speed, engine RPM, exact location, idle time, and a million more. I didn't know they would be notified every time I hit the brakes kinda hard or got my speed over 70 mph going down a hill. I was hoping for a job where I could be left alone on the open road to do my thing. I never knew there was so much scrutiny. But I could handle it. It wasn't ideal, but it was tolerable.
I also didn't realize how many hours you have to put in. And there's so much you have to do outside of driving like getting repairs done, fueling, laundry, showering, eating, waiting on shippers and receivers to load and unload you, paperwork, communicating with your company, DOT checks, and so much more. Wow - there's a ton of things you have to do out there. Your sleep patterns are totally erratic. Sometimes you get 10 hours of sleep in a night, sometimes you drive all night and take a nap in the afternoon. Sometimes you catch 2 or 3 naps in a day, sometimes you hardly get time to take a deep breath.
Being an OTR Truck Driver Becomes Your Entire Life
Being on the road is not only your job, it's your entire life. Traveling in that rig is how you live. Living in that rig is what you do. There is very little separation between your work time and your personal time. Your work time is always the priority, and your personal time becomes any spare moment you can squeeze something in before going back to work. It could be a ten minute nap, it could be a weekend in Vegas. You never know.
And every day is completely different than the last. In fact, almost every moment is filled with unknowns - traffic conditions, weather conditions, changing load assignments, DOT checks you didn't know were coming, truck breakdowns, and a million others. You almost never know what's coming next - but what you can be sure of is that something else will happen soon and your entire day (or week) will change from that moment on. Good gravy!
Trucking Can Be Quite Overwhelming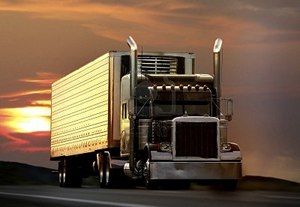 As soon as you begin truck driving school you'll realize that they're going to cram ten times more information into your brain than you could ever remember the first time. You're going to be taking a lot of tests - both written and driving - and there's a lot of pressure on you because there's a lot on the line. Then you get past the schooling and your training out on the road is just as difficult. It's a lot more exciting because you're a licensed driver with your first real trucking job, but your every move is being watched closely and you can't go solo until you've once again proven yourself - this time to your trainer and your company.
At the same time you're trying to adjust to being away from home for weeks at a time, not seeing anyone you know for weeks at a time, driving like crazy, learning all the rules and regulations, and trying to figure out how on Earth to navigate this country in a 70 foot long, 13 foot high rig! Good gravy!!!! It can be really, really overwhelming. But it's about to get even worse.
Your First Few Months Running Solo
Well, now you're on your own. You've made it through the schooling, the testing, the on-the-road training, and more testing. Your company feels you're ready to go it alone. Wow, now there's nobody to share the truck with, but nobody to help you out either. You spend an average of about 21 hours every day alone, and the other three you're just talking to strangers in restaurants and on the docks. You miss your home, you miss your family and friends, and you're exhausted and overwhelmed most of the time. This is definitely not what you pictured a few months ago when you decided to become a truck driver. So when does the good part begin? Or is this as good as it gets?
Trucking Will Never Be Easy
Trucking is tough. It's a tough lifestyle. It's a tough career. It's usually exhausting and demanding. But it's also incredibly fulfilling, exciting, challenging, and satisfying if you're the right person for the job. So when will you know if trucking is the right career for you?
In my opinion you should give it at least one full year of being on the road. In the beginning as a rookie you'll make a million mistakes. You'll take wrong turns, miss appointment times, run until you're too exhausted, try to find parking at the wrong times, try to run through big cities at the wrong times, misunderstand your dispatcher, get disillusioned with your company and the industry, and a million other things. Everything is super hard when you're a rookie, but it gets easier. It never becomes easy, but definitely much easier.
Once you've been out there on the road for a year you'll know a lot more about handling a rig, how the trucking industry works, how to navigate the highways, when to run, when to sleep, how to do the paperwork, and overall just a million little details that make each day easier and more enjoyable. You'll have proven yourself to your company so they'll trust you with better freight. You'll understand the industry better and know where to draw the line when it comes to the demands your company will place upon you, and the demands you will place upon yourself.
In my opinion if you don't give it one full year then you'll never know if trucking was right for you. Quitting in less than a year means you made a judgment during the toughest times you'll likely ever face out there. You've only seen how hard it can be, but you haven't seen how great it can get. But don't get me wrong - "being great" does not mean it will be easy. It means it will be challenging, but rewarding, and you will experience life out on the road in a way you would have never experienced it in any other career. But you have to give yourself time to get through the toughest part and onto the good stuff. Stick it out for one full year. If at that point you really, really don't feel like trucking is for you then I would likely agree. But giving truck driving a shot is almost always well worth it. Even if you only last a year you'll experience so much that it will definitely change your outlook on life forever forward.