More Boot Camp Stories From My Time In A Company-Sponsored CDL Training Program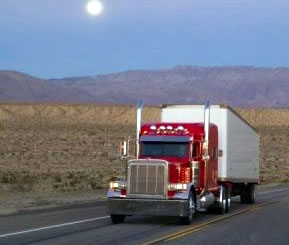 So, to continue on where I left off with my previous article about Company Sponsored CDL Training . Of course there is all kinds of learning going on besides driving the trucks. The shuttle van to and from the hotel for instance was a major learning curve. The first week I was patient and waited my turn amongst 30 plus students and 5 trips later I would arrive at the hotel. Or get up at 3am to have enough time to get your wits about you and steel yourself for the dash to the shuttle van. It only added to the frustration, that we just signed a commitment for thousands of dollars and we have to deal with transportation issues. Hours, to stand in the 100 plus degree weather waiting for 1 van that held 12 people at a time. Classes were 10 and 12 hours long non-stop and then we had to stand in that heat waiting. Now you can see why it was not a pleasant experience competing with the other students for a seat. Everyone wants a seat and they don't care about the next guy. But it becomes a routine, along with the roommates in and out, new rooms each day, different hotels depending on what phase you are in.
And you sure don't want to cross the hotel staff. That would be sealing your fate right there. You would be the last on the shuttle, get the worst room, possibly the worst everything. And they made no bones about it. The staff believed we all caused trouble and tore up stuff so don't even bother trying to talk to anyone about anything. Academy staff too. We were all stereotyped into that category. The director of the students told me that exactly. The hotels were bad because they had got kicked out of every decent hotel they could find. Well, sorry I hate to burst your bubble, but I don't conduct myself that way, and I am sure there could be a placement program to let me decide what hotel and how much I want to pay back! Of course I am not talking about the Hilton either. But respectable, clean lodging isn't an unrealistic expectation for the amount of money we just committed to.
The Resident Physician -
DOT

Physical

And get this….. Wait until you meet the resident physician! The vision will be forever ingrained into your memory. If I could afford it, I would buy this man the best nose hair clippers money could buy! But, imagine someone who thinks that growing bushes out of each nostril is attractive? I actually think he groomed them and kept them cut back. This is a licensed physician. A person people look up to and respect all their education and expertise. And I couldn't bear to look him in the eye. It was that disgusting. I have a very strong stomach....very strong, and I couldn't stomach it. So, now most everyone you talk to feels the same even more irritated that we have been subjected to more disrespect.
Keeping Positive And Motivated
But the curiosity of driving those big trucks and the education we were getting seemed to keep us motivated. For the next 2 ½ weeks we spend every waking moment in these training trucks, 6 ½ days a week 10 and 12-hour days. Keep in mind; the weather is triple digit the entire time. We laugh a lot, cuss a lot, spend a lot of time trying to understand and apply the Pivot Point when backing the truck and trailer and sweat buckets constantly. When you do poke a trailer in a hole, boy that will make you puff right up! When you go through all the gears and don't scratch one gear, then things begin to take on a different view. Now we are beginning to take control of the truck and we are learning what it can do and can't do. Learning space management, following distance (that's a big one), air brakes (another big one)...we learn a ton of stuff. We are like sponges and the information just keeps coming. You can't ask enough questions or hear enough explanations. There is that much to it. You are now learning that operating an 80,000 pound freight train rolling down the highway is no simple matter - there is a whole lot to it! It isn't about sitting behind a steering wheel. It's about what it is attached to. That's a whole lot of serious business! Remember what I said in the beginning of this article? The decision to become a truck driver should not be taken lightly. Do your homework. Spend some time researching information. Send me an email. I will gladly help.
The Importance Of Trip Planning
The one thing I realized almost immediately was the importance of trip planning. Wow, that is one of the most important things you can learn. And it is not easy. I hope to provide some trip planning classes in the future to help with learning the art of trip planning. But for now, those of you who are very serious about this can be studying to get a jump on it. Get an atlas, a good commercial road atlas, right away. You will need it and you will use it. It will pay for itself in the first week. Don't wait for the company to give you one. And hopefully, you don't mind doing paperwork because there is a lot of it just with trip planning alone.
I happen to like doing paperwork and crunching numbers so that part came easy. I have been a dispatcher , driver and traveler so I knew somewhat about atlases, but let me tell you, you will have a whole new perspective of an atlas or map or any other type of navigation equipment you use once you learn this. You will always need a good atlas though so plan on spending the money. Realizing that this is all necessary stuff to get started in the industry is crucial. Six months to a year down the road, you will know this stuff like you know your own name. A trip plan will become ancient history as well as numerous other parts. But until then, you better get good at it if you want to enjoy this new adventure. The better you get at it, the better you will do when you become a solo driver. One thing for sure, if you wait until you are out there with your trainer to learn it your trainer will not sign off on your report card. You will not progress any further until you do know it. It takes a lot of practice to get good at trip planning.
I worked my trip plans all the time, but there are those occasions when for whatever reason, it doesn't work quite right and you may find yourself in the middle of a huge parking lot of cars…not trucks....20 minutes before shift change at a factory and only one way out……the way you came in. It took three men and about 21 minutes to get out of the parking lot while cars were driving in beside me (while I am backing up even!). Those are the times when you will cuss, cry and laugh afterwards when you fail to use your trip plan. I always managed to get myself out of the situation I got myself in to with a little assistance most of the time. LoL!
To Be Continued of Course……J
Sharbear
Related Articles: