The Showdown With "The Colonel" - Handling My Trainer's Tirades
3200 miles with colonel Kurtz and still going surprisingly well. He has a very nice side to him even if it's hard to see at times. Kurtz actually warned me about his harsh personality when we first met. "Something I have learned about myself," he said, "Is that my voice raises up sometimes and I don't realize it." This was a nice thing to say but, 5 days into the trip, I was starting to think he never realized it at all. "Try not to yell at me." I kept saying to him, every time I would screw up my shifting or forget to look at my signs. I hadn't been on the road more than 3 days and he seemed to think I should have this down pat.
Handling His Dark Side
You really have to keep a wide perspective when you are with someone on the road this much. I had also confessed my weaknesses to Kurtz at our first meeting. "I have a tendency to over-think everything and then I miss the most basic simple things." This is especially true when I am trying to learn something stressful like driving. The two of us in the same cab could have been a formula for disaster once he started yelling and I started to lose my nerve. To make matters worse, the colonel's outbursts seemed to come at completely random moments. He had 10 years experience as a driver and had been with over 400 students but there was one dark side to him that still kept me skeptical.
I started placing a lot of his comments on the back burner of my mind while I was actually driving. Then I was able to keep my main priority on the road. Sometimes he didn't seem to get the fact that I was having trouble concentrating. He was also getting wise to my strategy of "putting him on the back burner" and said to me "You are saying 'OK' but you aren't really listening to me!" Once he said this, I knew we were going to have a showdown. There wasn't any other way around it. He wasn't stupid but also he didn't understand the way I operate. I need to have a calm mind in order to concentrate. I have a brain that already works overtime and then I forget to tie my shoe. When someone is yelling at me the whole thing spins out of control. The bottom line is; I am an idiot when it comes to the basics. If you need me to psychoanalyze your personality, this is not a problem. If you need me to remember the keys, this is not in my range of ability.
A Vendetta Against Four-Wheelers
In fact, I had already psychoanalyzed Kurtz a thousand times over. He had been involved in a rollover many years ago when a drunk driver had drifted into his lane. He had ditched the truck in order to avoid a head-on collision. The courts had determined his accident to be "preventable" because he didn't maintain his lane. He saved the life of another driver, but he rolled the truck. Fired from his job but with no penalty on his license, Kurtz was hired back by another company four months later. Then, after being set free on the roads again, he shifted into high gear with a personal vendetta against 4-wheelers. This was particularly true for the cars who didn't stay in their lane.
"Never change lanes unless it's totally necessary!" Kurtz yelled at me again. Of course, this was good advice in most circumstances. In our case, the term "necessary" had become a serious point of contention. The cars up ahead were doing U-turns on the grass, just next to an on-ramp. They were trying to turn around after coming down the ramp because they saw the traffic delay a half mile ahead. This was illegal and one of them even turned around and had his rear-end in my lane. I signaled to the left to avoid the danger and then started to move over. "What are you doing!" Kurtz yelled. "Don't change lanes I told you! Run those cars down!" I ignored him and continued to move to the left. "What are you doing! We will get PAID if you hit those cars!"
The Colonel Wasn't Laughing
I started laughing at Kurtz but he wasn't laughing. I needed to keep things light with this guy because I still had two or three weeks left with him. When it seemed like he wasn't going to let up on me, I knew we were going to have a showdown. At first I would try a flanking move- the "guard-house lawyer routine"- to try and talk Kurtz through his anger. "You did the right thing when you ditched that truck." I told him. This didn't work at all. He didn't seem to care what I thought because I was only one of 400 students who had all begun to bleed together. I was nobody to him, I thought. I was an errand boy.
If I had wanted to be a psychiatrist, I would have stayed in school. Believe it or not, I actually wanted to be a truck driver. That's why it meant that we finally needed to have a showdown at a fuel stop 1200 miles into the trip. Kurtz was screaming about the way I made my turn and totally over-reacting. "Calm down!" I kept yelling back. "Relax!" This seemed to only increase his anger toward me and we got out of the truck to start filling up the tanks. We were standing next to the pump as he continued to yell back "Don't tell me to Relax!" I kept throwing my hands up in the air because I had finally run out of options. Trying to reason with this guy would only fuel the fire. Nothing seemed to work. Then I tried to tell him one final time, "I can't understand what you are telling me when you are yelling like that!" His eyes got extremely wide like he was going to explode. He turned around for a minute as if to wind up for a punch and then he turned back. "GET IN THE TRUCK!" he commanded and pointed his finger at the driver-side door.
The Showdown At Last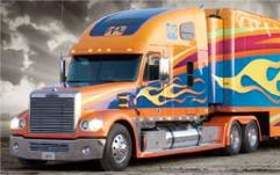 This was total bullshit and I knew it. There was no way I was going to get inside that truck as if he were my "father" yelling me to go to my room. Kurtz walked around to the other side but I followed him. We met at the grill and got right up in his face. "This is bullshit!" I yelled back. "If you keep yelling at me like that I can call the company and get another finisher!" Then something amazing happened. Kurtz actually backed off, just a bit, and I was totally surprised. He calmed down his voice and reminded me of his tendency to forget he was raising it. It was like an instant cure. Like a powerful tranquilizer hitting your blood stream, I felt like everything was going to be all right. I was quickly able to focus my mind and listen to everything he was trying to say. We were working it out.
We washed the windshield together and got right back on the road. Kurtz decided to take the wheel this time, at least for a couple of hours. I sat in the passenger seat and started talking my head off about the Philippines. He was laughing at me as I talked and telling me that he wanted to go there someday. Maybe I would still be able to get my girl to the USA, I thought. This truck driving thing might not be so bad. As the truck continued down I-75, Kurtz started telling me how things weren't going too well with his wife. He wanted to go to the Philippines to find a girl for himself. His wife had actually been filing divorce and she seemed to be dragging him around by the ear.
Who knows, maybe Kurtz and I will become good friends down the road. He could find a beautiful Filipina fiancée and there wouldn't be any need to yell at his stupid students anymore. Kurtz also told me he was thinking about going solo again. He misses the time alone in the northwest and the scenery of beautiful states like Oregon and Washington. He also wants to visit his son up there and take a little time off. With 320 days out and 50 days of home-time saved, it seems like it's time for a change.
Related Articles: