Blogs By Author

Blogs By Tag
Eighty percent of male truck drivers admit to glancing down into passing cars hoping to see a naked woman. The other 20 percent are liars.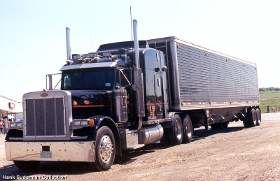 Some days, on monotonous routes (I-90 from Chicago to Boston), the opportunity to look into vehicles as they cruise past, makes a boring day almost enjoyable. Hours-long stretches of overly familiar interstate requires creative ways to pass time - and people watching is safer than doing Sudoku puzzles on my cell phone.
On weekdays, in populated areas, it's conceivable that several hundred vehicles (possibly thousands) pass my driver's window. When traffic flow smoothens out, and I allow myself to lower my guard down one notch from hyper-alert, I admit – I look. Ladies, you needn't worry about being leered at by creepy truckers while you drive. We save that for the Walmart parking lot. Besides, it's not really "looking", but more like instantaneous glancing. With my truck's top speed at 65 mph, and other vehicles flying past at 70-75, I get a one-second glimpse into the lives of my motoring countrymen.
For the most part, passing vehicles contain normal people busily doing activities normal people do – shopping, working, and picking up the kids from the sitter. A vehicle's contents and activities reveal who's on vacation, who's a hoarder, and who smokes with kids in the back seat. It's what I don't expect to see that makes long days worthwhile.
FOOD AND DRINK
People eat and drink in their vehicles. That's why cup holders and stain-resistant upholstery were invented. My anecdotal observations indicate water, coffee, Mountain Dew, and fast food breakfast sandwiches are the most popular consumables. Near Cleveland, one woman decided she needed to take her homemade spaghetti to go. With one hand under her glass plate, one on the fork, and a knee controlling the wheel, she maneuvered her car at 55 mph through the center lane of a busy freeway interchange. Another woman, enjoying her morning doughnut on a workday commute, cruised past with a box of 50 pastries in her lap.
After 5:00 on Friday nights I expect seeing construction workers, factory workers, and college guys starting their weekend parties early. It's not only the young and blue collared who enjoy car parties, but also well-to-do couples in Vermont who "put wheels" on their crystal wine glasses.
WHAT GOES IN MUST COME OUT
When cars jam on the brakes in front of me and pull over in a cloud of dust, I no longer expect a deer in the road, only persons in various stages of digestive distress. I've witnessed countless liquid arches whizzing semi-discretely from behind open doors, grown men returning from the woods with a shredded newspaper under their arms, and a grandmother holding back a little girl's ponytail as the child emptied the contents of her stomach into the ditch as the grandmother emptied the contents of her soupy handbag.
FREAKS
After seven months on the road I've seen so many quirky sights that little surprises me now. Except for the New York woman with her face tattooed (not grease painted) like the drummer from KISS. Or the woman with a 100+ Winston cigarette packs scattered front seat and back. And the amateur maestro near Bismarck, who, at 5:30 am, enjoys animatedly conducting an imaginary orchestra with a cigarette, a Miller Lite tallboy, and his penis.
For the record, of the tens of thousands of cars that have passed by my window only three have had naked ladies in them. To the woman on Chicago's south side: I'm guessing you were trying to keep your outfit from getting wrinkled on the drive to the office. Then again, who's looking?
Runnin' heavy, The Blue Hills Trucker (If you'd like to ride along as I criss-cross the country, please "like" my Facebook page, The Blue Hills Trucker. I post notes/photos/video/stories several times each week.)