Blogs By Author

Blogs By Tag
Dee and I have been OTR for about a month now. That leaves us two months to go before we can go home for a week. It seems like so much longer. We have settled into a routine, of sorts, completely dependent, of course, on where we are sent each day. One of the fun things is not knowing which state you will be sleeping in from day to day. I'm also greatly enjoying spending so much time with Dee. I caution you, though, if you tend to nitpick, gripe about silly little things, or generally get on each other's nerves in the regular course of any day, this life is not for you.
Navigator Extraordinaire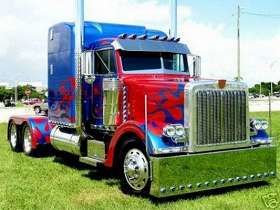 Dee is the driver. He must also do all the work of the pre-trip inspection, drop and hook, backing that long rig into docks regardless of space or conditions, etc. I can't (and have no desire to) drive but I want to be useful instead of sitting there like a lump. My job has become navigation. Okay, with GPS's and the like, how hard can that be? Well......kind of hard, actually.
We started out with my trusted Garmin. It's a wonderful tool that will set your course and reroute you if you miss a turn. You cannot get lost with that thing and I love it. I have a terrible sense of direction. If I say turn left, you would be wise to turn right. If you point to North (or any direction) I can tell you the others but I cannot determine which direction I am pointed in without a rising or setting sun. So buying a Garmin some years ago was one of the best purchases I have ever made and I haven't gotten lost since. But....and it's a big but.... the Garmin I have was made for cars. It was NOT made for a semi truck. It does not account for height clearances or weight limits. And that is very important.
On more than one occasion we found ourselves traversing roads that had 5 or 10 ton weight limits. Often, the Garmin would tell us to turn on a road that we obviously could not go onto in a semi. Once we nearly turned left on a road with an overpass that had 12'1" clearance. Luckily, I noticed the clearance sign before Dee turned. This was getting ridiculous. I was speaking with my son, Chris, who is a tech geek, and he told me that the app store on my phone had several GPS systems designed for semi trucks. I checked it out and sure enough...so I purchased one. It cost $45 for a year but the data is live and updated daily. I can set it to take the quickest route, which takes us onto a lot of country roads, or highways. I can even switch to car use should the need arise. We have used it for a week to great effect. I will let you know in future articles how well it works or what limitations we encounter.
The Daily Grind
I usually wake up to Dee starting the truck and doing his pre-trip inspection. I get up and get dressed, and then make the bed. I take my seat beside Dee (As an aside, I am not happy with the passenger seat. It is bolted to the floor and does not move in any direction, my back is suffering for it.) and bring up the address we are going to on the GPS. Once Dee completes his inspection and sends in his canned messages, we take off. Once Dee is well on his way I can brush my teeth and get breakfast. The rest of the day depends on our destination. If we have a lot of miles to go to a receiver, we can sit back and relax, and enjoy the ride. If we are already near the shipper or receiver and have a drop appointment, we time it to arrive a little before our appointment time. If we have a window, we get there ASAP.
The best words we can hear are drop and hook. If Dee simply has to drop the trailer and pick up and empty, or vice versa, we can be on our way to the next pick up or drop within an hour or so. If, on the other hand, we are told to go to a dock and wait for the green light, we could be sitting for hours. Once we start off in the morning our service hours (14 hour logbook rule) are ticking down whether we are driving or sitting. Once we reach the magic number of 14 hours, we must shut down for ten hours. If a shipper or receiver makes us sit for four or five hours, we lose those hours. We can have eight drive hours left but run out of service hours and be stuck.
We have learned that the bigger the place, the more likely they are union, and the more likely we will be waiting for a while. Those small companies are apt to get to us immediately and load or unload us as quickly as possible. We always groan a little when we pull up to the big places. They are not the least bit concerned with the fact that you get paid nothing at all to sit and wait for them to load or unload you. The days when we can get at least five hundred miles on the tires are good days. So far we have picked up and delivered in many different states, and we've only just begun. The landscapes can vary greatly and are always a treat. That doesn't mean they are always good but, if nothing else, there is always fodder for a good laugh. Once in a while I am even able to snap a few pictures to share.
End of the Day Ritual
As we approach the end of our work day the focus becomes finding a truck stop. If we aren't up for soup from a can, truck stops almost always offer some kind of restaurant fare. Dinner, maybe a shower, and then it's bedtime. Sleeping in a semi is not so bad. In fact, I sleep like a baby. There is no central air or heat to aggravate my sinuses and I never wake with a headache. Our biggest problem is the narrow bed that forces us to sleep at opposite ends, head to foot. We could sleep side by side, which is cozy, but as soon as one of us wanted to turn over or stretch out, the other would be on the floor. We only run the truck when it is super cold. We both like to sleep with the space chilly. Lately, with all the below zero temps, we have been forced to run the truck overnight a few times. I like it chilly but I don't want to be a Popsicle. Each night I curl up and drift off to sleep, comfy and relaxed, ready to face another day. Life is good.
And the adventure continues.