The Mental Side of Trucking: Decision Making And Judgment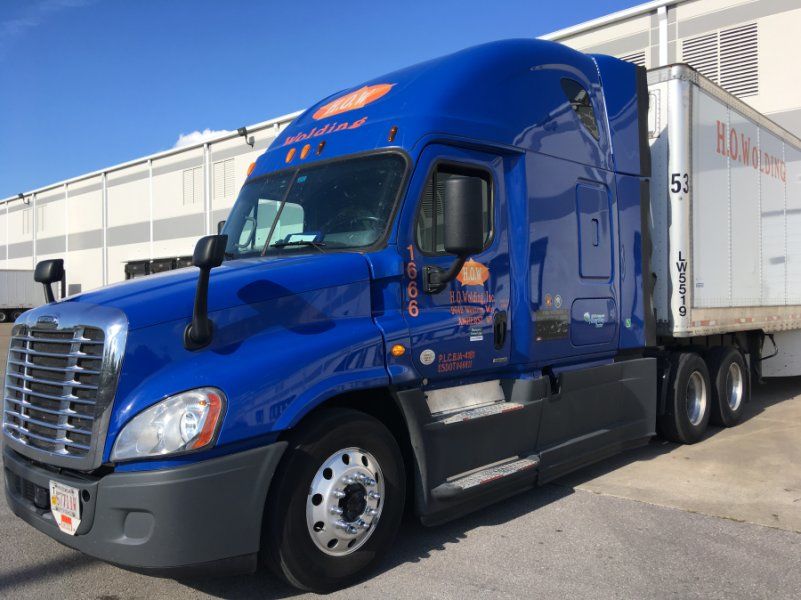 One of the most critical skills a truck driver must have is the ability to evaluate information and make good decisions. Some decisions will have a major effect on your career, while others will affect your company's ability to keep customers and remain profitable. Of course everyone knows truck drivers make life or death decisions behind the wheel every day. Knowing how to focus on the information that matters and make the right decisions is one of the key factors which separate the best drivers from the rest.
It Starts With Choosing A Trucking Company
I've seen quite a few potential drivers over the years come to the forum to research trucking companies ad nauseam. They make charts and spreadsheets of driver salary, home time, detention pay, layover pay, tax benefits, 401k info, rider policies, pet policies, and so much more.
That person will spend a month flip flopping back and forth between a few companies, then have a eureka moment of why one is better than another. Often the reason will be something like "the terminal is close to my home" or "my brother's friend's cousin's nephew worked there twenty years ago and loved it." When it comes to OTR , terminal location means nothing, so this person just eliminated some really good companies from his list for no reason. And how has that company changed in the two decades since your reliable witness (who you probably never met) worked there?
Given the information, are those good reasons to select a company? A couple months later, we will see an update stating they left that company for xyz reasons which usually turns out to be something that would have been listed on that "useful" spreadsheet - like lack of home time, lack of a rider policy for his wife he planned on bring with him, or low pay. By then, it is too late for us to help.
Trucking is about Good Decision Making and Good Judgment
Recently we had a member who was sent home from orientation for lying about a failed drug test that was discovered during a background check. Another member is trying to find a company to take him after he failed a drug test 18 months ago and has since completed a "return to duty" substance abuse professional assessment. Yet a third member who has a 20 mph speeding ticket on his record is finding it difficult to get accepted by a company. None of them could find a company willing to hire them, yet all asked us if it would help for them to spend thousands of dollars on local CDL schools.
If paid CDL training programs won't hire and train them, very few will hire them to drive either. That CDL is not a magic eraser of your past. All that would happen is the 160 hour certificate would lose its potency over the months it would take to find a job. By that time, the time and money spent would have been wasted because the company would likely require complete re-training. So why bother?
Trucking Companies Are Focused On Safety
What all of these people have in common is poor judgment and decision making abilities. All of the background checks and digging into your past by the trucking companies has nothing to do with finding out how awesome of a person you are, or how much money you donated to charity - it is about discovering how, and if, you will decide to protect the public as well as the company's equipment and cargo. That's it.
If you decided to attend a CDL orientation knowing you will take a drug test, and then accompany the failed test with an "Oh well, I tried" attitude, you aren't getting hired anywhere. And not just for the drugs themselves but what they represent.
What if while driving through a congested area you punch the fuel pedal to run a red light and CRASH! You just killed a family in a Toyota. "Oh well, I tried."
What if you are making a turn in a truck stop parking lot and misjudge the area needed and rip off a fender? "Oh well, I tried."
While backing up into a dock, you run over another driver walking behind you because you didn't use the mirrors correctly. "Oh well, I tried."
Get the point?
Also keep in mind, all of the previously mentioned drivers committed criminal acts by using drugs or excessively speeding. Although not felonies, they are technically criminals, and at least one lied about it. If you are a trucking company would you want to entrust your $250,000 equipment and potentially million dollar cargo with a lying criminal?
A Driver Represents the Company to the Public
The past two weeks I saw several new drivers either use Facebook or Youtube to document their experiences. All used their real names and companies, while one bragged from the top bunk she was violating company safety policy by being up there while the truck was rolling. "I refuse to sleep on the bottom bunk while he drives."
Having a "violated company policy" on your DAC can seriously hurt your chances of future employment. What are these people thinking? Here's a newsflash: Companies not only do background checks, but they scour the trucking forums and groups looking for dirt. If a student is posting things like, "I'm shocked I passed my drug test yesterday!", or "that lawyer did a great job of getting my DUI expunged", you better expect a call to the office and a deeper investigation into your background.
If you have pictures online of you while you're drunk or high, the company most likely wouldn't want your social accounts representing them. It's all about protecting their business, and they are very good at it. Whatever you think you have hidden in your past will be found, so be honest and accept responsibility for your mistakes.
Having the attitude that "It was just pot" will get you bounced out the door.
Decisions & Judgment Transcend Your Behavior
Out on the road we make important decisions every day, some of which can be life or death. The driver is responsible for that truck and cargo, so he/she must know what to do if a situation arises.
For example, I had a trainee who made a wrong turn into the car parking lot of a large distribution center. Instead of looking on Google Earth, calling the customer, or even walking to the security gate that was within sight, the trainee decided to wake me up to ask me what to do.
I have no problem answering questions and giving information, but there comes a point when you have to ask yourself, "If my trainer wasn't here, what would I do?" The response I got was really a question, "Message dispatch and tell them I can't make it?"
We were on the wrong side of the plant, we were already there, we just had to find the entrance!
That was more of a common sense situation, but some driving judgment comes with experience. Learning how much swing room you need to turn, or how far out you need to pull from a space before you turn the wheel takes time. Selecting not only the correct parking location, but the correct parking space at that location can take experience.
For example, I usually park in a space where I can pull straight out into an aisle and no one can block me in. Lots of times, drivers park along fences and curbs and block in those who are perpendicular. If you are in a truck stop with 300 spaces and only one is open, it is probably open for a reason. More than likely like it is a really difficult spot no one else could get into. Take the time to make observations and determine whether there are any obstacles or if the space is more narrow than others. It is not a race, so take your time to figure things out.
All Drivers Will Face Tough Situations
All drivers, especially rookies, get into precarious situations. I have made wrong turns and found myself facing "5 Ton Weight Limit Bridge" signs, then had to straight line back a mile down the street. I've driven aimlessly down dark roads trying to find a place to turn around, hoping for a shopping center or customer. In NC, I found myself facing a ferry but luckily saw a nearby marina that had room for boat trailers to swing around. I once traveled a truck route through Elizabeth, NJ that abruptly ended with "End Truck Route". Well, that was great. It ended but never had any parking lots large enough for me to turn. Soon I faced an 11 foot clearance bridge and had to call the police to block the traffic to assist my U-turn.
Someone with poor judgment may have tried to turn without the police and hurt themselves or someone else. I turned into a residential neighborhood at night thinking I could straight line back across a two lane road so I could turn around. When I got the sinking feeling in my gut that someone could fly around a corner and broadside me, I changed my mind and did a U turn in a cul-de-sac. Not the most ideal thing to do, but much better than getting the trailer cut in half or decapitating a passing driver with the side of my trailer.
Every Decision Matters
Take the time to contemplate how your decisions will affect your life and your future employer. While driving, observe every detail of your surroundings and live by the motto, "If I don't think I can make it, I won't try."
Good Luck and Stay Safe
Related Articles: