Blogs By Author

Blogs By Tag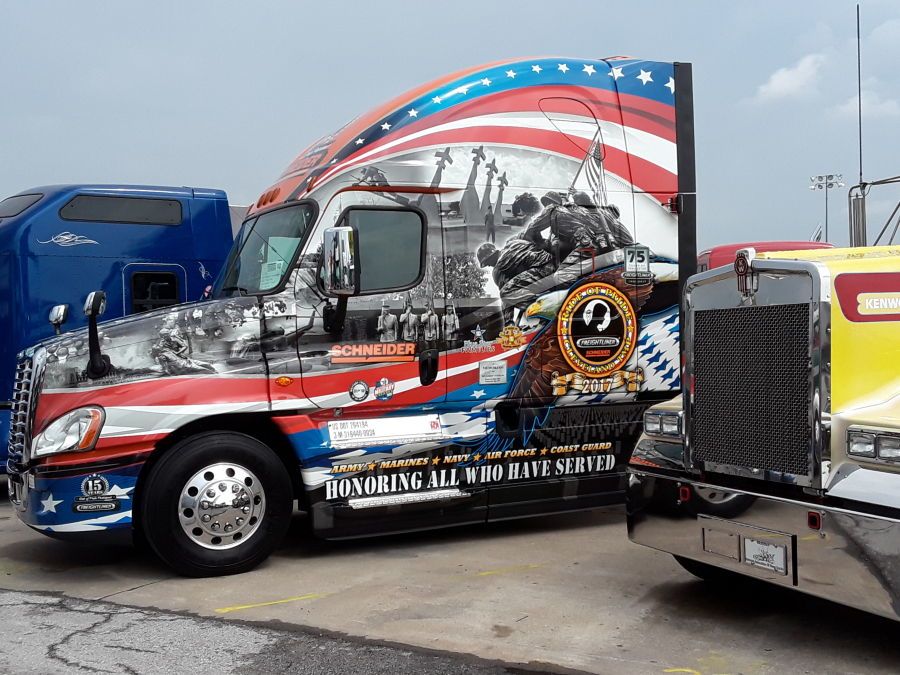 Whether paying for a local CDL school or attending a company sponsored program, finances can be tight during training and the early stages of going solo.
Those who attend a local truck driving school are taking on a financial obligation of up to $6000 for the CDL school, and the search for a job might take longer than they expected. Although this might be the right choice for some, having to work a full time job, then fit in schooling and family obligations can be exhausting. Truck driving school also limits the amount of time one has, therefore trying to offset the costs by working overtime may not be possible.
On the other hand, those interested in company sponsored programs are often faced with two to three weeks of schooling without a paycheck until they obtain their CDL. Despite being guaranteed an immediate job once obtaining their CDL, they are fearful they may be sent home from orientation for medical or other reasons, or fail the exam. This is evident by several forum members posting their concerns this week. Whichever type of schooling you choose, there are quite a few things you can do to lessen the burden and anxiety you suffer over your financial responsibilities.
As for me, I was near bankruptcy before coming to my company sponsored program, however, I did not have the money to pay for the legal fees. The bankruptcy lawyer told me to pay him $2500 with a credit card, and then he would write that card off in the bankruptcy. Yeah, okay, like I had that.
With discipline over the past couple years, I paid off over $60,000 of debt, put $20,000 in my 401k, have $5,000 in a high yield American Express Savings account, and have given my family $5,000. And I still splurge on Jacuzzi suites, facials, and massages when I want. That is a major accomplishment that took hard work and determination. I'm proud, but you can do it too. The following tips got me through my financial abyss, and hopefully they will help you as well.
Know What Income & Liabilities To Expect
Don't just sign up for any CDL school or company without understanding exactly what you would owe, how you pay it back, and what is included. For example, some companies will pay for transportation and food, but not for your hotel accommodations. Others may advance you money while you are in school to assist you with food and personal needs, but you pay it back in increments once you get your CDL and get hired.
Some companies may have you make weekly payments towards schooling once hired, while others may not make any deductions for schooling as long as you stay a full year. Every company is different, so be sure to understand how and when you get paid, and how much you need to pay and when. Do not rely on bonuses as steady income. Look at detention pay, bonuses, and other add ons as just that, extra money. They vary from load to load and week to week, so when budgeting, do not rely on that.
Make arrangements with your creditors, landlord, and utilities
Understand that bill collectors have to pay someone to call you and chase you down, or send bills in the mail. This is a total waste of time and money for them, so offering to pay on a set schedule at a reduced rate is something to which many creditors will agree. It is even more likely if you have been paying bills on time historically.
They understand things happen. People lose jobs, have children, accumulate medical bills. Whatever your situation, they have heard it all before, so be respectful, admit to your obligation, and ask for an agreement to something reasonable. Be sure to keep any promises you make, and if a change in an amount is necessary, call a week ahead and inform them. If you call one associate who refuses to comply, ask for a supervisor and explain. Creditors often deal with nasty people cursing at them, so a simple, "Hi, I know I owe $2,000 and I want to pay it, but at the moment I can only pay $50 per month. Can you work with me, please?" can go a long way.
When dealing with them, ask if you make automatic payments from a bank account or debit card would they be willing to give an additional discount. Some places may offer a 1% reduction. Also be sure to ask if they charge for check by phone because some places will charge between $5 to $15. Many offer a free online payment option.
Landlords/Mortgage Companies
My rent was $1200 per month for a one bedroom apartment. By some standards, that is astronomical, and by others that is low. Upon entering training, it seemed impossible. After five years of renting without issues, my landlord agreed to accept bi-weekly payments which was much easier for me than paying the full amount on the first of the month. Understand that landlords and even mortgage companies are much more willing to make arrangements than pay attorney and eviction court fees. Mortgage modifications are becoming more popular, so do your research. Is there a legal aid office in your area that can help you? Mortgage accounts often have a specific person handling them. Establish a relationship with that person and ask for a deferment. You will never know if you don't ask.
Car Payments
My Mustang GT had a payment of $400 per month. Bank of America agreed to defer two months payments for me. That was a huge help! All I needed to do was go to a branch, sign a piece of paper, and fax it back to my account representative. No problem. They told me they had a limit on how many months per year they could do this, and I needed to have a certain number of on time payments first, but that was not an issue. I still had to pay that $800 later, but not having to pay it during my Prime Student Driver program during which I was not getting paid made a huge difference.
Another possibility is trying to refinance the car loan. Doing so may reduce the monthly payments making it easier. In my case, I bought the car brand new with 0% interest. To refinance it, I would have to pay 8% interest which did not reduce my payment at all so deferment was a much better option.
Car Insurance
Try shopping around for car insurance. Progressive and Geico are often the cheapest, however Progressive has a discount program in which you insert a sensor under your dash and it calculates the miles driven and any hard braking events. The fewer miles and less braking events, the greater your discount. After six months of me being on the road and not driving my car, Progressive gave me a 30% discount!
Another thing to inquire about is reducing your liability limits on the insurance. If you are not driving the car, you are most likely not hitting anyone with it, right? So why not reduce the limits? Increasing your collision and comprehensive deductibles is also a possibility, however understand that if you have a collision when you get home, it could cost you. So be careful!
What about towing insurance or car rental? Do you have these on the policy and would it make a big difference to drop these? Remember, insurance can be adjusted at any time, so once you get out of training, you can return the policy to the original coverage.
Credit Card Companies
At the time I arrived at Prime Inc my Captiol One Visa had a balance of $8,000. My monthly minimum payment was about $250. When I explained the situation, the account representative agreed to $75 per month for one year. As long as I paid on time, or notified her that I had to make a smaller payment, my credit report showed "Up to Date, Not Late".
Under normal circumstances, making minimum payments does you very little good. Although it will keep your account up to date, it could easily take you 7 years to pay a $1,000 balance depending on the annual percentage rate. Just imagine paying $10,000 because you bought a car stereo for $1,000 six years ago. Crazy isn't it? Although I don't suggest this for a long term situation, it can be a good choice for a few months to get you through training and the early months of being solo.
Utility Companies
Whether dealing with gas, electric, or water bills, most companies can put you on a budget plan. Each company will have a different plan or may have various options from which to choose. My electric company basically had me pay 50% of my monthly bill for six months. By that time, I ended the lease on my apartment, put my stuff in a storage locker, and paid the balance of what I owed.
Budgeting Your Spending Once You Upgrade
Many students dream of getting their truck and "tricking it out". Planning on getting a Direct TV satellite, refrigerator, game system, an 8 inch tablet GPS, or other cool stuff for the truck? Maybe you need to make adjustments to your plans. Prioritize what you need for the job and what you want for relaxation, convenience, and entertainment. Trust me when I tell you, as a new driver you will be absolutely exhausted and your free time will be limited.
Things you need will be flashlights, gloves, hammers, an atlas, a winter jacket, personal toiletries, cleaning products, etc. Before every purchase ask yourself, "Is this something I absolutely need, or can this purchase wait?" By using the company GPS and my Rand McNally Atlas, I made my deliveries just fine and was never late. It took me almost a year to buy my Rand McNally GPS.
Use rewards points
You get rewards points at the truck stops for fueling, and they can add up quickly. If you are really short on cash, these points can be used for food and personal items as well as items needed for the truck. For the first year, I did not have a refrigerator, I used a $25 ice cooler I bought with rewards points. Also, the ice was bought with the points. Many of the fast food places inside of the truck stops will allow you to pay with the rewards points.
Another way to get free food is to fill out the online surveys on the back of the receipts. Most will say something like "Get a free Big Mac for your opinion" and you get a coupon code for the product.
If you want to make a large item purchase such as a $400 Rand McNally GPS, wait until they have a rebate promotion. My Rand 740 was $400, I got a $100 rebate, and I used $150 in rewards points. So just by waiting and looking for a good deal, I only paid $150. Not bad!
Comparison Shop
Always remember cost of living greatly differs across the country. Stock up at Walmarts in cheaper areas. For example, just by shopping in Alabama, West Virginia, and Missouri, I often pay half of what I would back home in New Jersey. Crazy, but true.
When you go to locations with cheaper prices, be sure to take advantage. Also understand that a $5 fast food meal in one part of the country might be $12 in the North East or near any major city. I buy my sister cigarettes for $35 per carton in MO because back in NJ they are $80 or more. Shopping around can save you a ton of money.
401K
Most companies will offer a 401k plan and make matching contributions up to a certain amount. Be sure to open an account and at least invest up to the amount your company will match. Once you are completely out of debt, you can adjust this amount to a much higher weekly contribution to invest in your future. Also, if in a financial jam later, the money can be borrowed against and you basically pay yourself back with interest. Although this is not ideal, it is much better to pay that back than take out a 25% interest personal loan.
Credit Repair
Once you get to the point where you are getting great miles and understanding how to manage that drive clock, you are in a much better position to attempt to pay on outstanding debts. I used Credit Karma for free to not only check my credit score, but view all of the creditors for TransUnion and Equifax. By clicking on an account, I could see how much money I owed as well as a contact number for the creditor.
I started paying on the "Derogatory/Collection" accounts first, starting with the lowest amount of money owed. If I had an extra $500 one month, I paid anything under $150 in one shot. That made my credit score jump the following month. Once I got to the point where I only had two very large accounts in collections, I made an arrangement with one to pay a very low minimum while throwing as much money as possible at the other account.
Amazingly, I was able to pay off everything but the $8,000 Capital One account. By this time, I was not only past my first year, but I started training students. I then gave Capital One $1,000 at a time. Once that was paid off, I made weekly deposits into a high yield American Express Savings account.
In September 2015, I came to Prime nearly bankrupt with a credit score of 505. I would have gotten rejected had I applied for anything. By March of 2018, I not only paid absolutely everything off, but using Credit Karma I was able to get my score up to the 760's. Of course, this is only one credit scoring method, and my FICO is a bit lower. However, I did get to start over with a $1200 credit limit on Capital One, and even got approved for an American Express Gold card.
I have a nice amount of money in my 401k which keeps growing, and I have set other long term financial goals that will assist me in buying a home within another two years. Think about it, it is quite feasible I can buy a house completely free and clear of a mortgage! Never had I ever thought I could do that!
I did this as a single woman without kids and basically living in my truck. My only "home" expense is a $300 per month storage locker. Obviously, your situation will differ, especially if you have a mortgage or children. But some of my ideas may help regardless of your situation. If you need to swallow your pride and eat peanut butter and jelly sandwiches for a while then do it. Those steak and lobster meals are not so far away.
Remember, never give up; not during your training, and not with your money. There is always a way out.