Bodyweight Training & Other Exercise Outside Of The Truck:
For those interested in more of a strength-training approach to fitness, the tried-and-true method of push-ups, pull-ups, squats, and lunges can be performed with enough variations and levels of difficulty that you will literally never run out of milestones to conquer.
There are many different programs and apps available for bodyweight training, and most exercises involve some form of pushing, pulling, or squatting, most of which can be adapted to whatever equipment is available. Namely your truck and the area surrounding it.
Truck Driver Workout - 17 Ways to Exercise with the Truck - The Healthy Trucker
Working out as a truck driver on the road doesn't need to be expensive. The Healthy Trucker brings you a set of exercises we've specifically designed for truck drivers using minimal equipment. The movements are tailored for truck drivers and target multiple muscle groups at once for efficiency, so you don't have to spend as much time working out.
Bringing Bicycles On The Roa:
There are also many drivers who bring a bicycle along with them on the road, either a full sized version that they carry strapped to the back of the truck: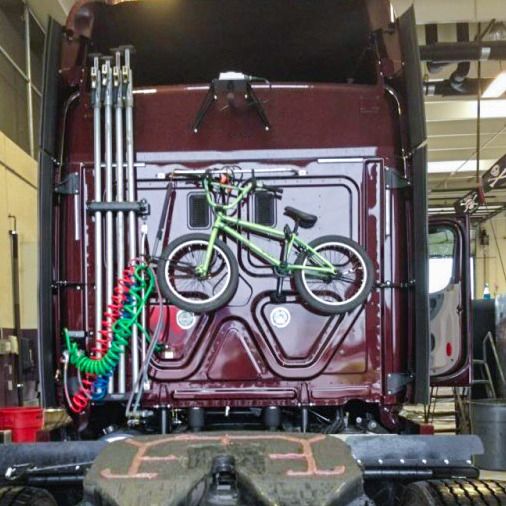 Or a fold-up bicycle, which can be folded and stored inside the truck itself:
An ambitious driver will be able to find a spot to ride anywhere they travel. Many truck stops will be located in the vicinity of a designated bike path, or at least an area where you can ride safely. If there is enough room in the cab, you could even get an inexpensive bicycle trainer stand and ride inside the truck:
Indoor Bike Trainer Portable Exercise Bicycle Magnetic Stand