Truck Driving - An Office with a View!
A lot of times you'll hear that truck driving is "an office with a view", although you normally won't hear that from a truck driver. It's something that recruiters and the media like to say about truck driving. Most truck drivers hate the term, probably because it's so cliche and there is much more to our jobs than just seeing the country. But, in a way, it's totally true!
I was driving through Oklahoma and Kansas today, which are two states that get a real bad wrap. Most people think it's boring. There's nothing around, nothing to do, and it's too flat. But, I've decided that I love these states! Sometimes, the beauty of a certain region doesn't stand out like a giant body of water or snow capped mountains. Sometimes, you need to look around to notice the sheer beauty.
My routing today took me through a lot of back country roads. It's nice to get off the beaten path sometimes. The US routes and county roads in The Plain's States often give a unique view of things you normally don't get to see from major highways, such as little towns and the countryside. As I drove along US Route 75, I was enjoying the two lane road while following a great sunset. The rolling hills along with the greenery of summer and a blue sky above me was extremely relaxing. The wispy clouds in the sky seemed stationary as I drove along, and as the sun began to set, they changed into brilliant colors of purple, pink, and orange. With the cruise control set, I started thinking to myself, "why doesn't anybody enjoy this? Why do these states get such a bad reputation for being boring?" There was no congestion...just me and the road. This is what I signed up for. I wish it could always be like this.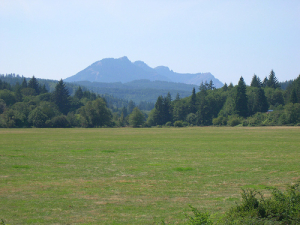 I came upon a sign that said "road closed ahead, use detour." Initially, I thought to myself, "Oh great, this better be a truck route." I was pleasantly surprised when this little road took me through a bunch of little towns of probably 100 people or less. I grew up in the suburbs of Chicago and have always lived in a congested area. Most of the stores in my area are large retail chains. But these little towns are the capital of true mom and pop places. Seeing the way these people live is such a far cry from what I'm used to. I try to imagine living in one of these towns and how different my life could have been. They might as well live on the other side of the globe from me. It's like a whole different country from what I'm used to. It's very interesting to see the transition from places like Dallas, TX to these small towns in Oklahoma and Kansas. Rural America truly is its own little world. This country has so many different sub-cultures it's amazing. Each one is unique and I try to take in as much as I can from each place. What other job offers you this opportunity?
My point in writing this is to tell all of the current and future truckers out there that beauty is everywhere! I've learned to enjoy it all and it's one reason why I absolutely love this job and lifestyle. Big city one day, rural America the next. Rockie mountains later that week, then the desert of New Mexico the week after. From the Canadian border to the Mexican border and sea to shining sea. Everywhere I go, I try to take in as much as possible. I'm sure these thoughts and feelings will wear off over time as I see the same places over and over again, but right now, I'm taking it all in and loving every minute of it.
Whether truck drivers want to admit it or not, this really is an "office with a view." And in my opinion, it's one of the best aspects of this job. I used to stare at a computer screen all day inside my cubicle. Now I stare at America. What a beautiful country it is, and I hope this never gets old.
Until next time, drive safely!
TruckerMike
Related Articles: