Out Of Training And On My Own
I passed my training period and I've been assigned a cabover. This does not thrill me. I really wanted one of the newer trucks, but I know I have to start somewhere. Does this mean I'm a Professional Driver? I sure don't feel like one, and I don't think the motoring public is ready for me either! If they knew what I knew, they would not be on the road with me. I must be out of my mind for doing this, and so is my employer!
But wait a minute! They have all the confidence in me, so then why don't I? I just need to calm down and accept this challenge. No more trainer for my security blanket - I'm on my own. For everything.
"Pickle Park", "Big Road", "Super Slab", "Chicken Coop", "Cash Box", "Bear Trap", "Hammer Lane", "Hammer Down", ...and so many more.
I guess I'll learn them as I go.
My first trip was a short one, and I mean short. It did give me the confidence I needed though. Then my next load was going to Chicago and I suddenly thought of many reasons why I should not go. Again I told myself that I had better get used to this. I did each mile one at a time and as I covered more and more miles my confidence grew. I put my training to use and did just fine. Nervous. YES!! Scared. YES!! but just think it thru and take your time,and you will do just fine.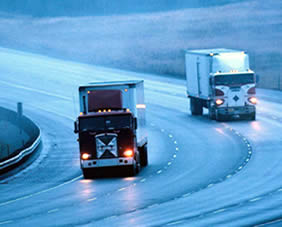 Ah, the dreaded cabover!
Simply drive safe and be a professional. Just remember the training films you watched ofthe truck crashes. Remember that you can kill an innocent person in a second, and you too can be killed just as fast. Being in this big vehicle does not make you safe.
The closer I got to Chicago, the more my confidence level dropped. But once I was there, it was not as bad as my fears had led me to believe. After all, I had been through Chicago and many other major cities with my trainer. I was concerned about the paperwork and the bill of lading at the shipper and reciever. I was still confused about that. But I also knew that everything would turn out all right. Just don't worry about it.
My first job is to get from point A to point B safely. Focus on that and the rest is easy. I thought back to when I got my license to drive my parent's cars. The fears I had back then were the same fears I have now. It seems kinda silly, but I knew nothing about driving a car back then, just the same way I knew nothing when I started driving this semi. But we all get over those fears andin the end do great.
Related Articles: