Randy's Phase 1 Training - Part 8
Wednesday, October 14, 2009
I am still absolutely clueless as to what's happening with Randy. I know where he is because I see the truck moving on the Google map, but I haven't spoken to him since Monday. However, his paycheck has magically appeared in our checking account.
I don't know what's going on, and I'm too tired to try to figure it out. Hopefully I will have an explanation tomorrow. I can't believe it's only been 52 days, it feels like 6 months already. Is there an emoticon for being exhausted?
Thursday, October 15, 2009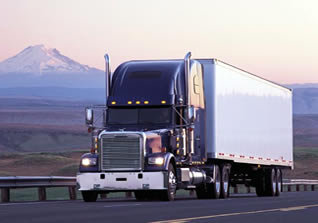 I keep reading that the 2 most important factors for a successful marriage, especially in OTR trucking, are trust and communication...this week, we had neither one. I suppose the added stress of all this didn't help, and WE BOTH had a major thinking/behavior relapse. This career TRULY does test a relationship, and any weakness that existed before WILL be magnified 1000 times.
And it all turned out to be a misunderstanding. Randy's paycheck finally showed up 2 days late, only one has been done correctly so far, and he doesn't know why. But, this time, his phone stopped working and he assumed that I was angry and had turned it off. We could have avoided all of this if he had simply borrowed his trainer's phone and called me, but he didn't. Or I could have had faith in him and assumed there was a reasonable explanation, but I didn't.
What can I say? We are weak little human beings who both overreacted and obviously need more counseling. Anyway, he finally called me from a pay phone at the school, and I had him power his phone off and on and it works fine...that's happened SO many times before but, as I've already said, Randy panics with electronics. This was another hard lesson and we have made a renewed commitment to trust each other and let go of the past.
Now it's time to turn this blog around from Randy and Rhonda's marriage drama back to Randy's trucking again. I only got an abbreviated version of what happened this past week, but he and his trainer put on over 7700 miles. Apparently Randy has a severe problem with holding the steering wheel incorrectly, which the trainer and the training coordinator have chastised him about repeatedly. So did the instructors at school. So have I, when he drives our personal vehicles with one finger or his knee, which freaks me out! On their way to Ohio, he drove through a different mountain pass, Parley Summit, which he said was very twisty. In Illinois and Ohio, he had his first experience with toll roads.
Tomorrow morning at 6 am, he will take his upgrade driving and backing tests. If he passes them, he has some kind of class at noon. Then we're hoping he will meet with a phase 2 training coordinator and we can finally figure out what happens next and when he can come home for a bit.
Friday, October 16, 2009
There were some interesting developments today. First, Randy called me at 7:45 am (my time) and woke me up and was completely agitated. He was really wound up after a 6:00 am appointment turned into an 8:45 am test, and I guess he needed to blow off some steam by trying to argue with me. But I was tired, had only slept for 1 1/2 hours, so it just made me cry and he hung up. Then I had to wait over 3 1/2 hours for him to call back, but he passed the upgrade tests. He got 94% on his road/obstacle course test and 100% on his backing skills...the tester told him his backing was "amazing". I could have told him that. ;) Then there was a written test, for which he was unprepared and didn't even realize was going to happen. He was told that if he failed it (had 2 chances), he would be sent home immediately, but he passed that on the first attempt. Phew!
A couple other interesting notes before I say what's next:
1. Remember his original roommate from Vegas who was the first person he met there and who was the passenger in the truck accident at the school? While out with his trainer, he went around a corner and a car slid under his truck causing a major accident. But it wasn't his fault, so he's still trucking.
2. Randy said there are suddenly a lot of pretty female students at the school.
3. He was told by the instructors that the company is no longer training any new phase 2 trainers because there are too many now. And he was warned that they are lurking all around the school looking for trainees.
4. People at the school have been asking him why he thinks so many people drop out of training or quit, and he discussed that with his trainer too. He thinks the top reasons are being away from home too long, low starting pay, no hope of going solo.
5. Surprise! Everyone from his trainer to classroom instructors have been telling him NOT to lease, to be a company driver. What? This was NOT expected!
Now, I found this really interesting. Randy was so confident and comfortable while taking the driving test that he was chatting with the tester. And that guy was absolutely exasperated with the company, ranting about how they treat everyone like a number rather than a human being (typical of a large company) and act like nobody, students or employees, is allowed to have a life. I have to agree. Because now Randy is stuck at the school all weekend, his pay stopped on Wednesday (plus the next check will be small because they're deducting the cost of a trailer lock and digital thermometer + tuition), he has more classroom stuff on Monday, and we still have ZERO clue about how or when he will come home.
But I do have hope. He spoke to several people about home time, and most of them choose to go right into phase 2 because they want the paychecks to start again. But he spoke to some who went home for 2-3 weeks between phase 1 and 2, one even went home before doing their upgrade tests. Well, Randy is determined to come home for a while, so I now feel certain that it will work out.
Related Articles: