What Is The Qualcomm (Omnitracs)?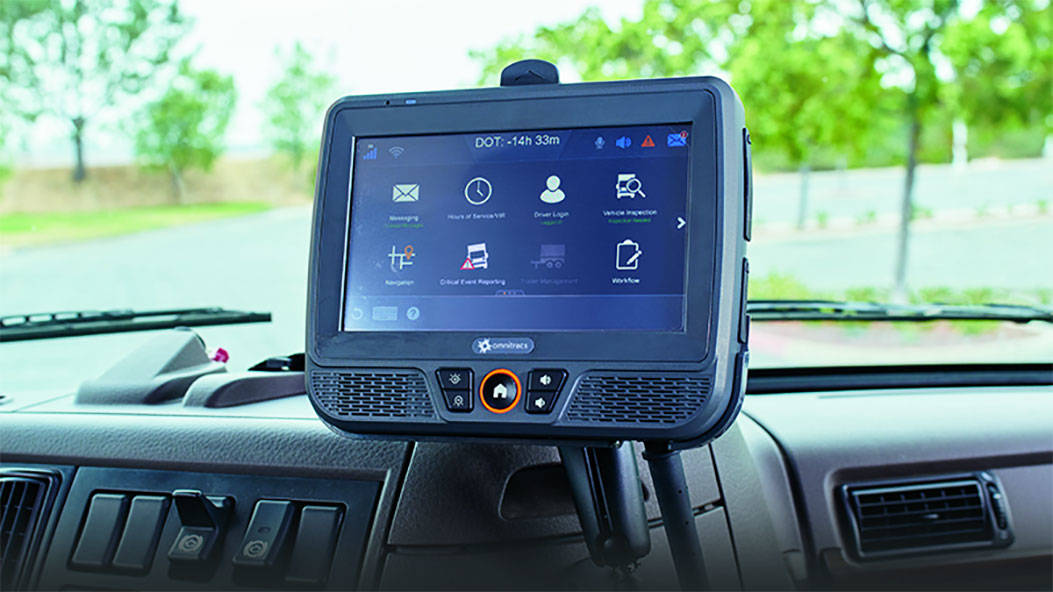 Qualcomm , or Omnitracs, is an onboard computer with a messaging system, GPS navigation, an electronic logging device (ELD), and more. It is tied into the truck's computer and also allows trucking companies to track where the driver is at, monitor the truck, and exchange messages with the driver - similar to email. You will access the Qualcomm from inside the truck, using what looks like an iPad.
Another way to summarize what the Qualcomm (Omnitracs) does is logistics management.
Each company can set up their Qualcomm (Omnitracs) to monitor the truck based on their own specifications. Most are set to monitor:
Location
Idle time
Speed
Miles per gallon
Engine over speed
Cruise control
...and more
How To Use The Omnitracs
The way the device works is similar to a Garmin GPS and is about the size of an iPad, with a touch screen and easy prompts that you tap on. The newest Omnitracs devices come with bells and whistles like voice command, smartphone pairing, and Bluetooth so that you can update trip information while not in the truck. The device can even act as a WiFi hotspot so you don't have to rely on spotty WiFi at truck stops for your personal devices.
Video: How To Use The Omnitracs
You'll record all of your actions as "macros," which are a preconfigured list of messages that you use regularly as a truck driver. These macros will represent everything, including load assignment, load updates, arrival at customer, fuel stop, departing location, empty call to get a new load, and free form messages to your dispatcher. Messages can even be of a fun and personal nature, just like email. The following are all things you will be using your Omnitracs or other ELD to do:
Record your

pre-trip inspection

See and manage load assignments
Manage

sleeper berth

time
View and send messages with your

dispatcher

in an email inbox/outbox format
View your auto-programmed loads and fuel stops; you can also edit this and add stops manually for things like scales, restrooms, restaurants, and hotels.
See your governed speed limit
Manage multiple drivers, with one at a time showing as "active" (the driver whose

HOS

,

sleeper berth

, etc. will be referred to)
Is It Called Qualcomm Or Omnitracs?
Why do I say this is the device that truck drivers "call" a Qualcomm? Because it's not actually called a Qualcomm. Sort of like when people refer to all brands of facial tissues as Kleenex or all copy machines as Xerox. Not only is Qualcomm not the name of all electronic onboard truck devices-- it's not been the name of any onboard truck device for some time. Qualcomm is a company founded in 1988 that still exists in the mobile technology industry doing stuff like making microchips for iPhones, but which sold their fleet management technology, called Omnitracs, to a private investment firm (Vista Equity Partners) in 2013. In other words, Qualcomm got out of trucking.
Omnitracs is now the company and brand name of the device, and beyond that there are even more brands. The name Qualcomm simply stuck, and is now culturally used by truckers to describe their ELD, or electronic logging device. This is important to know because if you're ever looking for information on your "Qualcomm," you'll be led down a rabbit hole of unrelated Silicon Valley business news mixed with trucking information that stops in the early 2010s, well before the federal e-log mandate of 2018 requiring all trucks to be equipped with a device of this kind.
See the FMCSA's list of approved and registered ELDs.
To get even more specific, probably the most common Omnitracs models that trucks use right now are the (newer) Omnitracs IVD and (slightly older, multiple) MCPs. Just know that while you'll likely hear other truckers referring to it as the Qualcomm at some point,"Omnitracs" is what you'll see on the box when it's installed in your truck.
Here's a 2019 review with information about some of the newer Omnitracs devices.
Some background on both the past and future of Omnitracs
Omnitracs vs Automatic On-Board Recording Devices (AOBRD)
Before ELDs, there were AOBRDs, Automatic On-Board Recording Devices, to record truck drivers' Hours of Service. There are still some of these floating around today, but due to the federal e-log mandate, part of the law called MAP-21, all of these must be replaced by ELDs by December 16, 2019 (or else). The Omnitracs is a compliant ELD, and the majority of trucks are already outfitted with one.
What's the difference between AOBRDs and ELDs?
The
Omnitracs ELD
is capable of and required to capture a lot more data than the old AOBRDs. AOBRDs served the dual purposes of being a time saver for companies and drivers to go optionally paperless for
logbook
recording, as well as allowing the ability to auto-record engine data to keep an eye on truckers' Hours of Service compliance and make abuse of time more difficult (but still allowing manual entry and therefore a loophole for fudging). The ELD gets rid of the loophole and does not allow the possibility for fudging. Both types of devices are installed to interface with the engine for automatic recording, but the ELD never stops recording that engine data. The Omnitracs also provides
mobile GPS technology
.
Here's what the Omnitracs and other ELDs can do that AOBRDs can't or aren't specifically required to:
The Omnitracs must automatically record engine power and vehicle motion, miles driven, and engine hours
The Omnitracs has to automatically record not just each change of duty status, but also records at every 60-minute interval while the truck is moving, at each instance of engine-on and engine-off, and at the beginning and end of personal use and moving within drop yards
The Omnitracs must show a graph grid of all of the driver's duty status changes on a display or print-out
An ELD will show "unassigned driving time/miles" message to the driver at each login
If the truck hasn't been moving for five minutes while on-duty (including while stuck sitting in traffic), the driver must respond to a prompt to tell the device that they're still on-duty, or its default state will be off-duty.
The device's time has to be synchronized with Universal Coordinated Time (UTC) and deviation of the clock from that time can't be greater than 10 minutes.
Transmits the auto-recorded information it captures to the company or dispatching authority, and allows direct communication between driver and that authority via messaging
The Omnitracs is also tamper resistant
A good overview on differences between ELDs and AOBRDs by the FMCSA
Federal Mandate For Electronic
Logbook

Devices

As of April 1, 2018, it became federally mandated for trucks to be outfitted with an ELD such as the Omnitracs. If a driver is found without one on a roadside inspection, they are placed Out of Service (OOS) for 10 hours. AOBRDs are grandfathered until December 16th, 2019. After that date, all trucks must be on ELD and AOBRDs no longer count.

A subtle reminder from Omnitracs about the AOBRD switch deadline at the end of 2019
Installation Of the Omnitracs System
First, the device has to be installed in your truck either at an Omnitracs authorized service center or by a field technician who connects it to the engine's computer after removing part of the dash. There is also an initial computer set-up that your company or you will complete to get you in the system. For other brands, the process will be the same, only through that company. As for whose responsibility it is to schedule and pay for installation, that will depend on your individual situation and/or company. Most companies will already have the truck outfitted with the device for you.
After installation, the device will be ready to use, and will be a one-stop-shop for everything you need to report to meet regulations and communicate with your company and dispatchers, and also offers navigational features that interface automatically with your load information and Hours of Service. Many drivers like to use their phone or their own personal GPS for navigation in addition.
The ELD has all of the necessary parts to help you do your job, while Google Maps and other GPS devices and apps are often considered more user friendly and more accurate in terms of navigation, depending on the ELD model.
Video: Installation Of The Omnitracs System
Omnitracs GPS vs Rand McNally GPS For Truckers
Omnitracs and other ELD manufacturers have a competitor to contend with, which is Rand McNally. Rand McNally offers a line of GPS products that can be used by 4-wheelers as well as truck drivers. Many drivers swear by Rand McNally products for GPS accuracy, as well as Google Maps on their personal iPhone or Android device. Omnitracs is getting better all the time, and is the industry leader in fleet management ELD technology, but sometimes drivers complain of the device leading them on a wild goose chase in terms of navigation. It can't hurt to invest in a backup navigation system. Two heads are better than one, even if they're robots.
Related Articles: