Our Trucking Adventure Begins
Hello readers. My name is Cathy Rubens. My husband Steve and I started our trucking adventure in October of 2008. These writings will be done in the form of flashbacks, with some things from the past and some things from the present. Steve and I will be writing about events and happenings from our respective points of view. The flashbacks will be stories of happenings and musings from events as remembered by us.
Pondering A Truck Driving Career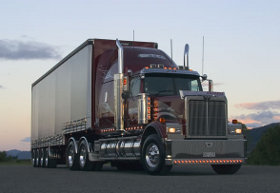 Steve and I live in the beautiful Pacific Northwest. We were married in August of 2008 and within a few weeks we found out his work would be shutting down at the end of the year. He works in construction. He was still working but it had slowed down tremendously. Steve told me that he had always wanted to be a trucker. His brother and sister – in – law have driven as a team for many years. And he even worked in a plant building flat bed trailers for a couple of years when he was younger. After a lot of discussion, we agreed that he would give it a try. I was worried about him driving in the weather, long hours and driving at night. He was not at all concerned about that. Since he grew up in Ohio, and living where we do now, he is very used to driving in snow and ice. We were both concerned about the time apart. But we thought that he could do the OTR thing long enough to get the miles and time in and then find something more local.
Finding The Right
CDL

Training

So, that began our venture into the world of Trucking! I started to check out training options. Where we live there are basically 3 choices. One nationwide private training company which would help place you with a variety of trucking companies, one small private company which does the same thing, and one of the big driver/training trucking companies – you train with them and start driving for them. I called around and got information on their programs, pricing, class scheduling and things like that. Man, this was not gonna be cheap! We decided against the chain driving school. It was in the next city over. We thought, why would Steve drive 30 miles each way when there were two perfectly good schools right here? I looked into both of them. There was less than $500 difference in the cost between them, so we threw that out. The training was about 4 weeks. At the trucking company school, they had classroom time and then driving time with up to 6 people in the truck with the instructor. At the end of the class, if you passed, you went to work right away for this company. You would start out with a driver trainer and drive with him for 4 weeks then out on your own. The smaller independent company was a one man operation. Duke, the owner/trainer was very personable. The company was upstairs from a towing business. He has one truck and only handles 4 students at a time. Steve was going to go interview each of them and we would make a decision. I liked the big company. They were professional, organized and then there was that JOB waiting at the end of the program. Steve, of course, liked the little company. He has been a business owner and he connected with the guy. Liked that he had been driving for a lot of years and that it was small. Steve said he just felt like a regular guy. Steve was still working some. He was one of the last two employees at his company. Duke told us that he could do school half days and still finish in about a month. Steve really liked that idea. I asked how he could finish in the same amount of time as the other school which went full time. Duke said that his students did the reading and studying for tests on their own time. His program has up to 2 students in the morning and two in the afternoon. I asked about jobs. Duke told us that he has a list of trucking companies that he has connections with. He would send out Steve's info to a variety of them and then pre-hires would come in. When the program was over, Steve would decide on a company and start driving. I still liked the big company. Steve did not even want to talk to them. I thought about it. Since Steve is the one that has to go through the training I decided to defer to him on this one. SO, Duke's program it is.
The Choice Was Made And Off He Goes!
It was Friday afternoon in the last week of October. We went to the State Department of Licensing and got a copy of Steve's abstract, his driving record. That was $10 and the first of LOTS and LOTS of dollars this new career has cost us. We then met with Duke. He looked over the abstract. Steve had two minor accidents in the last 5 years. The most recent one was about 2 years old and was in a company pick up truck. The breaks were shot and they had gone out when he was going down a small hill. He clipped the back end of a car. Duke said that would keep him from getting a job with one of his contacts, but the others should be fine with it.
Steve has a DUI in his past, but that did not show up because it was nearly 25 years ago. Duke said that would not matter with any company except that he would not be able to drive into Canada. Duke and Steve were both happy. I asked questions about the company, the history, the certifications, the trucking industry. We had questions about the income a trucker can expect and how long we could expect him to be on the road. That was a big thing for us. Duke told us that we could expect to Steve to make about $30,000 a year and he would be out on the road typically 5 or 6 weeks at a time. The job situation, the pros and cons of trucking etc. I looked over his state certifications and then we all agreed to have Steve go to the school. I wrote a check for $3500, which was a significant chunck of our savings, and Steve was scheduled to start training the following Monday. Duke gave Steve the guide for CDL's for our state. He told Steve to start studying. He was to take the test to get his learner's permit when the licencing office opened on Tuesday.
Signing off for now. Drive safe, be happy!
Related Articles: