Attending Truck Driving School Part I
Priceville, Alabama was where my trucking adventure began. A Super 8 motel room would be my home for the next three weeks while I attended CDL school. I did not know what to expect on the first day, but I met a wide range of personalities in the other students.
An Interesting Group Of Trucking Students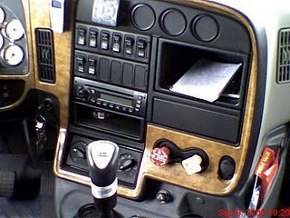 The range included everything from a Mississippi farm boy with a middle-school education to a former software engineer with a Master's degree. An ebony giant named Steve looked like an offensive lineman for the New England Patriots and his foil was a rail-thin fellow named Ray, who might have eked out a height of 5'5 if he had been wearing cowboy boots. There was also Mike, from North Carolina, who just seemed perpetually bitter. Of course, there was also "The guy who already knew everything" and for whom, in his mind at least, this school was a mere formality. Despite the varied backgrounds and personalities, everyone here had at least one thing in common: each person was seeking a better life for himself or, he was seeking to get his life back on track from a prior misfortune. It came as no surprise when camaraderie quickly developed among most of us.
I became fast friends with Alan, the former software engineer. Alan was laid off from his engineering job and, at 54; he'd been having difficulty finding suitable employment in a young man's field. Like me, Alan had a lot riding on the success of this new venture. After my recent moving expenses and the costs of CDL school and my motel, my savings were dwindling rapidly. If this trucking thing didn't work out, I was screwed. However, Alan and I were not the only ones who had pushed our chips "all in" on this hand. The guy from Mississippi said that he sold the stereo system out of his car at a truck stop in order to have gas money to get to Priceville.
A Bond Amongst Us
As is often the case, most of us banded together and helped to alleviate the concerns of our circumstances through laughter and joking. Steve was the biggest comedian of all, both literally and figuratively. Steve wore a perpetual smile, and the clowning giant was the rare type of person whose mere presence tends to lift one's spirits. He was always a joy to be around and he usually kept everyone laughing, except Mike, who stayed pissed off at the world and everyone in it.
The training format of the school put us in the classroom during the first week in preparation for the written tests, and the next two weeks introduced the road training for the driving portion of the test. I wasn't too concerned about the written tests—but I was VERY concerned about the road test. This could prove to be the potential worm in my apple but I was determined to give it my best shot.
Gettin' Ready To Roll
The classroom instructor was a rotund, middle-aged fellow named Ron. He boasted many years of OTR experience and, although he may not have been the most entertaining instructor in the world, it soon became clear that he had probably forgotten more about trucking than most of us would ever know. Thanks to Ron's expertise, ten of the fifteen students passed the written tests on the first try. Three of them passed the second time around and, the other two had to make a third attempt but, eventually, everyone in the class passed. Now, it was time to drive the trucks. Oh boy…
Related Articles: