Trucking School Part III - Boot Camp
Almost everyone is abysmal at 45° angle backing to start with, and I was no exception. However, I was not the only one having difficulty. Alan even resorted to mathematical solutions to crack this puzzle, but it didn't seem to help either of us.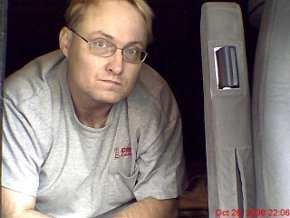 The "guy who knew everything" was, amusingly, one of the worst in the class. I can't recall his name, so I'll just call him "Douchebag". Douchebag blamed the equipment, blamed the instructor for teaching him bad habits, and blamed the setup of the course. It couldn't have been his lack of ability, because he was God's gift to trucking. Douchebag insisted that if he had designed the course, everyone would be a Super Trucker within a week. By this time, Douchebag was more comic relief than mentor.
Will We Be Ready For The Test?
In truth, backing a big truck is more art than science. The only way to improve is through sheer repetition. Unfortunately, there was a limited amount of time and opportunities to practice before our road test. Concern arose among some of the students. We didn't see how we'd possibly be ready in time.
Enter Pat. Pat was another yard instructor, a petite middle-aged lady with closely cropped blonde hair and a forceful presence. Pat was a veteran of the road and traveled with her loyal companion, a terrier mixed-breed named Zip Code.
"I named him that because he's been in every zip code," explained Pat.
She said the course in the yard was set up exactly the same way it would be for the test. Then, she pulled a Joe Namath moment out of her hat:
"We've done this week in and week out with hundreds of students, and I guarantee I'll have you ready for your test."
She seemed so confident that I didn't write her words off as bluster—I believed her. True to her word, she began showing us some tricks that yielded immediate results. The "tricks" that she showed us probably wouldn't have helped a whit in a real world situation of attempting to back into a dock at a crowded shipper , but they helped immensely in learning to set up at the correct angle on this particular course and getting the trailer in between the cones.
Truck Driving School Is Boot Camp
This brings up a point. A three-week trucking school is, essentially, a boot camp toward getting a CDL. Given the short time frame, the student is crammed with the essential knowledge to pass the test… period. There is no time to perfect or hone any of the basic skills. Make no mistake; a student fresh out of CDL School is NOT prepared to be on the road in an 18-wheeler. That is why, upon being hired by his first company, a new driver will spend six to eight weeks with a certified trainer before going solo. The role of a CDL school is to whip a student into shape to pass a CDL test… that's it.
In the meantime, we had been going out in groups of four with other instructors to drive on a low-traffic route in Decatur, Alabama to learn how to shift through the 10 gears.
Out On The Road Learning To Shift
Donny was the first instructor to endure the comedy of errors from my group. Donny was a laid-back country boy with rugged features, for whom sitting at the helm of an 18-wheeler seemed as natural to him as putting on his pants in the morning. Donny was as cool as a cucumber and remained supportive despite our beginner mistakes. For the first couple of days, there was more grinding taking place in those trucks than in a Starbucks.
Another instructor I rode with was Rick, a compact and vigorous black man with an enormous energy level. Rick earned the nickname of "Boom Boom" because, his method of instruction on the proper time to shift gears was:
"Okay, get ready—BOOM! Get ready—BOOM!"
Boom Boom relayed countless road stories to us, and he became one of my favorite instructors.
Related Articles: