Questions and Answers for a Truck Driver
Recently, I was contacted by an individual who is interested in becoming a truck driver. He asked me several questions about the trucking industry and about my job. I thought they were excellent questions and decided it would be great to share on my blog for any of you interested in becoming a truck driver. I hope this helps answer some of the questions you might have!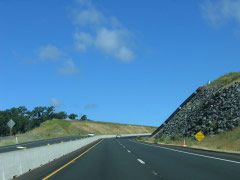 1. What do you like best about your job?
It's hard to pick just one thing I like about my job, but I suppose the thing I like best is traveling around this beautiful country. I enjoy being someplace different every single day. I enjoy the scenery changes. Being in a desert one day, and on the top of a mountain the next. In a big city one hour, then out in the country the next. I love being able to see everything this country has to offer.
2. What do you like least about your job?
I don't like all of the government oversight and regulations imposed on me as a professional truck driver, especially when it comes to hours of service. The hours of service regulations are intended to make truck drivers safer by requiring a certain amount of rest, but it can actually force me to drive when I'm fatigued. I wish I could simply drive when I feel safe to do so, and sleep when I need to. Instead, due to long waits at customer locations and government requirements screwing up my sleep schedule, I often times find I have to drive when I don't want to, simply to stay legal. So in that respect, I wish I had more freedom to make my own safety decisions, instead of trying to simply stay legal.
3. If you quit today and moved to another area, how difficult would it be for you to find a similar job?
It would be extremely easy for me to find a similar job. In fact, if I moved to another state, I could probably continue to be employed by my current employer. My current employer isn't even based out of the state in which I reside. Driving over the road allows me to be employed by nearly any over the road carrier in nearly any state. Some areas are easier to get hired out of than other areas, but truck drivers are needed virtually everywhere and I don't need to rely on a local company to hire me.
4. How hard is it for an inexperienced person to land a job in this field?
The economy has hurt all industries, and trucking is no exception. However, there are still plenty of jobs to be had in the trucking industry. The main reason being the turnover rate is much higher in trucking than in most industries. This means jobs become available everyday. Companies are eager to hire new drivers so they can pay them a lower wage than experienced drivers. Quite a few of the large carriers even run their own CDL schools, free of charge as long as you stay for a specified period of time, and offer paid company training after that. This is probably one of the easier industries to get into with absolutely no specific education or experience.
5. What do you actually do most of the day? How do you spend your time?
Most of the day is spent driving. I typically drive around 400 to 600 miles per day, or around 8 to 11 hours per day. Many days I will also spend time at shippers or receivers waiting to be loaded or unloaded. This can take anywhere from a half hour to several hours. I've waited as long as 48 hours before to have my trailer loaded. There are other various things involved such as performing pre and post trip inspections on the truck, fueling, and basic maintenance. Other light physical work like checking and securing a load or some light loading / unloaded may be needed at times. But over 90% of my time is spent driving.
6. Is this a high stress position? Do you take your job home with you?
This can certainly be a high stress position if you make it that way. Typically for me, the stress comes in the form of traffic congestion or getting lost due to bad directions. My main stress level from those things is trying to keep the motoring public safe. It can be easy to lose track of surrounding vehicles during traffic congestion and the sudden braking can be intense. The general public really isn't educated on how to drive around large vehicles, so a lot of stress is created. Some truck drivers have road rage which only intensifies the stressful situation. But for me, the stress is more out of safety concerns than aggravation at other drivers. This also applies for when I'm lost. It is easy to get turned around and end up on a weight restricted road, or on a road with a low bridge. Any number of things can happen, and turning around a truck with a 53 foot trailer attached is quite a task.
Other drivers get stressed due to the separation from their friends and loved ones, including their children. Family life can often times suffer due to the constant separation. This career is very difficult on families and attributes to a large portion of the stress created by this job. Being single, I do not have this issue. I don't find myself bringing any stresses of the job home with me. Although I only go home about 4 days every 6 to 8 weeks.
7. What are the opportunities for advancement?
Unfortunately, there aren't a whole lot of ways to advance your career in truck driving. Many drivers instead choose to move into a lateral position, such as a local truck driving job or a regional position which gets them home every weekend. There are a few limited opportunities in which you can move into an office position, such as becoming a fleet manager , but overall, there is very little in the way of advancement. Drivers tend to simply move to other companies as their experience grows to a better paying job or one with better benefits.
8. What does the job pay? How do you get raises?
I am paid by the mile, which is how most drivers are paid. Some local drivers are paid by the hour or by the load, but most drivers are paid by the mile. I currently make 35 cents per mile after one year of experience, with an average of 2400 miles driven each week. I typically make an extra 1 to 3 cents per mile via a fuel bonus as long as I maintain a specific fuel mileage. Raises are based on miles driven. Every 120,000 miles I receive an additional 1 cent per mile. It typically takes about 1 year to obtain 120,000 miles.
9. Are the benefits good? Is there a retirement plan?
The benefits are about average. I receive all of your basic benefits including health insurance and also have a 401k retirement plan with company contributions up to 6%. At 120,000 miles I receive 1 week of paid vacation (paid at $500). After 600,000 miles driven I will then receive 2 weeks of paid vacation ($500 per week).
10. What kind of training, education, and experience would you recommend to get into this field?
There is no need for any kind of specific training, education, or experience. One of the benefits of this career is you can get hired onto a company who will give you all of the training and education you need. There are people driving without high school diplomas, and others driving with Doctorate degrees. Many people do this as a second career, while others do this as their first real career choice. It's a very perse industry, and no formal training or experience is needed. If you don't want to obtain your CDL license through a company, you'll need to get your CDL through a qualified CDL school before a company will hire you.
11. Are there other qualifications needed for the job? (strength, good eye sight, specific skills or abilities)
As long as you're able to safely drive a vehicle and pass a basic Department of Transportation medical examination, nothing else will be needed. Some companies who require loading or unloading of trailers may require you to be able to lift or move heavy objects. You should also be able to stoop under a truck / trailer for inspections as well as climb into and out of a trailer. The health concerns for truck drivers is a big issue right now so things are constantly changing. Some companies are even imposing Body Mass Index limitations. But passing the Department of Transportation physical to obtain your CDL is very basic and easily passed by the average person.
12. How stable is your job? Is it seasonal? Are layoffs expected?
I feel my job is stable. I'm not worried about being laid off. The main thing that affects the stability of the job is keeping a clean driving record. Any major accident can destroy a career in one day, and accidents do happen in this field. So in that respect, I could lose my job any day if I make a bad mistake. But even in these economic times, I don't fear I will be a part of any layoffs. In truck driving, layoffs are very rare, and usually only happen when a company goes out of business completely. Trucking can be seasonal, with the "slow season" generally being from the end of December to mid-March. But I work for a refrigerated carrier, which means the bulk of my freight is hauling food. This is much less seasonal than a dry van , tanker, or flatbed carrier.
13. What hours and days do you work? Do you have to spend time working outside of these hours? (preperation, maintenance of equipment, overtime, union meetings, volunteer work)
I work at any time of any day or night. Whatever is needed to get a load from point A to point B. It is extremely irregular. I'm limited to working 70 hours each week by hours of service regulations. Usually, I come very close to working the full 70 hours every week. On top of those 70 hours, I spend many hours waiting around at shippers or receivers. Usually, I work 7 days per week for 4 to 8 weeks straight, then take 4 days off and do it all over again.
14. Do you work mostly alone or with others?
This is an extremely independent job. I spend 99% of my time alone, and 1% of my time face to face with security guards, shipping / receiving clerks, gas station attendants, etc. My dispatcher or "Fleet Manager" typically communicates with me via an electronic device on my truck, but we also speak by telephone from time to time. But for the most part, I work alone.
15. Does the company provide additional training as the job requirements change?
In the year I've been driving, the job requirements haven't changed enough to require additional training. There have been some regulatory changes and some company policy changes, but nothing that required any further training. I have received additional training on defensive driving techniques, but for the most part, there is no additional training after the initial training period has ended.
16. Is this same job going to exist fifteen years from now?
Absolutely, the trucking industry is here to stay for a long time. Some aspects of the industry may change over time, but trucks will be around long after my lifetime.
17. In addition to formal training or education, what should I be doing to prepare for this position?
What you're doing now is a great start....research! Try to find out everything you can about the lifestyle of a truck driver. I try to tell everyone that this is not a job, this is a lifestyle with a paycheck. Many people get into this career without fully understanding what they are getting into which is why the turnover rate is so high. Keep a clean criminal record, a solid work history, and research the heck out of this career and lifestyle. Don't come into this career for the paycheck. Make an informed decision as to whether or not you want to live the the lifestyle of an Over the Road Truck Driver, or make yourself a plan to eventually drive a local job or one that gets you home every week. If you decide this career and lifestyle is for you, get your CDL and you'll be ready to hit the open road!
I hope this helps answer some questions you might have about a job in truck driving. If you've come up with some other questions while reading that, you can always feel free to contact me at TruckerMike@TruckingTruth.com. I may not get back to you right away, but I will absolutely send you a reply just as soon as I have time to do so.
Until next time, drive safely!
TruckerMike
Related Articles: