From the Driver's Seat
With 10 years of truck driving under my belt, I've spent a lot of hours in the driver's seat. Most of my driving time was at night, though. It was easier on a woman to drive at that time of the day. The guys couldn't ogle you as they could during the daytime. It didn't matter if you were good-lookin' or not, you were always better lookin' than a man (most of the the time, anyway). I have spent some time driving during the day and that's when you get to see it all! Some of it is good, some not so good, and some is downright ugly! You'd be amazed at some of the sights you'll see sittin' way up there above most everybody else on the highway.
My favorite sight to see was the kids in the cars that made believe they were pulling on that airhorn. We had two sets of train horns on the truck and boy were they LOUD! We'd constantly get startled, wide-eyed stares that shortly broke into big grins and high-fives amongst the kids. We made sure that we didn't do this in town because out on the interstates, if the person driving wasn't aware that the kids were asking for the horn, the loudness of the horns would send the unaware driver careening into another lane! We always had to pay attention to the traffic before using the horns.
My second least favorite sight to see was a sight that I wished I hadn't seen. Oh, I know that most of the "male" drivers get a thrill from a gal "flashing" him from her car, but it's totally different when a man is doing things in his lap because the truck driver happens to be a female. They actually think we want to watch? NOT! Especially when my heart is taking a nap in the back and I have no interest whatsoever in what that four-wheeler is endowed with. Of course, I'm not speaking for all the ladies out there who may be single and interested, but it just wasn't my cup of tea. Ugh!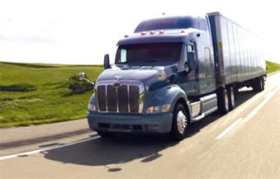 My very least favorite thing to see were the remains of bad accidents. Pieces and parts of what had once been people that were still left on the road after an accident. Most veteran drivers see this fairly often. It's a thing that can't be helped because of all of the miles that we put in. It's inevitable. I've seen what's left of people that have been hit by cars AND big rigs. I've seen what's left of cars and the people in them when a big rig has lost its load and rolled off an overpass onto cars driving below. It's no fun, but we have to expect that it's going to be a sight we'll see more often when you drive cross-country for a living.
During rush hour, you get to see all the idiots doing their thing while driving. Women are applying their makeup. Mean are shaving. Hello? Don't you know that you have to take your eyes off the road while doing that? You have to watch these people carefully because they could involve you in a mess that you really don't want to be involved in.
Just play it safe and you'll be fine. I know that sometimes it can be entertaining to see what's going on below, but don't let it take away your priorities...keep your eyes on the road and make your trip a safe and uneventful one.
Related Articles: