Stuck In A Bind: How I've Gotten Into And Out Of Some Terrible Circumstances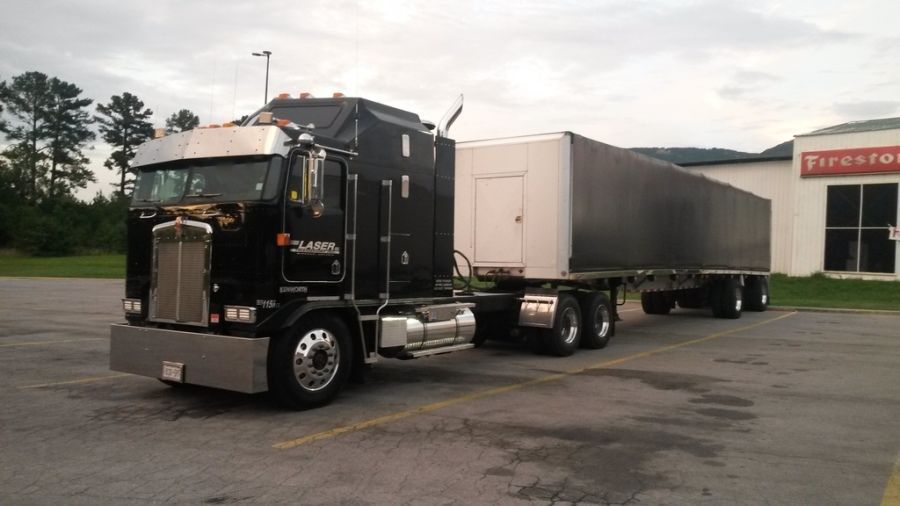 Recently a friend of mine found himself in a precarious situation. He thought the gas station he pulled into had room all the way around the back for him to fit through so he could easily stop for a restroom break. It appeared that way from Google Maps satellite view. When he got around the back, a few dumpsters blocked his way around. With four years experience he said, "Darn, I should have known better.
He said, "This is a really uncomfortable situation because I have to alley dock around the building now and cannot see." He even suggested I write this article for new drivers to understand that you will get into sticky situations for the rest of your driving career and how you handle the situation will determine the outcome.
Luckily for him, it was late at night and no traffic at all. He asked the store clerk to come out and alert any incoming customers, backed up using his flashers and air horn, and was able to get out of the situation. It wasn't fun. It was quite uncomfortable in fact. But then he said, "Tell your readers to keep calm and think. If they got into the position, they can get out, they just need to calm down."
I'm not sure I could have put it better than he did, but I often find this type of thinking among veteran drivers. New drivers panic. They are usually fearful they are going to hit something because they do not have the skills to maneuver very well. They are more likely to jackknife while turning or backing, or at least crack their cab extenders turning too hard.
Some new drivers are probably right to be worried. Learning to judge the turn radius and moving that trailer properly takes time. However, if you go slowly, and constantly GOAL (get out and look) in tricky situations, you can get yourself out of it.
You are not alone. You are not the first one to find yourself in a parking lot that's too narrow to get turned around. Many others have turned down that same road you just did and needed to find a way back out. Do you know how I know? Because I have done it plenty of times myself.
A Scary Incident Early In My Career
One very scary situation for me happened very early in my career on the Pennsylvania Turnpike. I missed my exit and the next exit was about 25 miles away. This cost me almost an hour of drive time and an additional 50 miles, so I was already nervous. I got off expecting a place to turn around but found none.
A sign said truck route, so I followed that expecting to see a large lot or customer I could use to circle back. Wrong. The next thing I knew, I was driving down a curvy, hilly road that looked like Stephen King's Salem's Lot. Stone houses from the 1700's lined very narrow roads and I went over a very steep hill which felt like a roller coaster going both up and down.
I panicked. I felt my heart rate explode and even felt my forehead getting warm. Then, like a sign from the heavens was a gravel lot with lots of tire impressions appeared before me. Obviously, many other trucks had been here before me. The lot was on a steep slant though, and visions of the trailer toppling over flooded my mind. But I made the U-Turn in the lot and headed back.
Just as I was calming down, that steep hill seemed much more steep going up on this side and I wasn't downshifting fast enough. The truck stalled. I tried it in second gear and it stalled again and I rolled backwards. Most of the smart traffic behind me stayed way, way back. However, a little red Mazda Miata driven by a 20 year old looking kid kept inching closer and closer to me. I couldn't see him in my mirrors any longer and every time I cranked the engine I got scared I was going to roll backwards and hit him.
My fear and panic turned to anger and I got out of the truck, and explained to him that I could squash him if I couldn't get up this hill. I guess he got the message and crept backwards. Without the pressure of having him so close behind me I was able to get the truck started and get back on my way.
Another Scary Incident
On another occasion, I delivered to a beer distributor in a residential neighborhood. The driveway was narrow like for a car and did not even have a wide mouth to it. There were utility poles on both sides and a fire hydrant across the street. I kept trying and trying, getting more and more frustrated while attempting to back into that dock from the street. Cars flew by me for over an hour as I tried.
I then stopped allowing myself to feel the panic and frustration and said "screw it". I purposely jumped the curb with the trailer and got it into the door. When I got out of the truck, I realized there are other tire marks in the dirt and grass area where other trucks had done the same. I apologized to the customer, explaining I was new. He responded, "Eh, don't be. You are the first 53 footer we've had in here. Most of the smaller trucks have a hard time and take longer than that."
Wow, just wow. Had I known that from the beginning, I might have been more calm. I might not have felt like an incompetent fool who bit off more than she could chew by becoming a truck driver.
Over the years I have found that most of the customers that take a long time to get backed into usually only do business with box trucks and only rarely have full sized trailers.
Missing The Entrance To The Pennsylvania Turnpike
On another occasion, I missed the entrance for the Pennsylvania Turnpike. (I need to stay out of Pennsylvania lol). I turned into a parking lot and found it didn't have enough room for me to turn around. A man came out and gave me directions to a high school that had plenty of room and trucks use all the time. According to him, "I have at least four trucks a day turn into this lot and they all go to the school to turn around". The guy lived in this area, so he must know what he is talking about right?
I found the school on a twisting dark road and there were new gates installed with a huge sign that said, "Not a Truck Turn Around". I couldn't even pull into the driveway and use that. It made me laugh that the town would pay for a gate to prevent us from turning around on an empty piece of land.
This road was scarier than the first one, and I soon saw a cross street. I made a left thinking I could straight line back across the main street and that way turn around. Wrong again. Once I straightened out on the side street, I realized how much traffic I would need to cross going backwards. The road was curvy and I wasn't sure the traffic would see me.
After panicking about what was behind me, I took a look at what was in front of me; a residential development of very high priced homes. Great! Now someone could report me to my company and I could get fired. Google maps gave me no help because the development was fairly new and looked like a dirt lot on the image. I couldn't tell if there was a way to get out of the development, and the trees were not trimmed for my height, so there was no point in trying to risk it.
Just then, a family pulled into their driveway and I asked the man if he could help guide me. There was a cul-de-sac I could use as a turn around, but I was afraid I might hit a mailbox or tree. He agreed to help, and once I got turned around, I got out and shook his hand in thanks. He replied, "My God woman, you know how to drive that thing. I can't believe you did that. I always wanted to drive, but never had the guts."
I explained to him that I was new and asked him not to call my company. This was a load going home and I had been on the road for six weeks at that point. I was tired, new and frustrated. But most importantly, I analyzed the situation and didn't hit anything or hurt anyone.
A year later I found myself on the same road. I saw the lot where I first met the man who gave me directions to the school. About two miles on the left was my receiver for my current load. Had I used Google maps instead of listening to that man, I could have found the customer and turned around that night, avoiding the entire situation.
Because of incidents like these (and I have had many more), I no longer get upset and lose my composure. Rather, I look at the situation like a puzzle and try to figure out how to put the puzzle piece into the hole. It is the same when getting into a place with no other way out, a "No Trucks" sign, or a low bridge clearance.
Put your hazards on, calm down, and think. Those around you do not know you are new. They will assume the truck broke down or there is someone in front of you. Clear your mind of all negativity. There is a way to get out of the situation, and you must find it. You are out there alone, but you are not alone in one regard; others have done it, and they found a way out of it. You can too.
Harness Your Emotions
Harnessing your emotions can assist you in other ways as well. One dispatcher kept messaging me, suggesting I would be late for my load if I didn't leave when he said I should. I'm great at trip planning and just wanted a little more time to sleep. The guy was new and didn't know me, and he especially did not know that my break was interrupted constantly by outside sources. I got so mad when he said I would be late, my fatigue was replaced by rage, and I got to the customer four hours early. Then I messaged dispatch and told them not to bother me or reload me until I notified them I was well rested. I'm not saying you should flip out on dispatch or have road rage, but controlling your emotions while on the road is a necessity.
Breathe, Stay Calm, and Stay Safe.
Related Articles: