My Salary - Finishing Up My Second Year Behind The Wheel
I'm sharing this mostly for people looking into truck driving. It's so hard to get salary info from people. First some basic background on me...
At the conclusion of 2010, I had a total of 21 months experience from the date of hire (I already had my

CDL

coming in, but I'm still with the company I started my career at).
I am a solo company driver for a major refrigerated carrier.
For the first half of the year, I made 34cpm, then increased to 35cpm the second half.
I go home about every 4-5 weeks and take 4 days off at a time, not including my arrival or departure days.
My truck is governed at 62mph, but I normally only drive 58mph to meet our strict fuel mileage requirements.
I'm on

electronic logs

(in other words, I always drive legal).
I am forced dispatched so I take every load including

HazMat

(extra $50 per

HazMat

load).
My company gives me extra money for shorter loads or loads with a lot of time on them, but I don't receive detention pay.
I think that covers all the major stuff. I make a few extra dollars here and there or lose money here and there, but it all seems to even out over time. Any questions, just ask. I don't mind.
My 2010 Salary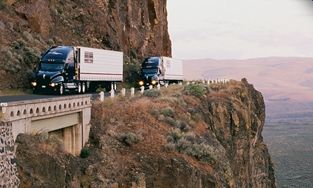 My 2010 Salary was: $41,137.22
That's gross income of course. Actually slightly lower than I thought it would be, but not by much. In addition to my salary, I also earned 7 days of vacation time at $500. I also continue to put money into 401k which my employer matches 40 cents on the dollar. I also get the usual benefits of company employees....Life, "discounted" Health (not very good), Dental, Vision, blah blah blah....
Each year I stay with this company, I'll receive a 1cpm raise. That's pretty much negligible due to fluctuations in mileage, etc. But if my miles in 2011 stay exactly the same as 2010, a 1cpm raise will equal about a 1k / year increase. In other words, one of the negatives about trucking is I'm pretty much already capped out. Sure, I could move into other areas of the industry. I could drive locally, I could team, I could train, I could get a regional gig, find a dedicated account, etc. But I like what I do now and don't have any intention of leaving my current position anytime soon. So if I continue to do exactly what I'm doing now with the same company I'm with, I'll probably never break $45,000 / year. Maybe 2011 will surprise me though. I'm off to a good start, that's for sure!
Anyway, I'm fairly happy with the money I'm making, and more importantly, I like my job. Just like all other jobs, I have my bad days and wonder why the heck I'm doing this. But on most days, I wake up and I'm ready to get to work. It's kind of hard to explain, but it doesn't really feel like a "job" to me most days. It just feels like life. A far cry from my last job where I'd wake up every morning depressed that I had to go into the dang office again. I've said it before, and I'll say it many more times....trucking is a lifestyle. Don't do this for the money. Not only will you never get rich driving a truck, but if you don't enjoy the lifestyle trucking offers, it'll drive you mad.
And there you have it.
Related Articles: