Blogs By Author

Blogs By Tag
After two long months of school, orientation and finishing, I was finally ready for my first solo run. I had gotten a new finisher after a first nightmare but I never said a thing about the problems I had with old Colonel Kurtz. My second finisher was a hillbilly from Arkansas. He gave me all the training I needed to get in my own truck with confidence. He was a lot nicer and he called me a "Balloon Blower." In other words, I was always making too big a deal out of things that really didn't matter. One thing all these finishers seem to have in common is that they don't know or care about the fact that this shit is hard to do when you are a beginner. One thing I give him credit for-- When he heard about Colonel Kurtz, he got so mad that I thought he was going to explode. He got on the phone with the chief of safety and wanted to see Colonel Kurtz fired. "Something," he said "would be done about Kurtz."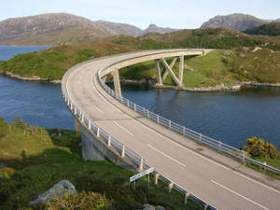 In the end, all of this amounted to basically nothing. Maybe my second finisher was actually a balloon blower just like me because I turned in the evaluation of Kurtz at his request but Kurtz was back out on the road the next week with a new student. That student didn't make it nearly as long as I had and also called in to get a new finisher after only 1000 miles. It seemed that nobody could stand being with Colonel Kurtz in a truck. After 10,000 miles of training, I realized that it just wasn't going to get much better than this. Becoming a truck driver takes a certain courage and willingness to make mistakes so that was what I was going to have to do on my own. I made it through the training alive and I was finally ready for my first solo run. I remember when I finally got alone and realized that I was going to have my own truck. This was the moment I had dreamed of but it didn't feel like what I thought. It felt like only the beginning. You don't become a truck driver in 2 short months. This was going to take a lot longer before I could say I had really "arrived."
After I finally got all my stuff organized in the new truck, I got on the board at dispatch and then made sure I had everything organized for my first trip. I shot a little video of myself climbing into the truck and showed all my friends and family where I would be sleeping each night. A little celebration never hurts! My first run was going to be a pickup in Bethlehem, Kansas. This was a fitting place to start for an old philosopher like myself. Once I picked up the load, I would be driving it all the way back to Tampa, Florida.
I started up the truck and drove it around the lot until I found an empty trailer I liked. I backed up to it and hitched to the king pin. Then I moved my tandems to the 40 foot mark. When I got underneath the trailer to check that the king pin was locked, it didn't look right. All the other Fifth wheels I had looked at until this time had a locking bar that came across the front of the kingpin when it was locked into place. Where was the locking bar? I tested again and again to make sure it was locked by tugging on the kingpin with the tractor and it seemed to be ok. Still, I was nervous. What if my trailer came unhitched out on the road? I decided to go back into the terminal and ask another driver who I had been talking to earlier. "I was worried about the same thing one time," he told me. I actually got up under that trailer with a flashlight looking for that locking bar. Then he told me what another driver told him. "Not all fifth wheels are that same." They don't always have that locking bar that comes out in front of the kingpin." What a relief!
I also noticed a marker light was out on the awning of my truck. I unhooked the trailer and left it on the company lot so I could bobtail over to the service bays and ask if I could get some replacement lights. Then I got a screw driver and stuck it in my side box so that I could pry out the old light later and replace it. I wanted to wait until it was dark to change the light because I really couldn't tell if it was out with the glaring sun on it. For now, this was good enough and I felt like I was ready to go on my first run.
I mapped out the very short route to the pickup. I would be deadheading to Bethlehem and had been given a certain number of miles by my company to get to the shipper. When I mapped it out, I didn't see how it was humanly possible to get to the place in those few miles. Who cares, I thought. This was only the shipper and it was a very short part of the trip. The receiver was almost 1200 miles away in Tampa. I could afford to go a few miles out of route at the beginning and make it up along the bulk of the trip.
I arrived at the shipper without any problems and found myself in a gravel parking lot in the middle of a cornfield. There was also a small booth there with a sign and a telephone giving me instructions to pick up the phone. I got out and picked up the phone and a lady asked me who I was with and when my pickup time was. She wanted my truck number, trailer number and any load numbers or pickup numbers that I might have. I gave her what I had and I told her it was a hazmat load and that I was very early on my scheduled arrival. She got on the phone to see if they could load my truck early and it turned out that I was in luck. "Pull around the building and go to dock 'N5'" she said.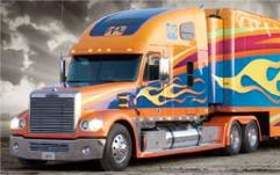 I was so nervous I could feel my stomach churning but I pulled around and positioned my truck for my first backing attempt. It wasn't too difficult of a maneuver but there was nobody around to watch me so I took a couple extra pull-ups before I was sure I could back into the dock. I put on my flashers like my second finisher had always reminded me and I slowly backed into the dock….."Perfect!" I thought. I sent in some quick forms to my dispatch, "Arrived at Customer," and then "Checked in with Customer", and then "Arrived at Dock."
Then I wondered if I needed to talk to the loaders at the dock and where the actual door was to get inside this building. There didn't seem to be a door so I really didn't know what to do next. The lady had already instructed me on the phone to back into the dock and then she told me they would load me after that. I guess I didn't need to do anything else but wait? How would I know when I was loaded? This seemed very strange. Was something wrong? Suddenly I saw a hand come out of the side of my trailer at the place where I had docked it. It was the loader signaling me to come near the back of the truck and talk to him. As I walked up to the dock he spoke to me in a somewhat teasing manner and said this; "Do you think you could open the doors to your trailer so that I could load it?" and he laughed at me for forgetting something so obvious.
Oh shit! I forgot to open the doors to my trailer before I backed into the dock! I just did something extremely stupid! "Oh, ok" I said with a calm demeanor, as if this wasn't such a stupid mistake. Then I tried to impress him by asking him if he wanted me to move my tandems back. "If you could," he said, but my trick hadn't really worked. "Ok I'll just move those tandems" I said, still hoping I had somehow distracted him from my stupid mistake. "You'd be surprised how many people do that," he said, trying to calm me down and help me to see that it was really nothing. Then he told me to watch for a green light at the side of the dock which would tell me that the trailer was loaded. It would only take about 20 minutes, he said and when he finished, I could pull away from the dock again to go shut the. Ok, I thought to myself, this wasn't such a big mistake. "You got lucky," he said later on. "30 minutes more and we would have closed for the night." Then he gave me some paperwork and directed me back around the building. I would have to meet with the lady I had spoken to on the phone and get my hazmat stickers along with any other paperwork . "Good luck!" he said and I thanked him. Things still seemed to be going pretty well.
The lady at the shipping office had me sign some papers and gave me the Hazmat stickers. I weighed myself on their scale and moved my tandems to the appropriate spot on the trailer. Then I put my stickers on all four sides of the trailer and I was ready to go. I submitted my "Loaded" call to the company and took another look at my maps. I wouldn't need to go too far this evening to already be ahead of schedule. I chose a truck stop 2 or 3 hours away for my destination and I was finally into my first solo run! Of course, the minor success I was having wasn't nearly enough to calm my nerves. My stomach was still churning all over the place and probably wouldn't calm down until I had a few hundred miles under my belt. There would still be some small side roads to the interstate and the parking at the truck stop. Who knows what other things I might be forgetting but everything seemed ok for now. I started up the truck again and got back on the road. Dear God, I thought,…..Please don't let me screw this thing up!